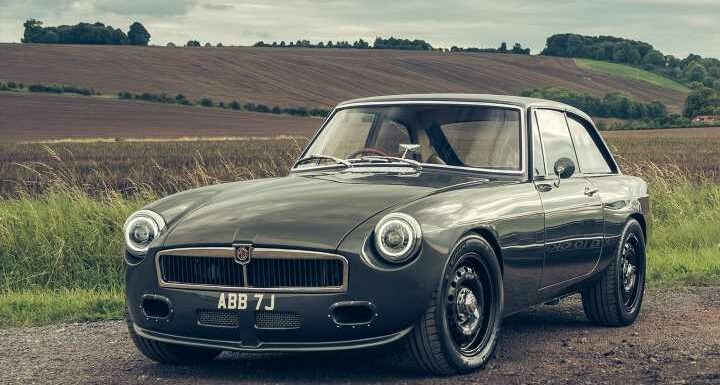 Get your video fill of stonking V8 restomod goodness right here…
By Matt Bird / Sunday, 8 October 2023 / Loading comments
More through reputation than actual experience, the MG B had never really appealed as a sports car prospect. It seemed to offer all the drawbacks of a small, light, old car – feeling vulnerable when driving, not fitting in it – without the advantage of being great to drive. Though it seemed unlikely, what if Frontline had merely created a lovingly restored and beautifully trimmed old MG that was a bit crap to drive?
I needn't have worried – not for a second. Even in a restomod sector that feels busier by the week, the LE60 stands proud as something very special indeed. As, really, we should have been expected given what it proved itself capable of with 2.5-litre Duratec power in the LE50 and Abingdon Edition.
But it's always nice to go into these things and be pleasantly surprised by the expertise on display rather than disappointed by overly optimistic expectations. Having gone into the LE60 drive as someone not much into old MGs and worried a 380hp V8 might overawe the B, I left entirely besotted. Even in a very fortunate line of work, that happens far less often than you might think.
Of course, the engine is a huge part of the LE's appeal – I really hope that comes across in the video. The completely overhauled Rover V8 does what every great engine of this configuration should do, which is pretty much everything. It'll rumble on very few revs, thunder along at its maximum, and even has the decency to not take up too much space while it's laying down a bassline. It's absolute bliss.
That the V8 complements a package of similarly lofty quality is what really ensures the LE60 stands out. It's built beautifully, it drives with real polish, and it looks completely fabulous. This was the prototype, too, so the cars for customers will surely be even better still. The lucky devils. I'm desperate for another go – yes, to find out more about it, but also just for the pleasure of spending time with it.
It'd also be good to try the Frontline LE60 in cooler weather – the car you see here doesn't have functioning air con, which was far from ideal in the September heatwave. So apologies for the red face and any repetition. But hopefully a few minutes of vid convey the qualities that make the LE60 a truly brilliant restomod. And if it doesn't, then we can always have another go…
---
Frontline MG B LE60 | PH Review
MST Mk2 | PH Review
Source: Read Full Article