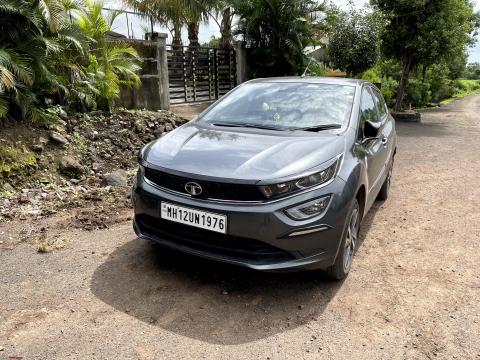 The car feels solid, stable and planted on the road and absorbs most of the bumps without any fuss.
BHPian W.A.G.7 recently shared this with other enthusiasts.
A quick update on the car. The Altroz is performing its duties nicely:
The odometer stands at 6190 km as I write this post. It has seen some reduced running this month due to the festive season. Apart from that no other updates.
We are getting a fuel efficiency of 11-12 kmpl consistently. So I guess that after a year now; it is safe to assume that the average fuel efficiency the car will return will be somewhere within this range. Neither too good nor too bad. Expecting something more wouldn't be right, as this is a heavy car with an underpowered (read just sufficient) engine.
The DCA gearbox is working excellently. We are loving it and are "converts" to automatic boxes now. I am happy that we didn't settle for the AMT one but went ahead with the fully automatic gearbox. Now I keep wondering, why I didn't stretch my budget in 2018 and got myself an automatic version of the Ecosport!
The car feels solid, stable and planted on the road and absorbs most of the bumps without any fuss. We find the shock absorbers adequate for city use.
The noise insulation is fantastic, once you close the windows; all other ambient traffic sounds are filtered out. You can hear the sound system nicely.
The audio is another good part of the car. 4 speakers and 4 tweeters dish out some nice audio quality. Neither of us is an audiophile, but we can distinguish good speakers from badly tuned ones. I am happy to report that the Harman system in this car is excellent. Exception for an OEM system to sound nice!
Good Year All Terrain Max 2 tyres are really good. They have little noise, as compared to the MRF ZVTVs or MRF ZV2Ks. Once again, I am happy that we got these tyres with the car by default.
The air conditioner is a chiller, we have to tone it down to blower speed 1 or 2 after the initial 4-5 minutes. The automatic climate control works perfectly.
Auto headlamps and Rain Sensing Wipers also work flawlessly. We have never faced any issues with these two so far.
I do feel that the Altroz DCA can complement your garage as a competent secondary car. It's perfect for city runabouts.I know a photo shoot is long due, I will try and put it up soon.
Check out BHPian comments for more insights and information.
Source: Read Full Article