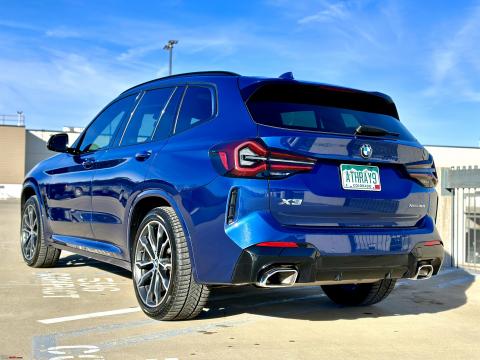 I wanted to be sure that the car handled well since I am someone who takes corners hard.
BHPian athray9 recently shared this with other enthusiasts.
Introduction:
I had moved to United States in 2020 January from Chennai to pursue my Masters. Being a student, I couldn't afford to get my own car. I completed my masters in 2021 December, successfully graduated and ended up getting a dream job. So I could finally afford my own car.
Being an enthusiast, I was clear that I needed a fun to drive car. I wanted to go the used car route and get a fun to drive manual car but it was that time during semi conductor shortage where the used car prices were so high that it made no sense to get one. So I decided to go the new car route.
Few things I realized after living in the USA for two years were:
The roads here are LONG and STRAIGHT for most part.
The roads are not great for most part with many undulations and expansion joints.
Everything is far away, meaning you need to drive your car even to get basic groceries.
You cannot get anything in small size, the smallest milk can you could purchase is 1/2 gallon = ~1.9 liters.
You can have fun Canyons to drive but you won't hit them everyday.
Based on these, I decided to change my requirements accordingly.
Requirements:
It had to be FUN TO DRIVE, which meant the basic necessity was to have at least ~200 bhp, 300 NM of torque and handle well. I was open to sedans and SUVs.
Comfortable enough for daily commute and weekend trips.
I am 5'11 in height, so the rear seat had to be spacious enough to accommodate a person of my height behind me.
Basic tech such as CarPlay, good stereo since I am an audiophile, Cruise Control was a must, ACC not a necessity but good to have.
I live in Colorado and winters are brutal here, so I needed AWD and heated seats.
Steering had to be quick to react with good feedback, I was fine with the steering being light at low speeds but wanted it to weigh up at high speeds, I am never a fan of steerings that artificially weighed up with no feedback.
I wanted good low end torque in a way where if I gave more throttle, the car had to do it in the same gear instead of a downshift unless I had given more than 50% of the throttle.
The gearbox had to react quick when I needed a downshift but I did not want to it to react with a downshift for every little throttle input.
Preferably German with a budget of $50K (USD).
The hunt began:
VW Tiguan:
Test drove the car with 2.0 TSI, 190 bhp and 320 Nm of torque, I liked exterior with the R-Line package looked sporty and the facelift interiors also looked good with quality materials. I was not the biggest fan of the new AC controls but that was not the deal breaker. The biggest deal breaker was the engine. The car somehow felt underpowered for US roads, which made it a deal breaker.
Ford Escape:
Test Drove the 2.0 Eco Boost with 250 bhp and 380 Nm of torque, the exterior of the car didn't look sporty at all, the interior of the car were practical, but they badly needed an upgrade. The top of the line model came with upgraded B&O speakers. I test drove the car felt it powerful enough. All of the power and torque were felt, but the gearbox was slow to react. Sport mode was just too sharp and there was this weird delay when with the throttle which again became a deal breaker.
BMW 330i:
My mom has a 320d G20 in India, and I drove it for an entire month in India just before test driving the 330i in USA, so I kind of knew what to expect. The white 330i MSport that I test drove had all equipment that I wanted. It was my first time driving the 2.0 I4 engine from BMW which had 255bhp and 400 Nm of torque. It felt plenty powerful with a nice exhaust note pumped through the speakers. Now some people may not agree with this but the exhaust note pumped inside the cabin through the speaker felt really good and does not feel fake to me. One difference I noted was the steering of the 330i Sport was much heavier than my mom's 320d. The car had 19 inch wheels and was lower to the ground compared to Indian model which made the handling feel even better than the already great handling 320d. I was sold on this particular car and started negotiating with the dealer and the final number was given to me.
BMW M340i:
I did not test drive this car but it did not fit my budget, so I decided against it.
BMW X3 30i:
I am big fan of the way the LCI looks, especially from the back. So I was sold on the looks already. I loved the 12 inch screen which had one of the best resolutions I had seen in a car. It had the same engine as the 330i but had lesser power and torque at 248 bhp and 350 Nm torque. After test driving the car, I felt the difference in power and torque compared to the 330i due to extra weight and height, but still it felt powerful enough. The biggest surprise was the handling of the X3, it felt like it can about 75% of 330i handling with 50% more body roll, but also being 50% more comfortable. I was sold on this car as well. I sat down with the dealer and he gave me the final number.
BMW X3M40i:
The dealer offered me a test drive in the X3 M40i 2021 model. This is my first time driving a 6-cylinder. The car came with 358 bhp and 500 Nm of torque. I was blown away by the amount of power it had and the kind of handling it offered for a car of that height. But I decided not to go ahead with it since it was about $14K more. (BIGGEST REGRET).
Alfa Romeo Stelio:
I was really temped to get this car but spending all my hard earned money on a car for which I've heard horror stories did not encourage me to even visit the showroom.
Dilemma:
This was a very big dilemma. I was confused between two amazing machines and you cannot go wrong with either. There was one other issue with availability due to semi conductor shortage, there were not many cars available. There was on 330i MSport in white color which had most of the basic equipment I needed in the inventory. If I placed a new order, I had to wait for 4 months and there was no new incoming 330i for the next 3 months. There was a Phytonic Blue X3 30i Sport with similar level equipment in transit.
So the options were a 2022 BMW 330i xDrive with MSport kit in Alpine White or a 2022 X3 30i Msport xDrive with MSport kit in Phytonic Blue. They both differed by $3600.
What I liked in 330i during the time of purchase:
In my books, it is the best looking sedan which inculcates the 3 box shape so well.
I preferred Alpine White more to Phytonic blue.
Felt more powerful and handled much better than the X3.
The exhaust note pumped in through the speaker was very nice which was not present in the X3.
The rear seat was decent enough for a car of this size.
What I liked in X3 30i during the time of purchase:
The X3 looked sporty with the MSport kit.
The car was more comfortable and spacious compared to 330i.
The 12 inch screen was much better than the 8 inch in 330i.
The car handled very well for its height.
I was getting more value out of the car for $3600 more than the 330i.
Colorado has winter for 6 months which meant dealing with snow, an SUV made more sense coupled with such conditions.
After thinking a lot and discussing at home back in India, I fixed my mind on the X3 30i but I wanted to do one last test drive of the car before booking it. I wanted to be sure that the car handled well since I am someone who takes corners hard. I drove the car around a corner and I got more reassurance that I doing the right thing since the car just handled so well. I decided to go ahead with the X3 30i xDrive with the MSport Kit in Phytonic Blue color as the first car that I am going to purchase with my own money !!!
First time seeing my car:
The car was supposed to arrive on March 25th, but mom had informed me that the auspicious day was March 30th which was decided as the delivery day. On March 25th morning, I get a call from the dealer that my car had arrived. Unable to control my excitement, I went to check the car out on the same day evening. The dealership was 1 hour away from my house. I reached the dealership and spotted the car as soon as I entered. I was fortunate enough to unwrap the car completely. The car looked amazing with MSport package. The ODO had 5 miles in it.
Delivery Day::
The most special day had come. It was a working day, mom had informed me to take delivery between 4:30 PM to 5:30 PM. I arrived to the dealership at 3:30 PM, finished all of my paper work and the car was placed in the delivery bay completely detailed. I did PDI looking at Team-BHP checklist. 

I took delivery of the car at on March 30th 5:22PM. Car had 7 miles on the ODO. It was one of the most exciting days ever. I was driving the car carefully from the showroom to the temple which was 90 miles away and took me two hours because it was peak hour and traffic was insane until I reached the inside roads near the temple road. Few things I instantly enjoyed during my drive were the good low end torque, amazing insulation, slightly stiff ride quality, great to hold MSport steering and the amazing resolution on the 12 inch screen. I put 140 miles (225 kms) just in one day.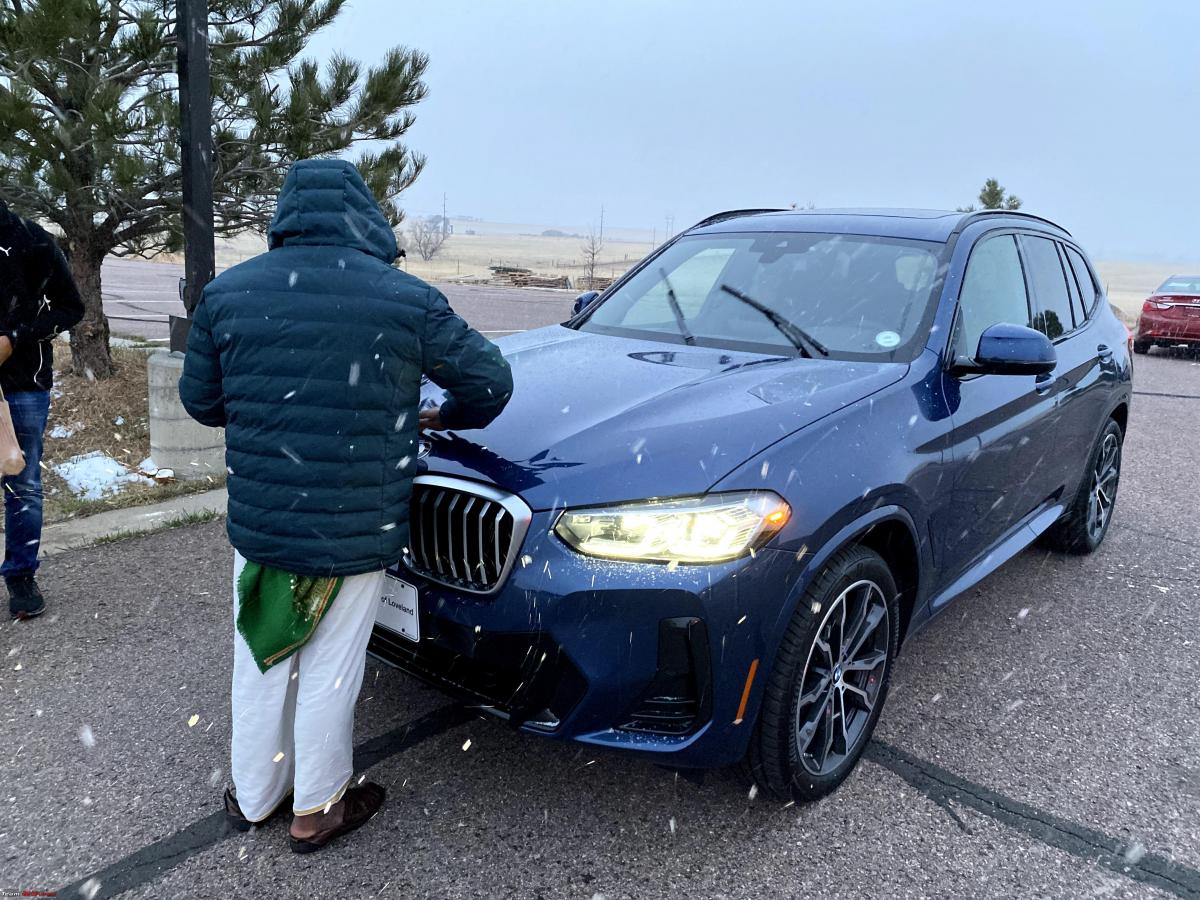 Continue reading on BHPian athray9's BMW X3 for BHPian comments, insights and more information.
Source: Read Full Article