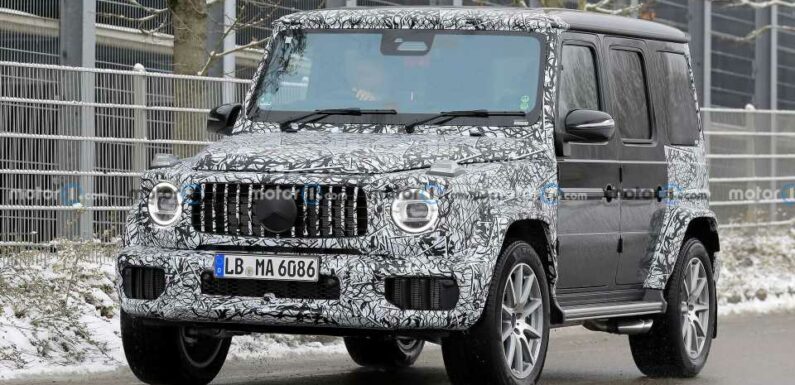 Spy shots tell us that a refreshed Mercedes-Benz G-Class is on the way. The UK publication Autocar recently got to ride in one of the prototypes and discovered new suspension tech coming to the updated SUV. Motor1.com has reached out to Mercedes for more details.
The updated G63 will allegedly offer an optional system that will replace the anti-roll bars with a continually variable electro-hydraulic system. The tech will use flow valves on each damper that can transfer fluid from side to side through valves. A gas-filled metal sphere at each axle acts as an accumulator and handles distributing the liquid where it needs to be.
Gallery: Mercedes-Benz G-Class facelift spy photos
The adaptive system can alter damping based on road speed, steering, angle, body movement, and the drive mode. Wheel articulation reportedly improves, too. The tech also weighs less than using mechanical anti-roll bars.
The optional suspension coming to the G63 is an evolution to the suspension with semi-active, hydraulic roll stabilization available for the latest AMG GT and SL-Class. "We saw the advantages it brought to our sports cars and immediately began thinking of what it could do for our offroad models," Ralf Haug, head of suspension at Mercedes-AMG, told Autocar.
"In the US, the MY24 G-Class is essentially a carryover from MY23 and receives only minor updates for MY24," a Mercedes-Benz spokesperson in the US told Motor1.com. "The MY24 G-Class goes on sale in the US between the end of this year and early 2024. As for the new G-Class (MY25), market-specific details are subject to future announcements."
The updated G63 reportedly adopts the mild-hybrid powertrain from the GLE63. It uses an electrically assisted twin-turbocharged 4.0-liter V8 producing 603 horsepower and 627 pound-feet of torque. For comparison, the existing G63 uses a twin-turbo 4.0-liter V8 making 577 hp and 627 lb-ft.
The available spy shots suggest that Mercedes is preparing only minor revisions for the refreshed G-Class. Photos show small tweaks to the front end for the G63 but no significant alterations.
While there are no pictures of it yet, rumors suggest the cabin might receive more significant upgrades than the exterior. The model would possibly adopt the large screens that are already available in Mercedes products like the S-Class and SL-Class.
The refreshed G-Class will reportedly debut around the middle of next year. It will arrive at about the same time as the fully electric EQG.
Source: Read Full Article