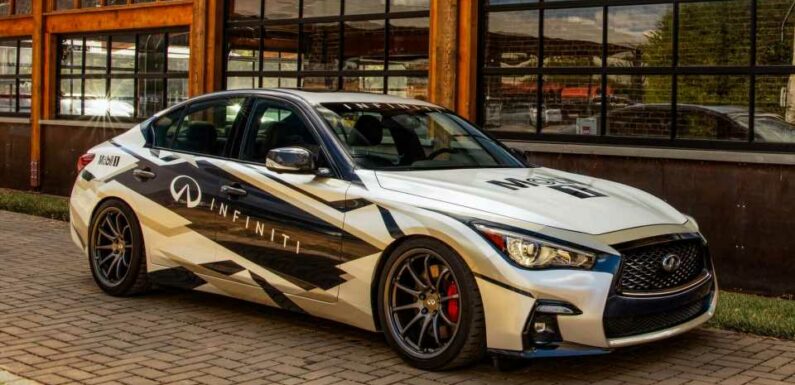 With stylish yet aggressive styling, the Infiniti Q50 Red Sport 400 is still among the performance sedans on the market that look the most balanced. But for some customers, that's not enough and there are always people who seek ways to upgrade and personalize the look and performance of their cars. The Japanese company will finally answer those needs with a series of new accessories and parts for the sports sedan, which will be showcased with a one-off modified Q50 during this year's SEMA.
Probably the highlight of this new kit is the set of 19-inch wheels developed by the Nissan Motorsport (Nismo) division. These are forged aluminum alloys with a design inspired by motorsport. You can have them with either Nismo center caps or Infiniti center caps and with a choice of black, anthracite, or bronze semi-gloss finishes. The 9.5-inch wide wheels can be fitted to both the Q50 and Q60 in both standard guises and Red Sport 400 trim. 
Gallery: Infiniti Q50 Red Sport 400 for 2023 SEMA
That's not all, of course. Underneath the familiar exterior (aside from that Mobil 1 livery) you can also find improvements to the suspension. These include new front upper arms, rear traction rods, and more, which result in better handling around corners, the company says. Stopping power has been enhanced with new Performance Street brake pads, which sit inside red-painted brake calipers with Infiniti logos.
There are changes under the hood, too. For example, the 3.0-liter turbocharged mill now has a billet-aluminum coolant expansion tank with 70 percent higher volume than the standard unit and a cooler appearance. There's also an auxiliary intercooler tank for an additional 1.7 gallons of coolant, as well as a CARB-approved cold-air intake and a new heat exchanger. Last but not least, Mobil 1 0W-20 full synthetic motor oil lubricates the engine's internals. There's no word about an increase in the output, which likely means the V6 motor still peaks at 400 horsepower and 350 pound-feet of torque.
All these upgrades will be available from Infiniti for both brand-new cars and already-delivered vehicles. The premium automaker says it will soon have the components on sale at its Infiniti Motorsport website, where parts for both the Q50 and Q60 will be available.
Source: Read Full Article