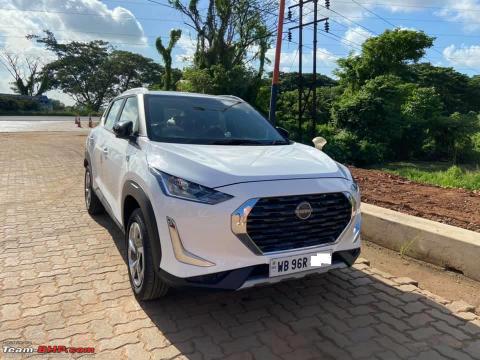 After having driven about 900 odd km, I am getting a mileage of 9.2km/l in congested traffic.
BHPian SN13 recently shared this with other enthusiasts.
I got my hands on the New Nissan Magnite on 09/08/2023 and here's the opinion that I have formed in 30 days of driving it.
Model – Magnite XV turbo MT
Colour – vivid blue and storm white
Location – Kolkata
Average daily drive – 20 kms. (Mostly congested)
My views are mostly based on my previous driving experience of driving Tatas and Mahindras for the last 15 years (and Marutis and Hyundais prior to that).
Buying Experience: I 'd been driving a Tata Bolt XM revotron since 2015 and was considering a change and an upgrade for sometime. Come July 2023 and I made up my mind to finally execute the plan. Being a Tata loyalist my first choice was the Nexon (petrol) followed by the Nissan Magnite and the Maruti fronx.
Tata Nexon – The tata showroom was my first visit and I was almost 50% inclined towards the Nexon. My budget allowed me the XM (S) version and I was kind of okay with compromising on the frills. However there were two dissuading factors for not proceeding with the Nexon. One, a very close friend already had the new Nexon (xz plus, BS6 ) and was utterly dissapointed with a mileage of 8.5 km/l even after owning it for over a year with 10k on the odo (I can vouch for the poor mileage of petrol Tata Cars having had two petrol Tata cars previously).
Second, the exchange deal on my existing Tata Bolt was not worth a second negotiation, thus, ending my dream of owning the Nexon.
Maruti Fronx – This was the third option on my list. And to be honest I am no fan of MSIL. Saying so, I must say that the Fronx is pretty. It's quite the looker and I was seriously considering the Fronx at this point. However my pocket was only deep enough to get hold of the Delta Plus 1.2 L model. It drove well, nice interiors, fairly well loaded with features however, what irks me is that MSIL cuts corners by not adding bare essentials like a rear parking camera or rear wiper on a car that has an ex showroom tag of 9 lakhs. However, I was willing to overlook these minor gripes. The only reason that prevented me from buying the Fronx after 2 test drives was the pick up of the car. May I dare say it was sluggish.
Nissan Magnite – The second option on my list. 3 showroom visits, 2 test drives later the Magnite seemed the perfect fit for my requirements. My family (especially, mum) loved the looks of the car. It was a turbo charged petrol engine (which I was used to in the Tata Bolt), had adequate frills, sun/moon roof was never a criteria. Yes, I have a weakness for the turbo charged petrol motor.
The showroom experience was okish. They were a little pushy, unwilling to negotiate at first. However, owing to a connection at Nissan India, I was able to pull a few strings and garner a fair discount on the car and also, the underbody anti rust rubber coating. After completing the loan formalities (seamlessly), I was finally called for delivery on 09/08/2023. The delivery experience was a 7.5 out of 10.
I had sold my Tata bolt via OLX (advert not OLX auto) in the meanwhile.
The Pros:
IMO the car looks quite nice to be honest.
Adequate gadgets and frills.
Peppy engine (has enough grunt when needed).
Personally I love the diamond cut alloy wheels on the magnite.
The android auto and apple car play works seamlessly.
The sound of the engine is pleasing to the ears.
The 6 speaker sound system is quite good (although the harman kardon on my bolt was better).
The ground clearance in commendable, have recently waded through the water logged streets of Elgin Road effortlessly (the ones who stay in South Kolkata know what I mean)
Quite spacious.
Service centers seem quite responsive for now.
Ac is good
Comfortable seats
The Cons:
Headlamps – The halogen headlamps are not upto the mark. Need to learn from the Tatas and Mahindras.
Suspension – Hard suspension. You can feel the thud over large potholes which are aplenty in Kolkata. Again Tatas and Mahindras are brilliant when it comes to suspension for the Indian terrains.
I am not a big fan of steel sheet fuel lids (they start rusing eventually)
Clutch has a pretty deep play.
Long gear throws.
Ac or blower vents missing for the rear passengers.
Now most importantly, the mileage;
To be honest I have only been following the MID on my car. And After having driven about 900 odd kms I am getting a mileage of 9.2km/l (my regular drive is generally on a very congested stretch), however I firmly believe this will get better post the first couple of service.
Unfortunately, I haven't had the opportunity to take it out on a proper long drive on the highway to ascertain its highway mileage or engine capabilities. I do intend to do so soon.
Read BHPian comment for more insights and information.
Source: Read Full Article