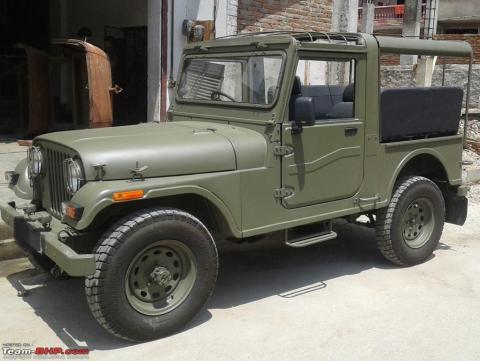 I was stationed in the mountains and had the same jeep as my go to vehicle.
BHPian tatafanatic recently shared this with other enthusiasts.
Prelude
There are days when one walks into trouble and then there are days when trouble walks right into ones path, I had them both in plenty but in either of cases the mode of transport that took me into trouble and saved me from trouble remained the same, it was called 'Rakshak', was a heavily armored Mahindra commander jeep which many a times motivated us to get out there and put up a nasty fight, simply as it got supremely cramped and boiling hot with us all suited up, the drivers who were well trained in maneuvering these not so user friendly vehicles gave choicest and extremely innovative abuses when times came to make a get away from a hot spot.
As I climbed the ladder of seniority from getting into cramped vehicles, I got something more sublime and that feeling got me moments of joy but very soon I learned in my line of work almighty had different gameplan so back to rigidity it was, overall these Rakshak's were my companions for almost over a decade and thus we did bond!!!
PS – during a stint in middle east I saw them forces moving around in Landcruiser's, now that thing is a beast but maneuvers around like a toy, if only we had something more like them, we'd go hunting daily!!!
Padharo Rajasthan
We buds often meet on Microsoft teams, I love the sight of seeing proper grown men who carried stars on their shoulders and battle honors on their chest going crazy on muting and unmuting online, for fun sake I do the 'mute them all' thing and watch them go nuts!!
During one such meet a bud now turned hotelier based in Udaipur invited us to a get together at his place, he wanted to showoff his do and his new job and his newfound status in the society and we were always game for lap of luxury at someone else's cost!!!
What I did not envisage and maybe I say this for my wife who now handles my idiosyncrasies full time is that I would return home with a jeep, more as it happened.
Bud in name of recreating nostalgia sent out Mahindra commanders to fetch us from the airport, now the ones he sent were refurbished and had creature comforts with a proper air conditioning. As we travelled in laps of comfort and luxury (leather seats and upholstery) to his do which was some clicks away from the airport I could not help thinking years ago in this very same vehicle I had such bad feeling about travel, some of my experiences were outright horrible but then those were times!!!
We had a splendid weekend, almost all of us turned from olives to maroons in the deserts of Rajasthan but the beauty of the place never occurred to us back then, only when we became tourists with touristy time, we understood how beautiful the place really is, as a matter of fact I have travelled much across the globe and found India to be complete in tourism terms. Needless to say, in my profession I traveled really deep into the trenches as they say and if we didn't have nosy neighbors many of those places would have been a tourists delight, especially the North East.
Commander Saab ki Commander
I couldn't lay my eyes off those refurbished commander jeeps, one evening I asked my bud from where and for how much he managed to get hold of them and his eyes all lit up, he said 'tomorrow we go to the magicians den', I had no clues what that meant but who sweats with a 6 foot giant.
Next day true to his word we drove down the 'magicians den', it was rickety chop shop belonging to Rana Hakim a rusted tank driver now turned Commander jeep savior, what he had done was truly amazing, some of the refurbishments were splendid, Rana doesn't entertain photography as he feels there will be copycats who he'd have to tank down later!!
As we got talking and seeing his collection I candidly asked if there was open down commander if at all by some remote chance he'd willing to sell, as the adage goes "Gods Must Be Crazy", Rana did have one in store who he'd all done for a couple from Delhi who eventually didn't honor the commitment and now he was indeed scouting new buyers, I requested a look around and absolutely loved what I saw, it was simple had simple creature comforts called cushioned seats, the electricals were minimal, the shocks and tyres were new and boy the color, it went like a dart to my heart.
Rana was not asking much as well, he wanted me to take good care of it in case I proceeded with purchase, so now came the tricky part, I had to make a call, the recipient of that call was used to surprises but made her objections loud and clear, so to mitigate the risk I clicked pictures and then called, again Gods Must be crazy but wife said this looked fine, daughter there for holidays said I should drop her back to med school in it so that she'd look cool , in no time my entire clan came calling how they planned various outings in an open jeep which they always dreamed off, so much for parting simple information!!!
The Epic 900km journey from Udaipur to Solan…BUT
Now Udaipur to Solan is a mighty 930kms apart, me and I assume even Rana the magician had very little confidence the jeep would make this journey in peace, we even contemplated this might be her last journey before falling in harness. After some kabuki dance of what to do and what not to do me and two buds who also reside in HP decided lets just get going. Rana sent a mechanic just in case things tumbled south, the guy was also from services so took our courage (in layman terms stupidity) in stride.
But sometimes things don't really go the intended way, it occurred after a small drive around the lake city that the refurbished jeep was more of a trophy arrangement which at best could run routine and local errands, a 900 kms journey was too much of an ask, it was doable but not wort if there were breakdowns, I had to fly to Japan for work and this would hamper my schedule as well, so we got thinking. Rana the magician was back to novel ideas, as such he was going to transport the vehicle by road to the erstwhile owners in Delhi and had already charged them freight cost, they did not turn up but hadn't asked for their money back either so Rana suggested he'd get the Jeep transported to Delhi and from there I could drive back to Solan which we all agreed would be a doable and easier and convenient option.
Commander comes home
The jeep reached Delhi in over a weeks' time, I had it parked at my aunts place as they had an enclosed parking and it was pouring buckets in the capital, in the meantime I travelled to Japan for work (had planned to cycle there but my hosts thought that would be disastrous for many reasons so dropped).
Delhi to Solan is a good 300kms of a journey and it passes through some rough uphill sections, rain had played havoc in HP, so generic road conditions were bad, I delayed the option of getting the vehicle by road till conditions improved. My aunt and her family in meanwhile were having ball of a time enjoying local rides in the jeep, they said they had become talk of town and some local newspaper even took pictures and published under "Happy Senior Citizens enjoying an Open Jeep"
Finally the good day arrived, I took my driver along leaving nothing to chance. The drive from Delhi to Chandigarh isn't eventful, its simple straight road and pretty much has many roadside mechanics options incase need be, eventually things didn't tank, Rana had done a fine job refurbishing, we completed the journey sans any drama.
PS – Chandigarh and Bhopal is where Jeeps really feel at home, one can see numerous refurbished jeeps, some way older than mine.
We stopped on the way at PGI where my kid studies, I treated her and her friends to lunch, the jeep gobbled them all with room to spare, now with medical students one must remember time is of essence, so we had to speed up returning from lunch and then too the Jeep didn't fall short on energy, she did cough dark smoke but then for an aged vehicle I believed that was obvious.
I wish to believe it was not just the jeep that caught the all-girl gangs attention when I heard one of her friends say "I wish my boyfriend was half as fit as your dad"
Stopped at my brothers in Panchkula, he's moved from Kia Seltos to Kia Carnival, a monstrous vehicle that looks more like a glorified ambulance (yup the grapes are sour), now he did his bit of showoff with his lawyer pals who asked me to ensure paperwork etc was fine incase border cops turned on to mischief, thanked them for their concern, a few of them border cops have had a nasty experience with my heavy hand when they tried to pull a smart one for no rhyme and reason.
Finally by late evening I made it home, Rana had put bright LED's which really helped but in all the jiffy I totally forgot to ask for a cover, once we entered HP the rain gods came in plenty and by the time we reached home we were soaked wet, the first order of the day was to get a cover but then I deferred when my wife said "what's an open jeep that doesn't remain open", the next day drove her to work where she did her bit off showoff
Till now on my own I have clocked 1000kms in it and she is running fine, its not my primary vehicle (Ciaz gets that honor) but on weekends we do go driving and enjoying the drive to the fullest.
PS – there never goes a day when I do not remember what all I lost in the same vehicle under different circumstances and how much I appreciate what all I could have lost but the vehicles sheer rigidity prevented that from happening
Jeepsy Anecdote from previous life
I was stationed in the mountains and had the same jeep as my go to vehicle, my rider back then was Dhan Ratan Singh who folded his hands bowing to almighty every time the needle touched 40kmph, not one or twice but every single time, now there are rigorous idiosyncrasies amongst uniformed men but this was unique so one day I enquired the rationale made me laugh (in hinglish)
DR Singh – Saab ek raat hum Brigadier Shukla ko station le ja raahe the, jungle ka raasta tha to kaafi andhera tha, taab Brigadier saab ki aankh lag gaayi aur who humpe let liye, achaanak se brake laagaye aur brigadier saab bonet se gaaye seedhe jeep ke neeche, who uthe shaayad bhagwan se humaara lagaav hoga aur bole aare Dhan yahaan itna andhera kaaise aur hum chaal liye, aab aap hi baatayen yaadi bhagwaan ka lagaav nahi hota to Brigadier saab to hummari chutti na kaar dete!!!
Me – aab iska 40kmph se kya lena
DR Singh – jaab brigadier saab ki aankh laagi aur ye kaand hua to hum 40 ke speed pe the, aab prarthana kaar raahe hain ki aap ki aankh is speed pe na laage !!!
Some parting shots and more when a long ride eventually happens, hope was a good read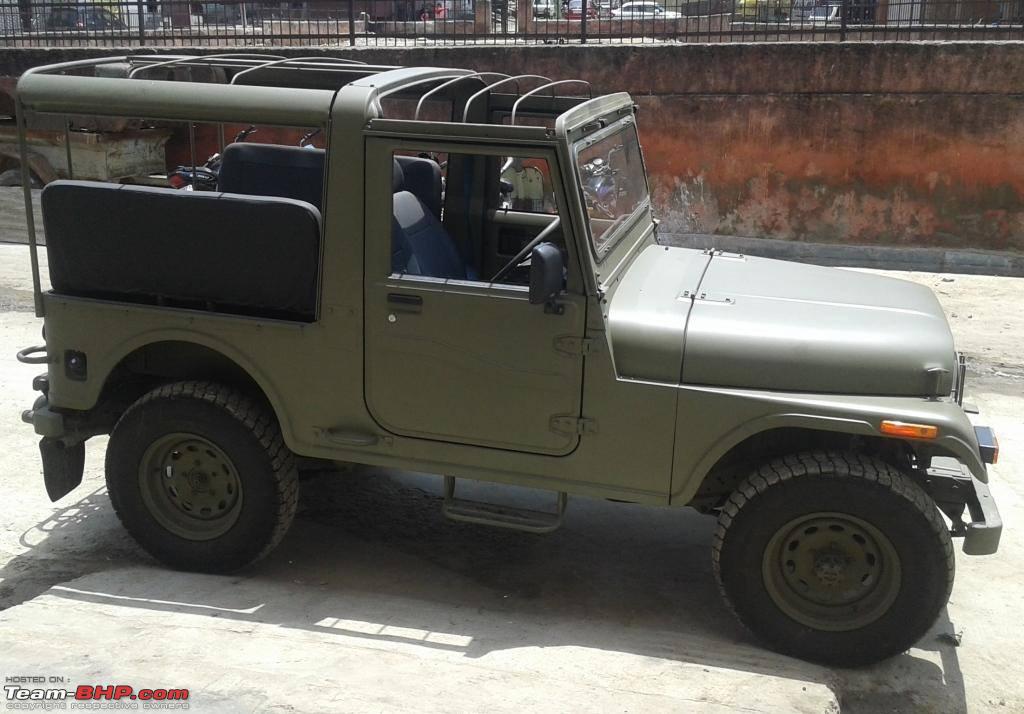 Read BHPian comments for more insights and information.
Source: Read Full Article