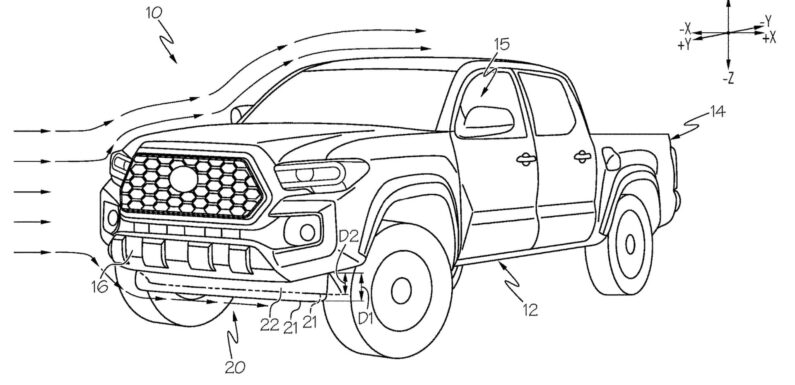 Active aerodynamics allow vehicles to change how they're cutting through the air, depending on the conditions. Toyota now has a patent for tech that could make these systems more effective.
According to Toyota's filing, active aero elements can cover vital vehicle components like an engine oil pan. Automakers might have to alter the shape of these movable elements to route them around these areas, making the pieces less effective.
Gallery: Toyota Active Aero Patent
Toyota's idea is to make it easy for technicians to move the active aero elements out of the way when servicing a vehicle. The patent images show a Tacoma, but the description doesn't specify what type of model this function would be for. It could be a sedan, truck, or SUV.
The patent describes multiple ways a technician could move the air dam out of the way. The mechanic could send a signal with an external device or do something in the cabin, like operating the windshield wiper stalk for a given amount of time.
By letting technicians move an active air dam out of the way, Toyota could design these elements to be more effective because there wouldn't be a concern about making maintenance more challenging.
Toyota has major tech plans for the near future, and this patent could be part of those strategies. The company is working on solid-state batteries that could be ready in 2027 or 2028. These packs could charge from 10 percent to 80 percent in just 10 minutes. A new manufacturing method would put self-propelled vehicles down assembly lines. The automaker is also developing a giga-casting system that would simplify production.
Assuming this active aero tech is for the Tacoma, like in the images, we wouldn't expect the feature to be available for a while. Toyota just introduced the new generation of the mid-size truck for the 2024 model year, and automakers don't usually update products so close to their debut.
If you're curious about the Tacoma, check out this video:
Source: Read Full Article