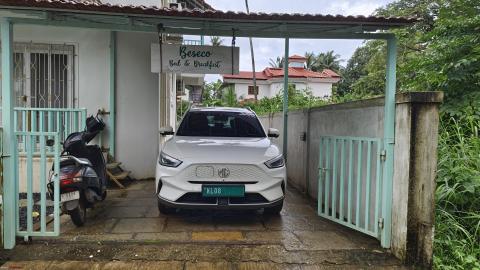 The availability of a 15A plug at one of our Airbnb meant that I needed to account for only two more fast charging sessions.
BHPian Keeleri_Achu recently shared this with other enthusiasts.
The long weekend that occurred in the end of September gave me and my wife the perfect opportunity for a road trip. While the initial plan was to drive to Wayanad and relax for a couple of days, it changed to a longer trip with more focus on the drive. Goa was soon chosen as the destination. An added bonus was that we could visit Kollur Mookambika Temple en route.
We had decided, even before choosing the destination, that we would be taking my in law's ZS EV. A trip to Sabarimala in the second week of September had already boosted my confidence of making this trip without much fuss.
Planning:
The last trip I did to Goa was back in 2016. With NH 66 road work happening in Kerala, I expected the conditions to be terrible. With that in mind, we decided to stay at Kollur for the night and then hit Goa after visiting the temple. I contacted hotels at Kollur and one of them, Jyothis Residency, had a 7 kW AC charger in their parking. With an EV, it is always the best if you have an option of overnight charging. To make it to Kollur though, I would have to do one fast charge on route. With a couple of 60 kW chargers available within a distance of 10 km at Neeleshwaram, I decided that we would make a pit stop there.
The overnight charging at Kollur would easily take us to our next stay at Benaulim, Goa. While there are a few fast charging stations listed in between Mangalore and South Goa, in reality only one fast charger is available. Hotel Sagar Residency at Honnavar. While we wouldn't need it on our way to Goa, we'll need a top up on the return leg.
The availability of a 15A plug at one of our Airbnb meant that I needed to account for only two more fast charging sessions. One at Fortune resort, Benaulim and another at Neeleshwaram on our return leg. The ZS's almost guaranteed range of 330 km in Normal mode made sure that we had a buffer of at least 50 km if at all any problems arise with the charger.
Day 1:
The original plan was to fly in to Kerala on Wednesday night and leave early on Thursday. Later on we decided to take an extra leave so as not to make it too hectic. In hindsight, that was a very good decision. Both our flights were delayed on Tuesday night and we could only get home at 3 30 AM. Had that happened on Wednesday, it very well could've messed up the whole itinerary.
After a good day's rest, we started from Thrissur at around 5.30 on Thursday morning. The car had been topped up to 100% overnight. It was raining quite a lot and right from the beginning of the trip, I had to deal with one of the cons of the ZS – the auto wipers. It is crap. You're much better off operating them manually.
After Kuttipuram, you essentially are restricted to a single lane. This is pretty much the case till you reach the Karnataka border.. We decided to have breakfast at Ramanattukara. After parking the car, I was faced with the second con of the ZS – let the picture do the talking.
This is the condition of the car, less than a 100 km into the trip. I know it was raining and the roads were bad. But the ZS is a different kind of dirt magnet.
We reached Kannur right in time for lunch. My wife did her MBBS at Kannur and she had already decided on the restaurants. We had meals from Odhens and then went to MRA bakery for dessert.
Afterwards it was a straight dash to Neeleshwaram. The first charger listed on Plugshare was run by ANERT. It is a 60 kW charger and was available when we got there. That is the only good thing about the place.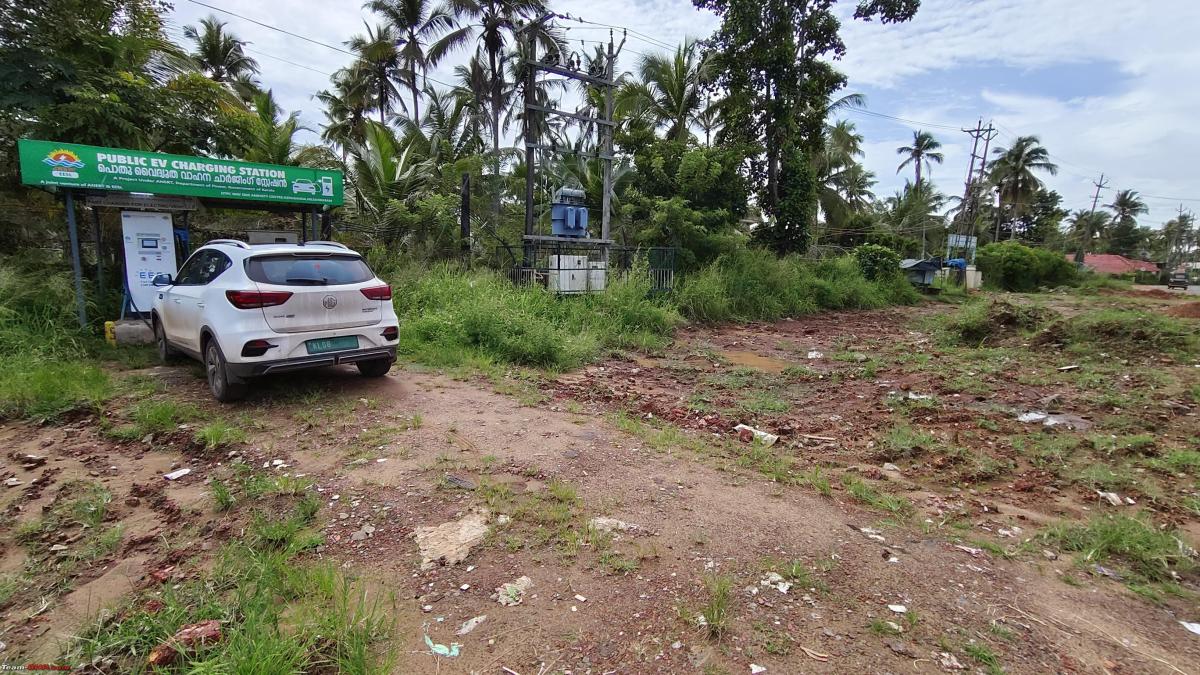 You cannot use this charger after sunset. You'll definitely get bitten by a snake. There is a DTPC rest area next to the charger. But the restrooms are in horrible condition.
The car was topped upto 98% in about 40 mins. We could've left sooner, but since there was no cars waiting, we decided to top up to max just in case the charger at Kollur isn't available. We made it to Mangalore only at 6 in the evening. NH66 construction have made the already bad roads worse. I really hope the project will be completed by 2025.
The roads in Karnataka were excellent and we made it to the hotel by 9 PM. The room was nice and I plugged the car in for charging.
Day 2:
I got a notification that the charging stopped at around 1 30 in the morning. After waking up, I went to check it out and charging had stopped at 70%. The charger was shown to be offline in their app. I talked to the hotel folks and the customer support in the app. Both of them were very prompt and the charger was soon reset. I resumed charging at 7 AM when we went to the temple. By the time we were done with the darshan and breakfast, the car was fully charged.
The only problem with the hotel is that the road condition to the entry is not great. While you won't scrape the bottom, you do have to be careful. It was pouring when I pulled in and I had to be extra careful. And the restaurant is strictly average. Other than that, the hotel experience was very pleasant.
We thought about visiting Murudeshwar on the way. But with rain playing spoilsport, we had to cancel it. Crossed Goa border at around 2 PM and reached our Airbnb at Benaulim by around 5 PM. We had the option of trickle charging at the parking and plugged the car in. Since the ZS only takes 2 kW per hour, it took a whopping 17 hours to get it to full from around 30%. We took an electric scooter on rent from our host to do local sightseeing.
The stay was wonderful and the host was very responsive and accommodating.
Day 3:
We checked out after breakfast and headed to Panjim. Since we had already visited Goa before, we decided to skip the tourist spots and just drive around. On recommendation of a friend, we went to Nerul for lunch. Afterwards, headed back to Benaulim for our stay. The battery was topped up to 100 at Fortune Resort. With rains increasing in intensity, we skipped beach plans and headed out for dinner.
Day 4:
Started our return journey at around 8 AM. Stopped at Palolem beach for breakfast. The beach was cordoned as the waves were very wild. After getting some souvenirs, got back on the road. Next stop was at Sagar Residency, Honnavar for lunch. This is the only 60 kW charger between Mangalore and Goa. The car was at 95% by the time we finished lunch. Stopped at Maravante beach for some refreshments.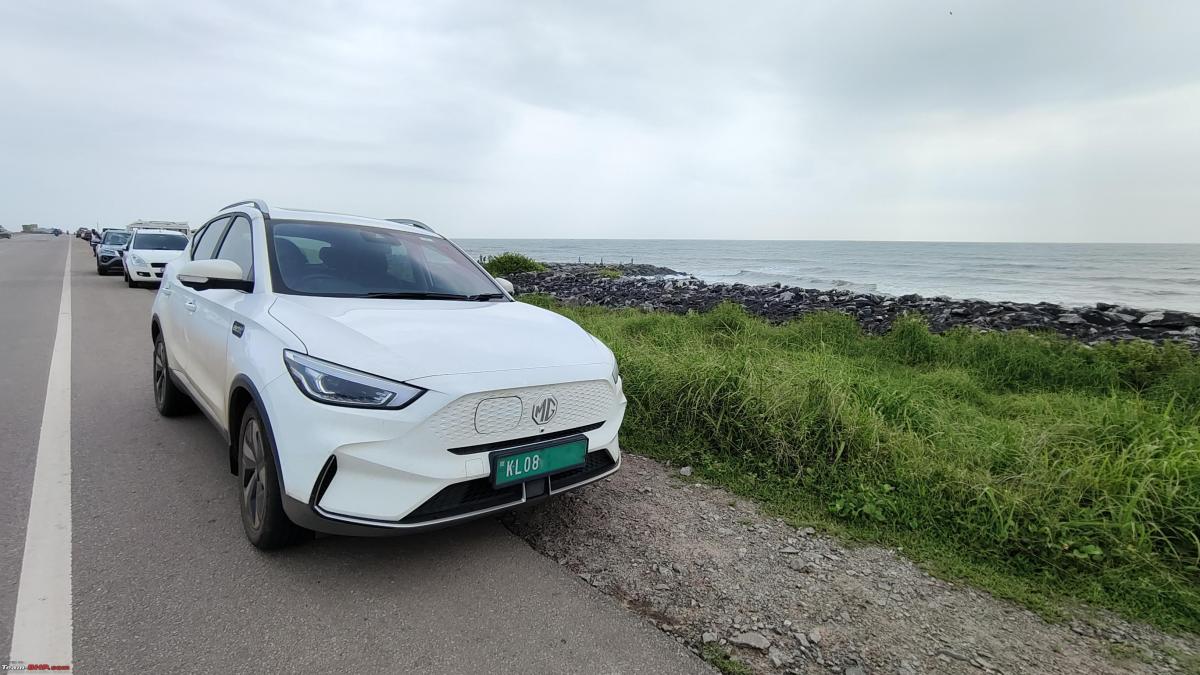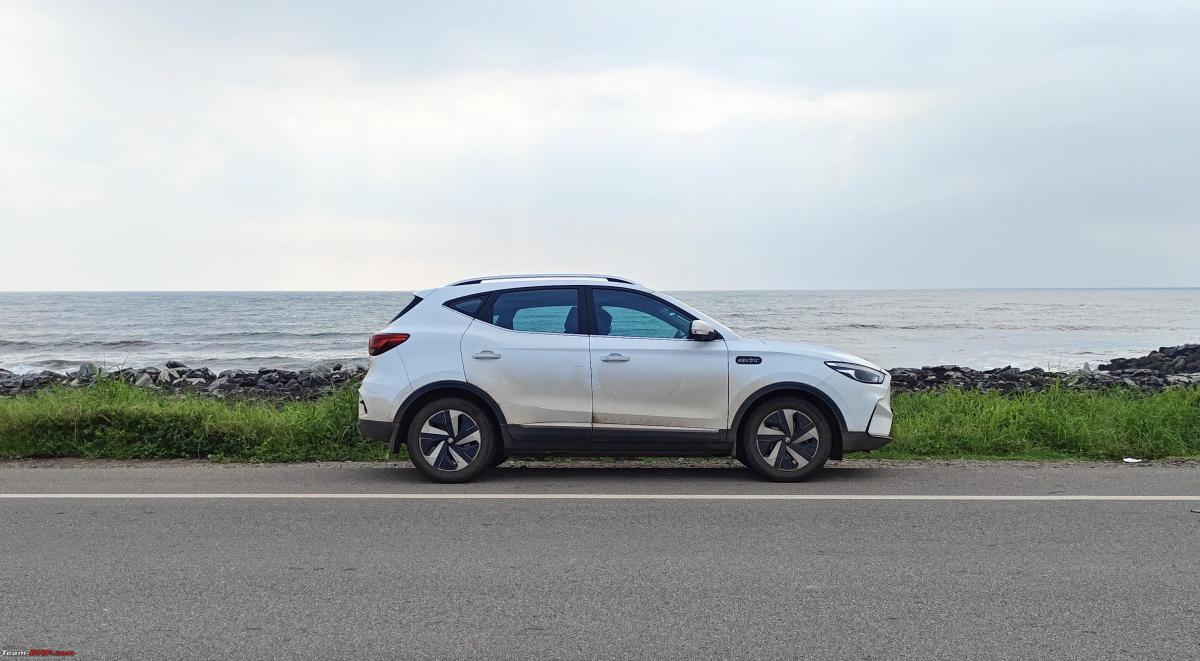 My wife had done her PG at Manipal. So we decided to take a small detour and see what has changed.
It was already 7 PM when we crossed into Kerala. We decided to stay at Payyannur after topping up the car at Neeleshwaram. Since we were already aware of the condition of the ANERT station, KSEB Mavungal was chosen as the alternate. When we got there, a Nexon was already charging. There was a second gun marked as available. But it failed to charge and upon contacting support, I was told that the gun is faulty. We waited until the Nexon stopped charging, which added another 30 mins. Once they were done, I quickly plugged in and the car took 1 hour to go from 10 to 100%. In the meantime, we ordered some food in Swiggy and had our dinner. It was 11 30PM when we reached our stay at Payyannur.
Day 5:
We visited Parassinikadavu at 7 AM and headed to MRA restaurant for our breakfast. Once we were done, my wife got me a carrot smoothie from a shop near bus stand. A quick stop at Koyilandi for refreshments and we were at Ramanattukara for lunch. We decided to take the Tanur – Tirur – Kuttipuram route skipping the NH. By around 5 PM, we were home with 10% remaining in the battery.
Final Stats: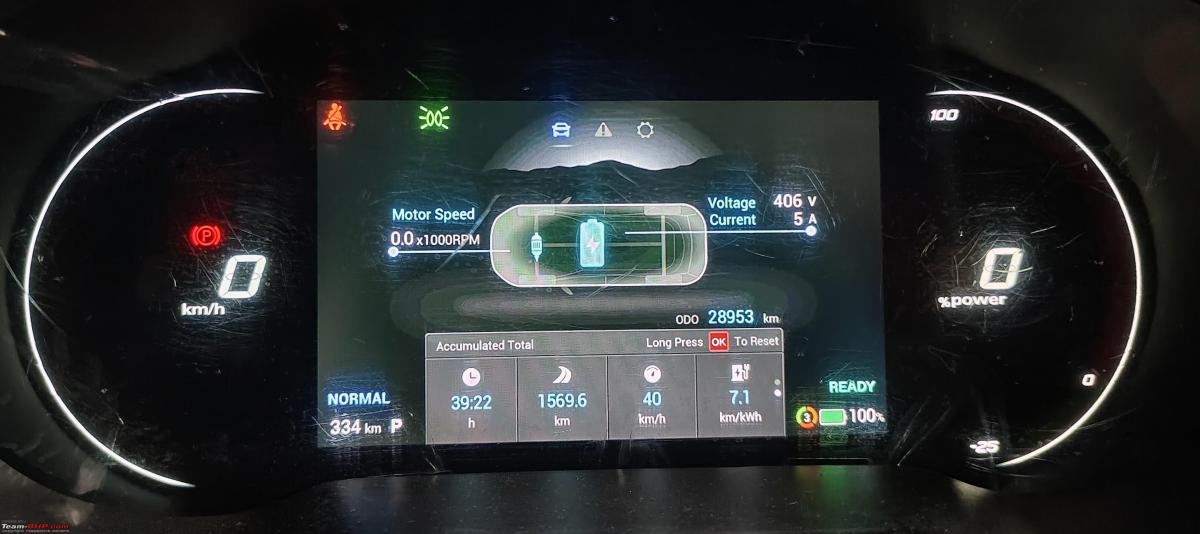 We had done 1570 km. With an efficiency of 7.1 km/ kWh, the ZS can easily do 350 km between charges. The lowest the battery ever came was 9% when we got to the KSEB station at Mavungal. We didn't face range anxiety anywhere during the trip. The only place that really didn't have a backup option was the station at Honnavar. But I was confident that I can make it to Mangalore if at all the need arises. We drove the car as any other car. AC was on all the time and even the sunroof cover was retracted throughout the trip.
Charging sessions:
Agriculture University, Neeleshwaram (Electreefi App 60 kW/h) 40 mins. 36.15kWh Cost: Rs 555.
Hotel Jyothis Residency (Rebolt App 7 kW/h) 6h 1 min. 36.9kWh. Cost: Rs 692.
Trickle Charging at Airbnb (2kW/h) 17 hours. 34 kWh. Cost Rs 850.
Fortune Resort, Benaulim (Chargezone App 30 kW/h). 51 mins. 19.3 kWh. Cost: Rs 482.
Sagar Residency, Honnavar (Jio BP Pulse App 60 kW/h) 26.12 kWh 47 mins. Cost : Rs 658.
KSEB Mavungal (ChargezMod App 60kW/h) 1h 3 min. 41.44kWh. Cost: Rs 598.
Total Cost : Rs. 3835 for a 1570km trip.
You would notice that slower the charge, higher the cost. The fast charging rate in Kerala is very cheap at around Rs 15/unit. It increases to 20+ in Karnataka and Goa. The Airbnb host had given me an upfront rate of Rs 50/hour. Since the ZS only draws only 2 units per hour, it would cost more compared to Nexon.
Also, I had to install 5 different apps in order to make this trip. I still have remaining balance in all of those wallets which probably won't be used in a long time. Jio is the only one amongst these which require a minimum balance to be maintained in the wallet.
The charging was very smooth in ANERT station. I could start it in 2 mins and the charging continued without interruption. Charging at Kollur was interrupted once and the charger had to be reset for it to resume. Fortune resort charger stopped 2 mins into the session and had to be restarted. It went to full without issues. I didn't face any interruptions at Jio charger, although the speed was reduced to 30 kW/h as it was shared with a BYD Atto 3. KSEB station had a faulty gun which was not updated in the app. I decided to wait for another Nexon's charging to finish as my alternate, the ANERT station, was not at all safe during night.
We started with a 100% charge from home and returned with 10% remaining. Charging cost at home is offset due to the solar plant.
Although the fast charger network is decent, I really hope the BPCL chargers come online as soon as possible. This would go a long way in reducing range anxiety.
Road condition:
The road from Kuttipuram to Kasargod is horrible. No two ways about it. We can barely overtake due to the ongoing road works and the rains made it a lot worse. We were lucky to escape major traffic at Mahe and Thalassery. I really really feel for those who have to use it on a day to day basis. The home stretch between Kunnamkulam and Thrissur is super bad. Whats worse, there is no intention from the authorities to resume the stopped work. The deadline has passed and they have probably completed 2 km between Mundur and Peramangalam, of the 25km stretch.
Karnataka roads were a delight with only few stretches near Bhatkal and Karwar remaining to be widened.
Goa roads, though narrow, were quite good. We didn't face much congestion.
The car:
We love it. It is a car unanimously loved by everyone in the family. It took MG 9 months to deliver it in 2022, but was well worth the wait. Apart from the dirt magnet rear, unreliable auto wipers, stiff suspension (even at 37 psi instead of recommended 42 psi), the car is a gem. It is super smooth, super fun and super economical.
The extra 10 kWh and 75 kW/h fast charge capability makes sure that you can go to an alternate station and get your charging done faster compared to Nexon EV Max. It really aids in killing the range anxiety.
We have already thought about taking the ZS on longer trips. With the ever expanding charger network, I think it's very much possible to do a South to North India trip without breaking a sweat. Cheers to the EV revolution.
Check out BHPian comments for more insights and information.
Source: Read Full Article