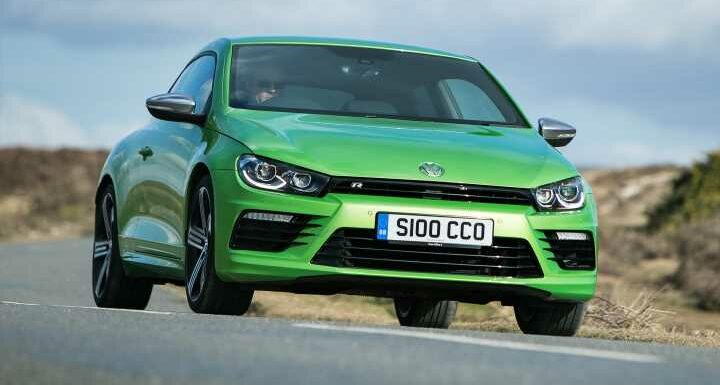 Gone – but best not forgotten if you're in the market for a practical front-drive hot hatch
By Tony Middlehurst / Sunday, 22 October 2023 / Loading comments
Key considerations
Available for less than £9,000
2.0-litre four-cylinder petrol turbo, front-wheel drive
Won't be disgraced on the road by higher-profile rivals
Good build quality inside and out
Surprisingly practical for a 3-door coupe
Mech issues are known and fixable
There was quite a buzz in 2008 when the third-generation Volkswagen Scirocco was revealed. Why? Because the first two Mk1 Golf-based Sciroccos – the 1974 Giugiaro type 1 built by Karmann and the in-house designed and built type 2 of 1981 – had uncorked a new bottle for VW and created a very enthusiastic following. Hopes were high that the follow-up would deliver the same mix of designery glamour and light-footed agility, only with more of it.
A lot more of it actually, because the Scirocco fans who had been expecting a type 3 car in 1988 had felt a bit let down by its non-appearance. What they got then was not a Scirocco at all but a Corrado. This Mk2 Golf-sourced coupe was another in-house design and a decent little car in its own right, especially in VR6 or supercharged G60 formats, but those high-end variants came with suitably high-end prices. Sales of the less interesting engined models were not large.
So there was a sense of 'about time' when the Scirocco badge did finally re-appear in mid-2008, although that was accompanied by a sense of 'what the hell is that anyway?' Based this time on the Golf Mk5, the new car's body was the work of ex-Alfa and Seat designer Walter de Silva, who went to bat for Volkswagen after a spell with Audi. His work on the gen-three Scirocco did rekindle the VW coupe flame, not just among Scirocco devotees but also among a new market of company car users who considered the plumply-reared coupe to be more 'aspirational' than the Golf on which it was based.
Indeed, boosted by some amazing fleet deals, the gen-three Scirocco did very well, not disappearing from the VW brochures until 2017 when someone noticed that it was hurting aspirational Golf sales. There was some hope held out in 2017 for a possible Scirocco reprise in the future, but now that we're well into that future the likelihood of it returning seems remote to say the least.
Luckily we have some good models to remember the last Scirocco by, like the 217hp GTS and the subject of our buying guide today, the 265hp R which came out in 2009. Powered by a tuned-up version of the Golf GTI's EA113 turbo 2.0-litre engine with a six-speed manual gearbox as standard (six-speed DSG optional), the R was the most powerful Scirocco. Although the MacPherson strut front, multi-link rear suspension layout was unchanged from the standard Sciroccos, the R's springs and wheels gave it a lower stance.
Keeping the R front-wheel drive only kept the weight down to under 1,350kg but also required the addition of some sort of limited-slip diff, in this case, VW's XDS electronic differential. The R also came with Adaptive Chassis Control which gave the driver three modes (normal, comfort and sport) to trim the responses of the suspension, steering and throttle. The R's normal setting was about the same as the sport setting on a normal Scirocco, making sport on the R noticeably sport-y. Normal was sporty enough for most UK drivers.
Interior temptations to help upsell you from the cooking Sciroccos to the R included VW's Discover Navigation touchscreen, new sports seats and piano black trim. Exterior changes ran to smart 18-inch wheels with the option of 19s, bigger brakes with gloss black calipers, smoked back lights and some more in-your-face aero. A midlife facelift was unveiled at the 2014 Geneva show, but you needed pretty sharp eyesight to spot the differences. Basically, it was the usual front and back bumper change, a tailgate refresh and the addition of bi-xenon headlights and LED daytime and tail lights. The biggest change was invisible to most, that being the substitution of the EA113 engine with the EA888 unit from the Mk7 Golf R. That took power up to 280hp.
As with the old Corrado, the top-spec of the R was reflected in its pricing which was initially pegged at £27k for the manual or £28.3k for the DSG-gearboxed car. That was a thought-provoking amount of dough at the time, though it was still a slightly lower amount than VW was asking for the all-wheel drive Golf R.
Things have changed since of course. As we were putting this guide together in late 2023 you could snaffle a Scirocco R for under £9,000. Go on, admit it, you're surprised. But should you be wary too? Let's take a gander.
SPECIFICATION | VOLKSWAGEN SCIROCCO R (2009-17)
(Figs in brackets are for DSG auto version)
Engine: 1,984cc inline four turbo petrol 16v
Transmission: 6-speed manual (or DSG auto), front-wheel drive
Power (hp): 265@6,000rpm
Torque (lb ft): 258@2,500-5,000rpm
0-62mph (secs): 6.0 (5.8)
Top speed (mph): 155
Weight (kg): 1,344 (1,364)
MPG (official combined): 34.9 (35.3)
CO2 (g/km): 189 (187)
Wheels (in): 8 x 18
Tyres: 235/40
On sale: 2009 – 2017
Price new: £27,000
Price now: from £9,000
Note for reference: car weight and power data is hard to pin down with absolute certainty. For consistency, we use the same source for all our guides. We hope the data we use is right more often than it's wrong. Our advice is to treat it as relative rather than definitive.
---
ENGINE & GEARBOX
In standard trim, the R's TSI 2.0-litre four offered a sweet mix of power and accessible torque, maximum shove being available from 2,500rpm to 5,000rpm, with boost becoming obvious from 2,200rpm. The R didn't do as well as some of its rivals over the 0-62mph run, or even the 0-60mph run, because the engine hit the rev limiter in second at 58mph, but in typical British conditions its linear power delivery made it a good match for them over higher-speed acceleration runs.
If you were suspicious of the EA 888 engine that powered the Mk6 Golf GTI and that had acquired a reputation for fragile timing chain tensioners and/or an appetite for oil, the good news for you as far as the Scirocco R was concerned was that its turbo 2.0-litre TSI engine was the older belt-driven EA 113 engine, as used in the Mk5 Golf GTI (and actually the Mk6 Golf GTI Edition 35). We say 'belt driven'. It was actually belt and chain, using a belt to link the camshaft to the crankshaft and a chain to link the exhaust and inlet cams.
The Audi S3 used the same EA 113 motor but only until 2010. The Scirocco R stuck with it until 2014. It's thought that the S3 version had a few different and better parts in it than the VW, along with some useful mods. The 113 could suffer from cam chain wear, sticking thermostats, and failure of the injectors, coils, and PCV/diverter valves. If the engine began to misfire when the dipstick was removed, your PCV was OK. If it didn't, it wasn't.
Fuel pump cam followers were known to fail too, but luckily the replacements offered by the likes of Awesome GTI were not expensive at under £50. It made sense to tack this job onto the normal service routine on a 20,000-mile basis. Belts, tensioners and water pump were on an 80,000-mile/4-year replacement schedule. You had to allow up to £1,000 for that work.
Bearings and/or seals on the Borg Warner K04 turbo were vulnerable on tuned cars. Revo in Daventry and R-Tech Performance in Nuneaton became well known for their tuning work on turbo VAG engines. A Stage 1 remap on a 2.0 TFSI would give you 290-310hp and 290-330lb ft. Stage 2 with a new exhaust, sports cat and cold air induction kit took the numbers up to 335-350hp and 320-340lb ft. Stage 2+ with a high-pressure fuel pump brought appreciable torque lifts on top of that. If you chucked a big turbo on you'd be up to well over 400hp, or nearly 500hp if you were prepared to throw enough money at it. If you didn't have unlimited dough, aftermarket exhausts from the likes of Cobra or Scorpion were there to help you dream of big power, while not actually possessing it.
Long-travel manual gearchanges were very much a thing on the old Corrados, so it was nice of VW to remind us of those days by providing the manual Scirocco R with a similar feel at the stick. OK, it wasn't quite as bad as the Corrado's, but the fact that DSG Rs do outnumber manuals on the UK used market – not quite by 2 to 1 but it's close to that – tells you something. Even at £1,200 plus, Sachs clutch and flywheel packages were a pretty much essential choice for tuned manual Rs. They stopped clutch slip and the odd mooing noise that some standard clutches made but there was a price to pay on pedal lightness. If second gear didn't engage on your manual without a crunch, you had to suspect joyous abuse by a previous owner.
The DSG gearbox did away with all these worries of course but its Mechatronic brain wasn't foolproof. Juddering was your clue to problems in that department. A new Mechatronic from VW would be around £1,000 plus fitting but firms like ECU Testing in Ripley would do you an exchange unit for a fraction of that cost.
The DSG version of the R was 20kg heavier than the 6-speed manual car, but as we've now learnt to expect it was quicker through the 0-62mph run (5.8sec v 6.0sec) and marginally more economical. The official combined fuel consumption was 35mpg. High 20s were nearer the mark for enthusiastic drivers. The trans fluid and filter were supposed to be changed every 40,000 miles. Independent VW specialists will typically charge you £140-£160 for a minor service and £270-£295 for a major one. Early cars did suffer from electronic glitches.
CHASSIS
The R's chassis came in for a good bit of praise from the motoring press. They liked its composure and direct steering. Its electronic diff might not have felt quite as chompy out of corners as the mechanical ones found in cars like the Renaultsport Megane or the Focus RS, but in combination with its adaptive suspension it allowed the Scirocco to put up a very credible real-world fight against either of them.
Okay, maybe it wasn't quite as scalpel-like to drive, but it felt more agile than the previous Scirocco GT range-topper. Its blend of ride comfort and handling was more than good enough and, as we'll see later on, Scirocco ownership brought other pleasures.
Shock absorbers can leak, especially at the back, and rear coil springs are prone to rusting now but neither of these will be a wallet-buster to sort out. Powerflex polybushes (other brands are available) are a good way to freshen up the feel of the car. Some noise from the electronic steering in parking moves is normal.
Uneven tyre wear patterns suggests misaligned suspension, usually after hitting a rut, pothole or other road users. A four-wheel alignment is always worth doing on any R you purchase.
BODYWORK
The glass in the frameless doors could stick to the rubber seal in wintry weather, sometimes resulting in a tearing of the seal when the window didn't drop on door opening as it was supposed to. A smear of decent rubber lube would fix that.
The particular curvaceousness of the body panels and the darker colours they're most often painted in makes it relatively easy to spot paint mismatches. Lacquer has been known to part ways with R bumpers, light units can get misty and the boot/tailgate gas struts are quite flimsy. Very early struts (pre-May '09) also used to rust but most if not all of those should have been warranty-replaced by now.
Visibility out of the back was poor so most UK buyers ticked the box for rear parking sensors, but strangely not everyone did. These should really be on the spec sheet of any car you're thinking of buying, although of course aftermarket systems are available.
INTERIOR
As mentioned earlier, the R would acquit itself surprisingly well in a fast-roads blind against a Focus RS. There was another area in which it was more than a match for the Ford, and that area was cabin quality, both perceived and actual. Not only were both the materials and assembly good, they were complemented by excellent Recaro seats, and space and layout were both impressive for a 3-door coupe. The rear seats split and folded down to boost cargo space to a very decent size and there was acceptable legroom in the back when they were up.
All the seats wore well, even the pronounced bolsters. The stack of supplementary instruments (oil temp, timer and turbo pressure) atop the dash plus the standard leather added to the R's 'sporting luxury' ambience. Bluetooth was still relatively new in 2009 so don't be surprised if your fancy-schmancy phone won't lower itself to working with the R's set-up.
Air con compressors gave up, but there again they do that on plenty of other cars.
PH VERDICT
There's no doubt about it, for epic days out and 'event' drives something like a hot Megane or the 300hp Focus RS will be many PHers' weapon of choice. Or at least would have been back in the day. However, for everyday driving not only back in the day but also now in 2023 you would do well to give serious consideration to the 265hp Volkswagen Scirocco R. It might not be quite as focused as the, er, Focus but it wouldn't be disgraced in its company and the VW's softer, um, focus seems to have somewhat defused the dating process for the R in relation to the Ford.
Picking up an R off the used market will certainly be a lot cheaper than scoring an RS. The most affordable 2.5 Focus RS on PH Classifieds in October 2023 was a 60,000 mile '09 car at £23k. Lower mileage RSs are considerably dearer than that – £37k-£38k for 25,000-mile cars – and RS500s are off the scale expensive at £60k plus.
Against that, Scirocco Rs look like excellent value at under £9,000 for good privately-owned specimens with under 90,000 miles, or around £15,000 for late-model 50,000-milers. The lowest-priced R on PH Classifieds at the time of writing was this 104k DSG car from 2010.
It had a pretty much spotless MOT history taking you up to next June and a price ticket of just £7,950. This 2013 manual with 94,000 miles has a similarly good background and also looks tempting at £10.5k. If you want a facelifter what about this 2016 car with only 18,000 miles at £13,500? Cat D admittedly, but only for minor wing damage. Even the dearest R on PH Classifieds, this 280hp 2017 specimen with 21,000 miles, was under £21k.
---
Source: Read Full Article