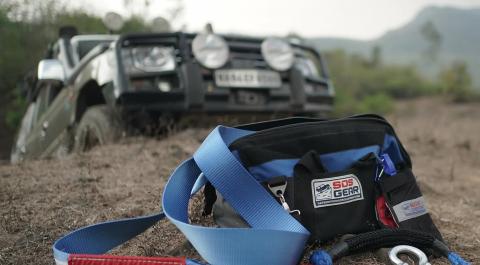 All products have been tested by BIS and NABL-approved labs in India.
SOSGear offers a range of products designed specifically for off-road use. These mainly include off-roading essentials and recovery equipment, which has been tested and certified in India.
SOSGear was founded by Dr. Tejas Kothari, an I4WDTA-approved trainer and founder of Offroad Junkie and Learn Offroad. The company has developed products like tow straps, shackles, and tyre pressure gauges in consultation with experienced off-roaders. Each product has been tested by BIS and NABL-approved labs in India.
Non Kinetic Static Tow Straps
Tow straps are available in two sizes: 3 m and 10 m,  priced at Rs 2,750 and Rs 4,500, respectively. These are made from polyester and have a working load of 5 tonnes and a minimum breaking strength (MBS) of 13 tonnes.
Soft Shackles
Shackles are an essential part of a recovery operation. The benefit of soft shackles is that they float on water, unlike metal shackles. These are priced at Rs 3,500 and have a working load of 5 tonnes and MBS of 12.6 tonnes.
Metal Bow Shackles
The 3/4 inch screw pin type bow shackles are made from Grade 80 steel alloy and weigh 1.2 kg. They have a Working Load (WLL) of 4.75 tonnes. The Minimum Ultimate Load is 5 times the WLL. These are priced at Rs 499.
Analogue Tyre Pressure Gauge
The analogue gauge does not require batteries and comes with a pen-type clip to carry securely in the pocket. The gauge can display air pressure from 10-50 PSI, with a 1 PSI interval. It is priced at Rs 300.
Apart from offroad recovery equipment, SOSGear also offers products like Utility Gloves, Glove clips, kit bags and a Drawstring bag to store your tow straps.
Enthusiasts who wish to purchase the complete kit can opt for the Premium Recovery Kit option, which costs Rs 16,250. It includes a 3-meter and 10-meter tow strap, a pair of metal bow shackles, a pair of soft shackles, gloves, a glove clip, a tyre pressure gauge, an Offroad Recovery Kit bag, a pair of drawstring bags and a sticker set. 
You can order SOS Gear's off-roading kit on their official website.
Source: Read Full Article