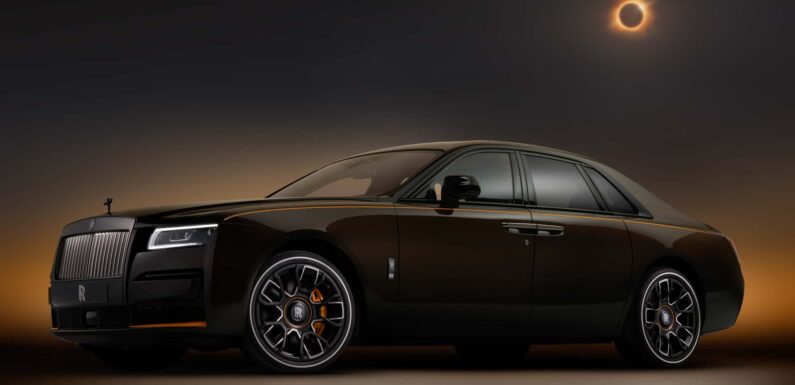 Rolls-Royce has made a limited-edition Ghost Black Badge that takes its styling inspiration from a total solar eclipse. The automaker filled the luxury sedan, the Ékleipsis Private Collection, with numerous motifs of the celestial phenomenon.
One of the car's more striking details is its animated Starlight Headliner. When the engine starts, a circle of 940 stars appears overhead, representing the sun's corona, often visible during a total solar eclipse. The display lasts for exactly seven minutes and 31 seconds, the longest possible time an eclipse can happen, before returning to a constellation.
Gallery: Rolls-Royce Ghost Black Badge Ékleipsis Private Collection
The Ghost wears Lyrical Copper exterior paint that Rolls-Royce accents with Mandarin orange on the lower bumper. The company also uses the color for the car's hand-painted coachline, the wheel accents, and the brake calipers.
Inside, the Mandarin orange pokes through the over 200,000 individual perforations in the bi-colored seats. Rolls-Royce tinted the Mandarin leather a black shade, with the tiny holes exposing the orange contrasting color underneath.
The dash features 1,846 laser-etched stars, creating a "symbolic timeline of a total solar eclipse." Next to the dashboard's solar eclipse motif is a bespoke timepiece with a 0.5-carat diamond. It represents a single point of light that appears on the Moon's outline just as it covers and uncovers the sun. It's the first time the company has integrated a gemstone into a clock's bezel.
Rolls-Royce put the timepiece through intense adhesion tests to ensure the diamond would stay in place. It subjected the clock to cyclic temperature tests ranging from -30 degrees Celsius (-22 degrees Fahrenheit) to 90 degrees Celsius (194 degrees F).
Many of the design features took several iterations to perfect. Rolls-Royce Bespoke Collective produced three prototypes while perfecting the headliner. The unique timepiece resulted in over 14 design iterations. It took one designer over 100 hours to perfect the Ghost's illuminated dashboard.
The automaker is limiting the model's production to just 25 examples. The debut coincides with the annual solar eclipse on October 14 that's visible in parts of the Western Hemisphere. Rolls-Royce has already allocated the entire Ghost Black Badge Ékleipsis Private Collection run, which comes with an indoor car cover with the Private Collection word mark.
This isn't the first time Rolls has looked to the stars for some styling inspiration. In 2021, it launched the Phantom Tempus, which incorporated pulsar stars, time, and the universe into the styling motifs throughout the vehicle.
Source: Read Full Article