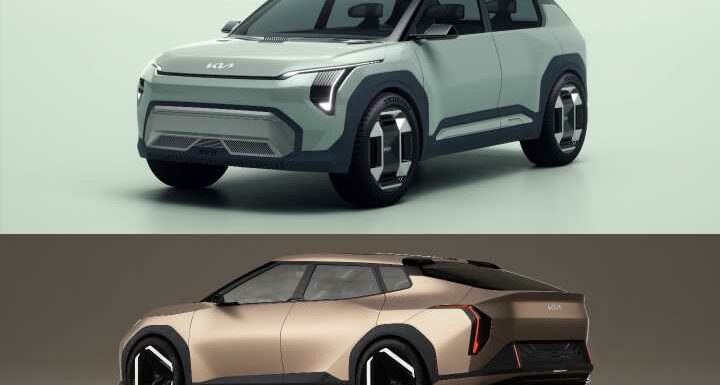 Inaugural 'EV Day' sees debuts of new compact crossover and not-a-saloon four-door saloon
By Cam Tait / Thursday, 12 October 2023 / Loading comments
Kia's electric car naming structure can be a bit tricky to follow. The first BEV we received from the Korean car giant was the Soul EV back in 2014, followed by the bland (but actually quite brilliant) e-Niro a few years later. Then came the EV6, built from the ground-up to be an electric car and, therefore, justifying an all-new name. And now it seems the nomenclature has stuck, as the company has announced new EV3 and EV4 concepts, alongside a production version of the EV5 SUV.
Announced as part of the company's inaugural 'EV Day', which is set to become an annual event to showcase the firm's new EVs, the new concepts take the form of an entry-level compact SUV (that's the EV3) and a Polestar 2-style raised saloon (the EV4). Kia isn't giving away any powertrain details this early on, sadly, but judging by the look of the imminent EV9 compared to its concept, there's a good chance that what you see is what you'll get at some point in the not-so-distant future.
Let's start with the Concept EV3, as it's slated for release next year and will likely become Kia's new cash cow. Compact crossovers are immensely popular, after all, even if a fair chunk of them are far from thrilling. The Concept EV3, however, aims to take the tech and luxury of its impending EV9, and scale it down into a smaller package. The interior, for instance, adopts a similar design and layout to the flagship SUV, with a floating centre console, outstretched windscreen and digital panel incorporating the instruments and infotainment menus spanning half the dash.
It's still very much a concept, mind, so expect to see more buttons (and more realistic pedals) make their way over to the production car. It should, however, come with 'soft mood lighting' that, in Kia's words, 'promotes emotional wellbeing'. Kia has also developed a new natural fibre: a lightweight material with similar benefits to carbon fibre – and without the environmental downsides. It's incorporated into the seats to help save weight, and is paired up with 'mini tables' made from a mushroom-based material called Mycelium, serving as a greener alternative to plastics. It's softer too, apparently.
Over to the Concept EV4, which adopts the same cabin layout as the EV3, only now in a saloon body. Only Kia doesn't want you to call it that, claiming that its 'sleek low nose' and 'long-tail silhouette' are more reminiscent of sports and racing cars, meaning it qualifies as 'an entirely new type of EV saloon.' However Kia wants to label it, the EV4 will still go up against the Tesla Model 3, Polestar 2, Hyundai Ioniq 6 and other four-door EVs commonly referred to as saloons.
While Kia hasn't revealed any technical details for its new concepts, we do have battery and motor specs for the new EV5. Strangely, the line-up varies depending on whether it's a Chinese or Korean model. Those built in China for the local market come with either 64kWh or 88kWh batteries, with power ranging from 218hp to 313hp. In Korea, that drops to 58kWh and 81kWh, while outputs range from 218hp to 306hp, although the company says the powertrains are still under development and could change come release day. A GT version is in the works too but, again, Kia is playing its cards close to its chest.
Spencer Cho, Kia's head of business planning, says: "the EV market is expanding from one catering to the smaller early-adopter group to a broader mass majority of customers. As a leader in the great EV transition, we have quickly expanded our EV line-up beyond the EV6 and EV9 to include a variety of small- and medium-sized models such as the EV5. Our competitive, growing EV line-up will accelerate the popularisation of electric vehicles and provide consumers with more options from which to choose."
That 'popularisation' of EVs is set to kick off imminently, with both the EV5 and production-ready EV3 due to arrive next year. We'll have to wait a little longer for region-specific pricing, but Kia says that EV3 to EV5 will cost between $35,000 and $50,000 (or £28,500 and £40,600). If the sci-fy styling didn't grab your attention, those prices certainly should.
---
2021 Kia EV6 AWD | PH Review
Kia Stinger | PH Used Buying Guide
Latest Electric Vehicles articles
Kia reveals EV3 and EV4 concepts, production EV5
BMW unveils all-new 300hp X2 M35i and iX2 EV
Mercedes Trucks launches eActros 600 EV
New Enyaq vRS is most powerful production Skoda
Nissan goes all Alpine with new 20-23 EV concept
Source: Read Full Article