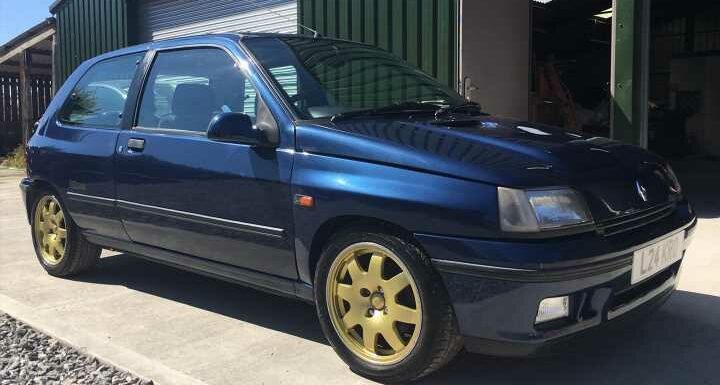 Perhaps Renault's most iconic hot hatch is now 30 years old – time to mark the occasion
By Matt Bird / Tuesday, 19 September 2023 / Loading comments
There's a very strong case to be made for Renault to be named the greatest hot hatch builder ever. Its legacy is unrivalled, from mid-engined, rear-drive rally cars to a trio of Nurburgring record breakers. Short of a four-wheel drive mega hatch, Renault did it all, from city slicker pocket rocket in the shape of the Twingo 133 to stripped out specials like the Clio Cups. And, credit where it's due here, it looks like that expertise should survive the transition to electric, certainly if cars like the new 5 EV and Alpine A290 are anything to go by.
Even in that illustrious back catalogue, however, the Clio Williams stands out as a hero of the breed. It's now 30 years old, too, in case we needed any more reason to celebrate it. Back when hot hatches were enjoying something of a slump, the Willy was a beacon of hope. Times could have been better, the competition stronger, and the blue-and-gold Clio would still have been the cream of the crop. That's just the Renault way.
You'll likely know the story now, but a brief reminder if not. The Williams was built to fulfil homologation requirements for Group A and Group N rallying, back when the French manufacturers were mildly obsessed with building front-drive rocketships to embarrass the 4WD stuff on tarmac (see also: Peugeot Maxis). For that, 2,500 2.0-litre cars would have to be built. Starting from a 1.8 16v, Renault absolutely went to town on the little Clio – as is also the Renault way. To make an F7R engine from an F7P, the Clio got bigger valves, new pistons, cams and conrods, a lightweight exhaust manifold and a stronger crank as well as being bored and stroked for the larger capacity. Power was 150hp at 6,100rpm, with 126lb ft of torque at 4,500rpm, with 85 per cent from 2,500rpm. The Clio Williams weighed 981kg, which almost feels a misprint now.
Making a rorty hot hatch of the Clio proved a huge success; to the chagrin of those collectors who thought they'd got one of very few special editions (just 400 right-hand drive cars were allocated here originally), a Williams 2 and Williams 3 followed and 12,000 were eventually made. Though fundamentally the same car, it's those originals that are now most highly prized, and that's exactly what we have here.
Resplendent in Metallic Sports Blue (the only colour for the first two batches; the Williams 3 was Monaco Blue), this Williams is a really, really early one – car number 30. It's 29 years old in 2023, has been with the current owner for 13 years, and in storage for the best part of a decade. Which doesn't sound ideal for anyone hoping to jump back in and relive a misspent youth, but this one has undergone a chunk of work for its MOT, with lots of big jobs done that the next owner won't have to worry about.
They include (but aren't limited to) a new cat, a new cambelt and water pump, a new radiator and some welding to deal with the inevitable bad bits of bodywork. With 130,000 miles under those gorgeous gold Speedlines, this Williams won't ever be a concours one, but it does look very, very good. Exactly the thing to drive and enjoy as one of the hot hatch heroes, a reminder of just how good Renault is at this sort of car. Don't be surprised, either, if it's even more covetable as the electric hot hatches come on stream…
---
SPECIFICATION | RENAULT CLIO WILLIAMS
Engine: 1,988cc, four-cyl
Transmission: 5-speed manual, front-wheel drive
Power (hp): 150@6,100rpm
Torque (lb ft): 126@4,500rpm
MPG: 30ish
CO2: N/A
Year registered: 1994
Recorded mileage: 133,000
Price new: £13,275
Yours for: £16,000
Behold the new Alpine A290
Megane R.S. Trophy-R vs. Golf GTI Clubsport S
Source: Read Full Article