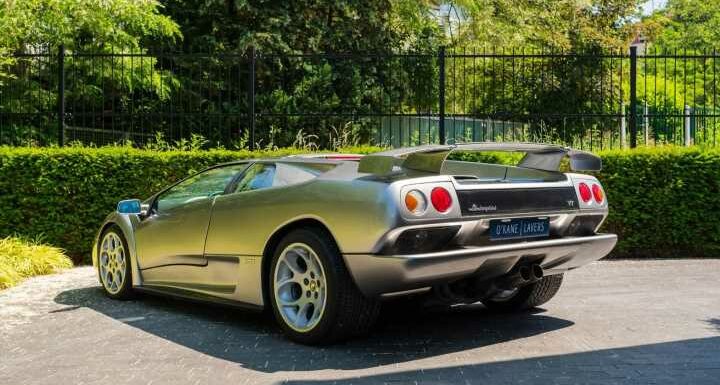 Many feared Lamborghini would go all soft under Audi ownership – this is the car that proved them wrong
By Cam Tait / Tuesday, 12 September 2023 / Loading comments
Anticipation must've been sky-high when the first drives of the Lamborghini Diablo VT 6.0 took place. This was the first release under Audi ownership, and while there's only so much the German car giant could do with existing models, the company was keen to prove that it'd be taking a hands-on approach. How could Audi, a company synonymous with sensible saloons, improve on a car as unhinged as the Diablo without watering down the silliness?
As we now know, Audi came out of the gate swinging. The fastest way to a Lamborghini owner's heart is to always offer more power, preferably with twelve cylinders arranged in a V. So Audi decided to lump in the 6.0-litre V12 from the ultra-rare Diablo GT, albeit with tweaks to the variable valve timing and ECU, as well as a new exhaust and intake, resulting in a 558hp output just shy of the 7,500rpm redline. Audi stuck with the Diablo's five-speed manual, too, saving the more 'accessible' automated transmission for the Murcielago – and even then it arrived a couple of years down the road.
Meanwhile, the styling was given a refresh to bring the very-'90s design into the Millennium. The last time Lamborghini gave one of its models a significant mid-life facelift it was the Countach 25th Anniversary, styled by Horacio Pagani no less, which didn't quite live up to the reputation he enjoys now. The Diablo refresh, however, would be far more successful. Audi-appointed Luc Donckerwolke was tasked with restyling the VT 6.0, smoothing off some of the Diablo's edges for a look that – very loosely – previews the design language Lamborghini would carry for over a decade. Perhaps not quite as intimidating as earlier models, but it was still more ludicrous than anything else on the market at the time.
The interior was given a major overhaul, too. While a refreshed cabin design had been introduced on the 1998 facelift, further changes were brought in for the VT 6.0 – namely a better seat position to open up more legroom, plus a repositioning of the pedals so they were no longer comically off-centre. Of course, there's an appeal to an Italian supercar with wonky ergonomics, but Audi tried to prove a point with the VT 6.0 that driving a performance car doesn't have to be a chore.
Being an embryo at the time, PH didn't get around to driving the VT 6.0 back in the day, but, if we had, there's a good chance we'd have driven this very car. It's the old Lamborghini demonstrator, the very machine that showed journalists first-hand that the company's future was in safe hands under Audi ownership. It doesn't hurt that it spent its early life being thrashed by legendary Lamborghini test driver, Valentino Balboni, who was reacquainted with chassis 12408 in 2020 and gave it an 'inspection'. Who knows what that entailed, although here's hoping it was a good hammering through the hills of Sant'Agata.
Naturally, a Lamborghini with this sort of heritage commands a value of such magnitude it can only be displayed with a trio of letters: POA. If, however, you'd prefer to forfeit a little prestige for one with a steering wheel on the correct side, then there's this 22,000-mile example for £349,990. That's a hefty premium for a Diablo, and a good chunk more than most of its successors. But the VT 6.0 was something special; turning apprehension into excitement as Lamborghini moved into a new era that it has never looked back from.
---
Source: Read Full Article