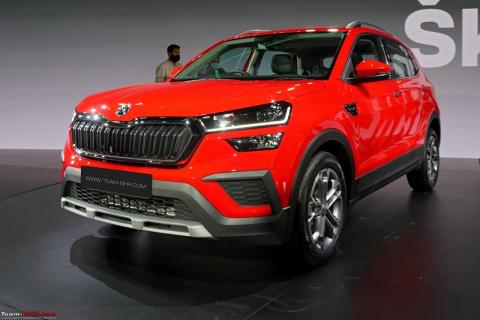 If I was anywhere else in India, this would be a no-brainer for me.
BHPian BrabarusMark recently shared this with other enthusiasts.
I had finally settled on the Kushaq 1.5 DSG and the booking for it is imminent. However, the Car Gods have a twisted sense of humour. I've come across a decently maintained used 2018 Volvo S60 diesel that is working out to be the same price as the Kushaq.
If I was anywhere else in India, this would be a no-brainer for me. Since I am in Gurgaon, the NCR rule for diesel would mean I only get 5 years with the Volvo. As a personal preference, I like purchasing things that I know will be used for as long as possible. I don't see myself moving out of Gurgaon in the near future either.
So here's my dilemma: Should I let the heart win and buy the Volvo, and enjoy the experience of a luxury car for the next 5 years or should I let the brain win and enjoy everything the Kushaq has to offer?
Here's what GTO had to say on the matter:
The fact that you are in Gurgaon, a used 5-year-old diesel car is out of the question. You'll barely be able to use it for 4 – 5 years, before selling it off for peanuts. Get the Kushaq 1.5L, it's a wonderful car to drive.

Make sure you get the maximum extended warranty available. You'll need it with a Skoda.

Side by side, also TD the Slavia / Virtus sedans. I feel they have a better presence (especially the handsome Virtus), although the Kushaq / Taigun undeniably come with the usual crossover advantages.
Here's what BHPian Axe77 had to say on the matter:
The fact is, it's not the same price at all. On the one hand, ~Rs. 20L (+/-) is getting you a brand-new car with a usable life of at least 15 years. On the other hand, you're getting a 5-year-old diesel car with a usable (in NCR) life of 5 years, post which it'll have a pittance of resale, if anything. Add to that the fact that one will have the upkeep costs of a brand new car while the other will have 5-year+ maintenance costs keeping up, there is no parity in these two purchases, barring the minor detail of both costing the same/similar money to acquire upfront.

As others have said already, it's the brand-new VAG that makes more sense here. Combined with max warranty, it is undoubtedly the better purchase. I too would recommend having a peak at the Virtus (like GTO said). Amongst the current choice of mediocre-looking sedans like the Verna and City, the Virtus stands out with its classy and timeless design in the C+ segment. It should offer more comfort and better practicality too than the Kushaq with its (presumably) bigger boot, better back seat and overall superior driving dynamics thanks to its sedan form factor.
Here's what BHPian ajmat had to say on the matter:
I would stick with the Kushaq. The S60 is a little out of date and has limited boot space. It is a lovely car for a long distance though.
Here's what BHPian BleueNinja had to say on the matter:
I would second what other members have suggested.

Since you have shortlisted Kushaq 1.5 you are ready to bite the DSG bullet and since you are pondering about s60 you seem to be liking sedans.

Therefore, Get the Virtus 1.5 DSG draped in black. That would make one handsome car and would be a head-turner.

You will have your share of fun while driving it or while admiring it parked in your garage.

Since it's a sedan and a beautiful one at that you can have many customisation options with a VW car both aesthetically and performance-wise.

Get it while we still have "affordable" performance sedans out there in a sea of crossovers and SUVs.

Get the maximum possible warranty tho.

Cheers!
Check out BHPian comments for more insights and information.
Source: Read Full Article