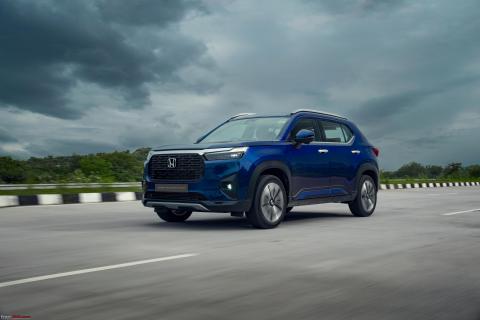 When you are in part throttle, engine is smooth and also it is very relaxed thanks to a smooth CVT (frame of reference for me is Nexon AMT).
BHPian rajshenoy recently shared this with other enthusiasts.
I got a chance to finally test drive the Elevate (mainly the CVT) and have mixed feelings about the car.
Pros:
Boot is excellent and is really 450+ ltr unlike the false claims by the Koreans
Though it is a CVT, it was not boring. Throttle response felt crisp, especially in sports mode, it was very eagerly reacting to my gentle taps.
Built felt better than that of the Koreans
 Great rear leg/knee room and decent under-thigh support with raised footrest.
Cons:
 Rear seat shoulder room is only enough for 2 + 1 kid. I am 5.7 and could almost touch the other door stretching from the other end.
 Sunroof is a joke, wish they did not offer one(I doubt my head could have gone out of it)
 During my test drive(simulated my typical city drive), efficiency did not look great and I got around 10.5 kmpl on MID. My Corolla (manual) with 1.8 NA petrol returns 11-12 for a similar stretch
 On the white color door, the weird rubber strips look so ugly and feel like cost-cutting
Overall, for those looking for a 1.5 NA car for an urban environment(small family 2+2) and having a 20L budget, I feel this is a very good car.
Check out BHPian comments for more insights and information.
Source: Read Full Article