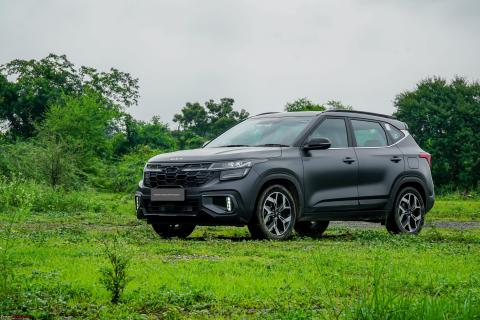 Reduced tyre pressure at delivery from 42 to 35 psi and thereafter the drive is smooth.
BHPian SeniorC recently shared this with other enthusiasts.
Initial feedback after first 100kms of GTX+DCT petrol.
1. Dealer feedback is great. Just bought floor mats as an accessory and nothing else. They didn't insist on anything more. Bought zero dep insurance from them at 35K. The initial ODO was 33km (Gurgaon stockyard to Delhi showroom).
2. Reduced tyre pressure at delivery from 42 to 35 psi and thereafter the drive is smooth. My 95% drive will be in Delhi and NCR or expressways, so I will continue with JK stock tyres.
3. At city speeds the car is really quiet, other than little tyre noise.
4. Drive in Eco mode is absolutely dull, the engine strains to pick up speed from a standstill. Drive in Normal mode is what I would be driving all through now. Will test Eco mode again in some other situations, possibly in stop-and-go traffic, to see if it is suitable there.
5. Autohold is a boon. Reduces the driving strain of an automatic in stop-and-go traffic to a minimum. It is a real pleasure.
6. The inbuilt map is a disaster. It doesn't recognise even well-known places in Delhi. Kia India, if you are reading this, please ask the service provider to massively update this feature. Used Google Maps through Android Auto and it worked as it should.
7. The Bose music system is excellent for me as I never expect to listen to theatre-like sounds in any car. And I am no audiophile either.
8. Headlights are great for city drives. Nothing to complain about. Have to figure out the auto headlight feature as it turns on the lights even in daytime shadows of a flyover or a tree.
9. Already getting an overall fuel efficiency of about 10kmpl. I drive with lightfoot and within city speed limits.
10. The dark interiors are a nonissue now, although I used to dread them prior to the purchase. They are really good and easy to clean and maintain.
With a highway drive coming up shortly, will update you thereafter.
Overall, absolutely delighted with the car.
Check out BHPian comments for more insights and information.
Source: Read Full Article