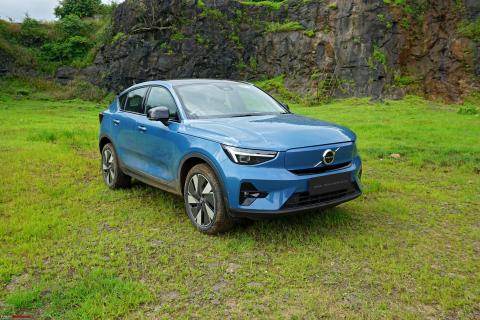 I suggested the Volvo C40, but they already have a Volvo petrol sedan.
BHPian nidhikapoor recently shared this with other enthusiasts.
Hi Friends,
My friend just got an Ioniq 5 [waiting to get mine now], and his wife just loves everything about it except the size. So, he's looking to buy a smaller EV but wants it to be loaded with features like the Ioniq, and preferably from a 'big brand'. Yes, he's a brand snob. He's not on social media, so he asked me what I would suggest. I have no idea so I thought that I would ask here.
His budget is up to around 75 lakhs. He looked at the Mini Cooper, but I think a new BEV Mini is coming next year? I suggested the Volvo C40, but they already have a Volvo petrol sedan, so are looking at some other brand.
Suggestions?
Here's what GTO had to say on the matter:
Hope they aren't planning to sell the Ioniq 5? Because it's not all that big and one easily gets used to the size after a couple of hundred km.

Plus, the Ioniq 5 is one of the best EVs in the market today.

Volvo C40 Recharge. Simply fantastic EV!

Second choice, Kia EV6 but he wants a big brand. Tell them to take a drive. Maybe the styling will win them over?

Else, wait for a year. Many more EVs coming and like with gadgets / smartphones, EVs make significant technological strides every year (just compare the C40 to the XC40 EV and you'll realise this).
Here's what BHPian bijims had to say on the matter:
If Brand value is the only consideration. The BMW iX1 electric SUV would have been a good choice, but it's already sold out for the year, else the options mentioned by @GTO are the only ones worth considering at the moment. Better to wait for next year, as newer launches will definitely be better in terms of technology.
Here's what BHPian Axe77 had to say on the matter:
I think everything you've written simply zeroes right into the Volvo C40. Merely because you have another Volvo in the garage shouldn't prevent you from buying it and the EV Volvo should be a very different experience from the ICE Volvo you have. It is chic looking, compact, has explosive power and an excellent driving range with 2023 tech backing it.

If you MUST choose something different – perhaps consider the iX1 but I'm not sure how much that'll change the size issue. It'll be in the ballpark of the Ioniq, size-wise (give or take).

Another option is to wait it out a year or so because I'm pretty sure plenty more options will come through each year.
Here's what BHPian androdev had to say on the matter:
Have gone through a similar situation. Not an EV but a regular ICE compact luxury car of a size no bigger than Polo. Unfortunately there aren't any except for Mini. The smallest cars from these brands are bigger than VW Golf – in crossover format they look even more bulky. A lot of women think any car larger than i10/Polo is a needless headache – as soon as they sit behind the wheel of a car like XC40/X1, they go like no way, this is too big to handle! You have to go with either compact (i10/i20) or luxury – I don't think this is going to change anytime soon.
Here's what BHPian inwester had to say on the matter:
You'll be hard pressed to see a subcompact EV at that prices.

The ones in India right now are in the Rs. 40-60 lakhs bracket, and none of them are "subcompact", except Mini Cooper Electric, which I absolutely won't recommend in the current model (or any other Mini for that matter). Mini gets a fancy brand value in India but the Mini Cooper EV is essentially the same price as a Kona EV elsewhere, only less capable.

The Volvo C40 is the best bet now. iX1 has a lot of compromises for the price. BMW i4 is very desirable pick and in the 75 lakh budget, but it's long and ground clearance is only 125 mm. I guess there's EQB as well if you want to spend that kind of money.

But again all these vehicles are ~4,500 mm or longer, so they're not "small" per se, and most of them cost less than 75 lakhs. I guess that small EV at 75 lakhs doesn't exist in India yet.
Check out BHPian comments for more insights and information.
Source: Read Full Article