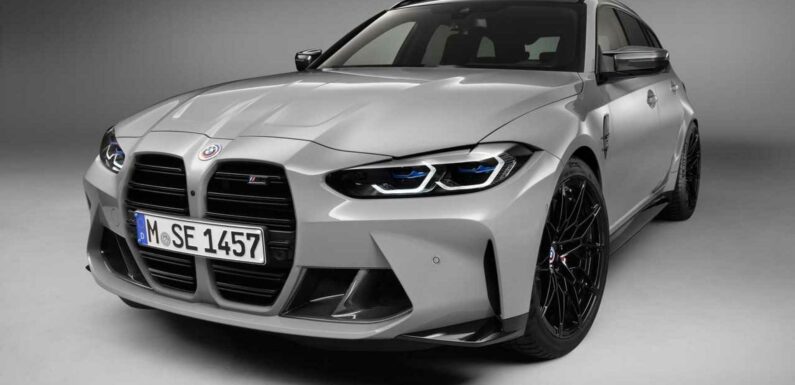 With the M3 Touring, BMW fulfilled one of our dreams – a relatively small and mighty powerful wagon that can be used as a family vehicle but can be also taken to the track. If you are looking for an even more powerful long-roof M3, the Munich-based company might answer your needs again, if we are to believe a new report that indicates an M3 CS Touring is currently being developed.
Our friends at BMW Blog say the more hardcore wagon has already been given the production green light and we will see it in full and official form in 2025. It will reportedly feature the same improvements as the M3 CS sedan, including the 3.0-liter S58 twin-turbo inline-six engine with an output of 543 horsepower and 479 pound-feet of torque. 
Gallery: 2023 BMW M3 Touring
According to the preliminary information, the M3 CS Touring will also receive carbon fiber tweaks in the front fascia, a new rear diffuser, and a rear spoiler. There will be a minimal reduction in weight, comparable with the 75 pounds that the M3 CS sedan lost compared to the M3 Competition xDrive. Speaking of xDrive, the go-fast wagon is expected to send the power from the 3.0-liter mill to all four wheels through an eight-speed automatic gearbox.
BMW is also working on another CS member that will complement the M3 CS sedan and the potential M3 CS Touring. The M4 CS is expected to sit between the regular M4 and the hardcore M4 CSL, featuring the same straight-six engine as the M3 CS sedan. Exterior enhancements and a small weight diet will also be part of the CS package.
As for the M3 CS Touring, it is expected to be launched in limited numbers. BMW Blog reports fewer than 2,000 units are planned for production globally, though not a single of them is expected to officially hit the US market, unfortunately. Thankfully, the M3 CS sedan is sold in America with a price tag of $118,700 (plus $995 destination and handling).
Source: Read Full Article