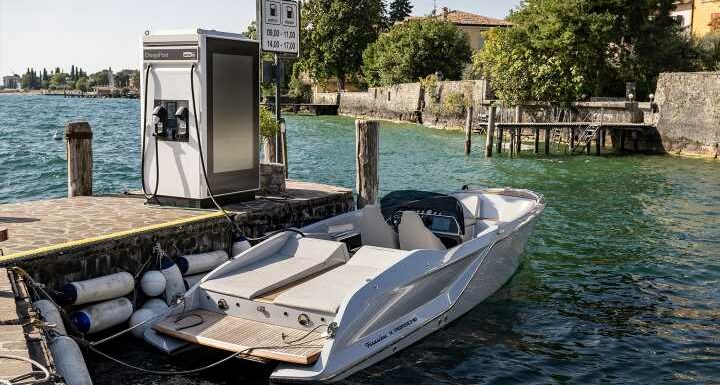 The Porsche Macan EV isn't available yet, but you can buy a speedboat powered by its battery tech…
By Matt Bird / Tuesday, 10 October 2023 / Loading comments
The electric Macan will be a huge launch for Porsche; one of its best selling models, if not still the best seller after all these years, will be going all electric after a decade on sale with not so much as a mild-hybrid to ease into electrification. There will be no PHEV bridge – the ICE band aid is being ripped straight off. Still, given what Porsche has proved itself capable of already with the Taycan, there's every reason to believe that the Macan EV will be a thoroughly sorted electric car.
This isn't that electric car, as the keen will have noticed. Instead it's something called an 850 Fantom Air, a sports boat that's the result of a collaboration between Porsche and Frauscher Shipyard. What makes it more interesting than most is that this boat uses the powertrain tech of the next Macan. So that means the same 800-volt architecture for fast charging – up to 250kW, in fact – a 100kWh gross capacity battery, and what Porsche is calling a 'state of the art' permanently excited synchronous electric motor. Even elements of the Premium Platform Electric that will underpin the Macan are employed by the boat, so this isn't the usual 'collaboration' that extends to little more than a couple of new badges. It's a boat powered by quite a lot of what will go in the next Macan; perhaps we'll face a wave of criticism for featuring an electric boat (sorry), but the 850 Fantom Air seems kind of interesting.
As is Porsche EV tradition, the numbers for this Shipyard boat are eye-opening. Though restricted, the electric motor is still generating 400kW (544hp), which is transmitted via a shaft to the 'characteristic marine Z-drive'. Hopefully that'll make sense to the boaty folk. If there's an especially well equipped harbour at which to dock, then that 250kW capability will see 10 per cent charge replenished to 80 per cent in 'well under 30 minutes'. However, that's pretty unlikely, so the boat can be charged via more conventional methods, assisted by an 11kW onboard AC charger. Top speed is 85 kph, or just over 50mph, and wire rope mounts in the support frame promise great composure when doing your best Don Johnson: 'The Frauscher x Porsche eFantom glides comfortably over the water despite its sporty overall orientation.'
This being a Porsche, too, there are drive modes for the 850 Fantom Air. There's a Docking mode for getting around the harbour, limiting speed to 15 kph or eight knots, a Range mode (more than 62 miles is possible), a Sport setting and Sport Plus for that notable top speed. Apparently the optimum cruising speed is 41 kph or 22 knots, which the Frauscher x Porsche can maintain for about an hour.
Porsche has also been involved with the design of the boat, even down to the five analogue gauges like it's a 911 and a steering wheel that looks straight from a Cayman. But with artificial leather that's more resistant to salt water, of course. The front seats are Porsche items, too, designed to look like road car sports seats. There's space for nine onboard, with a swimming platform out back, as well as a 'generous lounge area with two comfortable sunbathing pads.' Which PH has never written in a Porsche news story before.
"This boat is a real milestone in the industry. The electric version of the Fantom Air is better than the version with an internal combustion engine in all driving characteristics, such as top speed, acceleration and handling – and at the same time locally emission-free," said Stefan Frauscher, Managing Director of Frauscher Shipyard. Porsche will of course be hoping the same sort of thing is true for the Macan EV, of course, when it arrives…
It's the boat that's on sale first, though, which does seem a tad strange. A world premiere for the Frauscher x Porsche 850 Fantom Air will happen in January at a trade fair in Dusseldorf. A provisional plan exists to sell a 25-unit first edition, in any colour Porsche offers for its road cars, from €561,700. Or £485,000. Or about what a GT3 RS will currently cost on the open market. Still, what a pair the Frauscher ought to make with the Macan when it does arrive…
---
Porsche confirms 'around' 600hp for top Macan EV
Porsche Taycan 4S Cross Turismo | PH Review
Latest General News articles
Behold the Frauscher x Porsche 850 Fantom Air
BMW 130i LE | Spotted
Land Rover Discovery 4 Landmark | PH Private Area
Time to appreciate the MG B LE60 in all its glory
Ferrari 430 Scuderia | PH Used Buying Guide
Source: Read Full Article