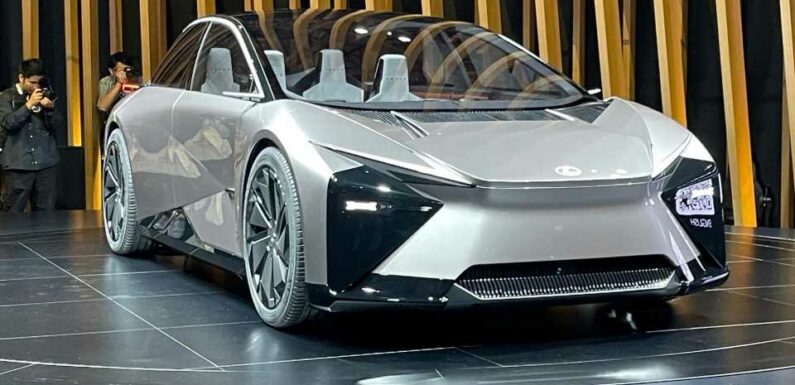 Lexus is not exactly at the forefront of the automotive industry's electrification. Sure, the Japanese brand currently has some of the best available hybrid models on the market, but it is lagging behind most of the legacy automakers on the BEV scene. The somewhat conservative EV approach followed by Toyota and Lexus is now history though, as the two brands are accelerating the adoption of electric vehicles with tens of new models planned for release later this decade. One of those cars will be some sort of a hatchback from Lexus, previewed by the LF-ZC concept that makes its debut at the Japan Mobility Show.
Lexus Future Zero-emission Catalyst – this is the full and rather confusing name this study has but that's surely not the most interesting part here. Design-wise, it is a little difficult to describe what type of vehicle it is but we'd rather call it a sedan than a hatchback or even a crossover. Actually, liftback probably suits it better, especially considering the fact that Lexus told our colleagues at InsideEVs that the production version of this concept will take the shape of a hatchback. It will be roughly the same size as the current IS but it is not known at the moment whether it will replace the sedan or the two will coexist peacefully.
Gallery: Lexus LF-ZC Concept
The interior of the LF-ZC continues the futuristic theme of the exterior with a cabin that has a yoke instead of a steering wheel and a giant screen that sits in front of the passenger. The driver has a much smaller instrument cluster behind the yoke. Those are backed up by the latest developments in the AI sector from Lexus, as well as a next-generation voice recognition system.
The two systems provide route and mode recommendations that align with the driver's preferences by considering their daily activity patterns and mood, the automaker says. The company also puts emphasis on the so-called Bamboo CMF concept, which in translation is an approach to using sustainable materials throughout the cabin.
If you are still reading this article, we know you are here for the tech details. Unfortunately, Lexus doesn't provide information regarding the battery size and type, as well as specs about the electric powertrain. The firm, however, says the concept uses "next-generation prismatic high-performance batteries," which should provide about twice the range of "conventional" battery electric vehicles that are currently on sale.
We don't know what a conventional EV means for Lexus but that is a rather promising statement. The targeted Cd value of below 0.2 should probably help a lot, too. We will have to wait until 2026 when the production version will arrive to find out whether those promises will be fulfilled. Until then, we are glad that Lexus is finally looking more seriously into the future of electric mobility. 
Source: Read Full Article