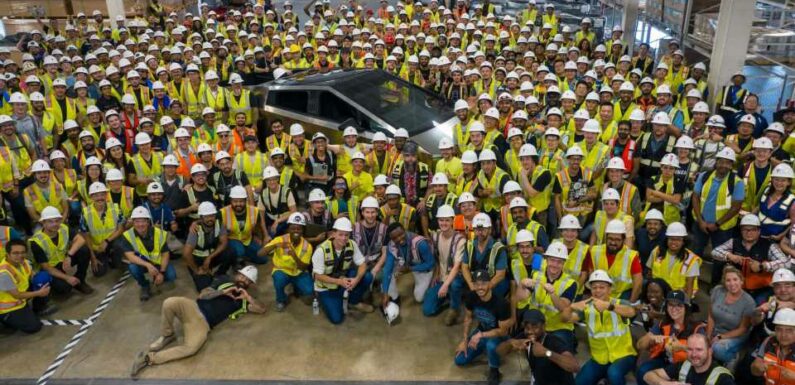 UAW President Shawn Fain referred to employees of non-union automakers like Tesla and Toyota as "the UAW members of the future."
Fain's remarks came in response to comments made by Ford Motor Company's Executive Chair, Bill Ford, who warned on Monday that high labor costs triggered by the UAW's demands could limit the company's investments in factories and the development of new vehicles.
Bill Ford said many jobs and even factories like the Rouge complex could be lost if the UAW and Ford don't come together "to bring an end to this acrimonious round of talks." This seemed to echo Elon Musk's comments from last month that the UAW demands would bankrupt Ford, GM, and Stellantis.
The UAW, which has been on strike against the Detroit Three for a month now, responded with a short statement on X (formerly Twitter) from president Shawn Fain, who essentially said the ball is in Ford's court.
"Bill Ford knows exactly how to settle this strike. Instead of threatening to close the Rouge, he should call up Jim Farley, tell him to stop playing games and get a deal done, or we'll close the Rouge for him," said Shawn Fain.
"It's not the UAW and Ford against foreign automakers. It's autoworkers everywhere against corporate greed. If Ford wants to be the all-American auto company, they can pay all-American wages and benefits. Workers at Tesla, Toyota, Honda, and others are not the enemy – they're the UAW members of the future."
The last part of the statement is bound to raise some eyebrows as Fain seemed to imply that Tesla, Toyota, and Honda workers will unionize in the future. While that's certainly what the UAW wants, it's very difficult to say whether it will become a reality or not.
Tesla is likely the most "problematic" carmaker for the UAW as CEO Elon Musk strongly opposes unionization at the company's plants. The United Auto Workers and Workers United trade unions have sought to unionize Tesla's workers in California and New York, respectively, but Elon Musk has thwarted all attempts so far.
In addition, as Teslarati points out, numerous Tesla workers have become millionaires in the past despite being non-unionized, thanks to the company's stock-based compensation programs. In an infamous tweet from May 2018, Musk seemed to threaten Tesla workers with the loss of stock options if they formed a union.
"Nothing stopping Tesla team at our car plant from voting union. Could do so tmrw if they wanted. But why pay union dues & give up stock options for nothing?" read the tweet. The National Labor Relations Board ordered Musk to delete the tweet, but the billionaire appealed the court order.
Tesla remains the only major American automaker not represented by a union in the US.
Source: UAW / X via Teslarati
Source: Read Full Article