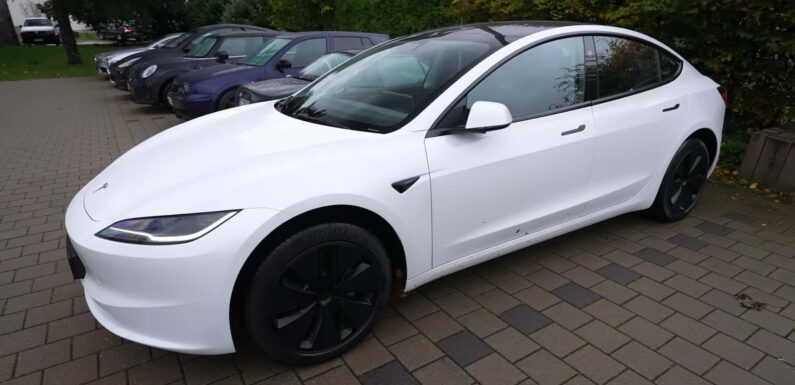 The updated Tesla Model 3, also known as "Project Highland," is already being delivered to customers in Europe and China, and Kyle Conner from Out of Spec Reviews got his hands on a Netherlands-registered unit.
But the story doesn't end here, as Kyle – who's a good friend of InsideEVs – took the base-spec EV all the way to the famous Nurburgring circuit in Germany, where none other than Misha Charoudin took the Chinese-made EV for a spin.
For those who don't know, Misha drives just about every day on the Nurburgring and is the co-founder of Apex Nurburg, a firm that offers taxi rides and rents out cars to individuals who want to experience the grueling "Green Hell" on their own but don't have a suitable ride of their own. In other words, Misha is the right person to put the new Model 3 through its paces on the 13-mile long circuit.
Gallery: New Tesla Model 3
This particular electric sedan is the entry-level version, with rear-wheel drive and a lithium iron phosphate (LFP) battery pack. As part of the refresh, the EV got revamped dampers that offer more comfort, but it also received new eco tires made by Michelin that have low rolling resistance to help with the driving range.
However, low rolling resistance also means low grip, which makes for a pretty fun but sketchy ride on the complex circuit, especially when there's a lot of rain, the traction control system has been disabled (thanks to Enhance Automotive's S3XY customizable buttons), and the brakes aren't quite up to spec.
The whole lap, which includes the Grand Prix portion (that's pretty rare, usually it's not open to tourist rides), can be seen in the video embedded at the top of this page. In it, Misha mentions that the eco tires have dangerously low levels of grip for the track and that the brakes could be much, much better (although the regenerative braking was disabled, which might have helped a bit to slow down the car).
However, the suspension is comfy, the interior is much improved compared to the non-facelifted Model 3, and for a daily driver, the updated EV is pretty much all you need. But go ahead and see for yourself.
Source: Misha Charoudin (YouTube)
Source: Read Full Article