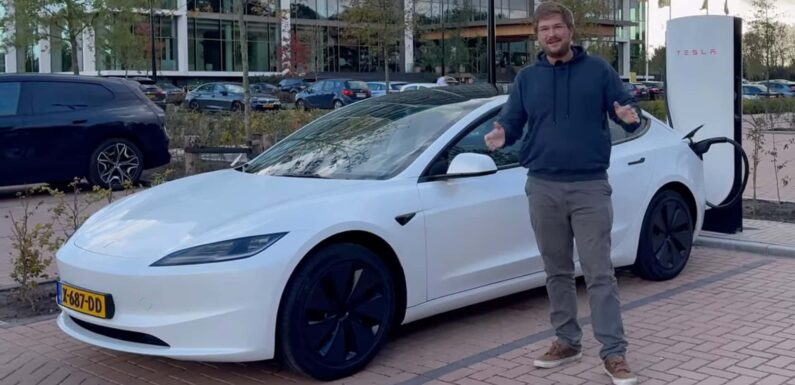 The refreshed 2024 Tesla Model 3 has been reviewed by a number of European media outlets, but not that many journalists from the U.S. have had the chance to check it out and drive it yet. Fortunately, our old friend Kyle Conner from Out of Spec Reviews did, and he even got the chance to see how the Model 3 Highland drives at top speed on Germany's Autobahn.
This 50-minute review is actually one of the most complete we've seen so far as it covers multiple scenarios including city driving, performance driving, highway driving – including going full speed on the Autobahn – not to mention a Supercharging stop and a quick tour of the exterior and interior.
It's worth noting that the test started with the car at 100 percent battery capacity since this was a Model 3 RWD powered by an LFP pack. The thing that struck the reviewer is the estimated range of 262 miles shown on the Tesla screen, which is less than the outgoing model.
As Kyle points out, that's surprising because the new Model 3 was supposed to be anywhere between 3 and 12 percent more efficient than its predecessor. On top of that, the charging session before the start of the test wasn't great either. However, the Supercharging stop later on (at 39 percent SOC) proved much better and faster, with a charging rate of up to 160 kW.
As for the driving experience, the thing that's most obvious right off the bat is the steering, which offers more feedback than before and feels more linear and intuitive. The reviewer is also a big fan of the new steering wheel and the new buttons on it.
Something else that becomes apparent quite quickly is the cabin's quietness – Kyle found it quieter than his Model S Plaid. Even at 125 mph on the Autobahn, the 2024 Model 3 feels like the old Model 3 at 60 mph, he reckoned.
The biggest improvement over the outgoing car according to Kyle is the suspension, which uses new frequency-response dampers. It's much smoother and much more comfortable in all situations on the road, but he wonders whether it's too soft for performance driving.
Well, it looks like the successor to the Model 3 Performance will also get suspension and brake upgrades, so driving enthusiasts will have the opportunity to go for a more focused package.
Overall, the 2024 Tesla Model 3 seems to be a much more mature vehicle – Kyle calls it "the grown-up Model 3," and that sums things up quite nicely. Tesla improved the parts that needed improving and kept the good parts of the car, which sounds like a recipe for success when implementing a mid-cycle update. It will just be nice when the rest of the world, specifically the U.S., can get it too.
https://www.youtube.com/embed/2e4bAf2Tfy0?si=PBBmymLFfGCXGBSu
Source: Out of Spec Reviews / YouTube
Source: Read Full Article