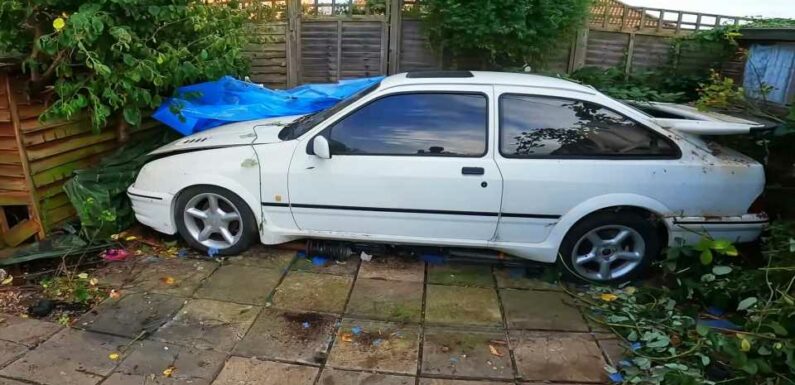 Sometimes, we come across a car video that legit drops our jaw and this is one of them. You don't have to be a Ford fan to know and appreciate the RS Cosworth legacy through the '80s and '90s. Fitted with high-output four-cylinder engines built by Cosworth, numerous Ford models in Europe became high-performance "Cozzies." The Sierra RS Cosworth is cherished among enthusiasts, and hopefully, this particular car will be back on the road soon.
First, however, it needs to escape the backyard tomb where it's been parked for seven years. The YouTube channel IMSTOKZE recently learned about its existence at an undisclosed location in the UK. It was actually the Cozzie's owner who contacted the crew, giving them an invitation to check out his collection of '80s Fords. For obvious reasons, the Sierra RS Cosworth is the crown jewel of the lot but simply seeing it proves to be a tremendous challenge, never mind reclaiming it from the yard.
That's because it was boxed on three sides by a fence, creating a space only slightly larger than the car itself. An old Ford Transit served as the fourth wall, effectively removing it from sight but to make extra sure the Cozzie was hidden, thick thorn bushes spread throughout the area. It may have been left outside and open to the elements, but at least it was secure.
And it wasn't completely left to the elements. The current owner had several covers over the car, though they deteriorated over the years to ultimately expose portions of the white exterior. He purchased it seven years ago and parked it in the yard, having never driven it on the road. Prior to that, the car was in storage with the previous owners for another seven years. All total, it's been 14 years since this Sierra RS Cosworth terrorized UK streets.
With the van removed and thorn bushes cut, the camera finally gets in for a close look. The interior has seen better days; nasty mold covers the Recaro seats and some dash panels are missing, possibly for stereo upgrades or other electrical work. Under the hood, the iconic turbocharged 2.0-liter four-cylinder engine is nestled in a bay that's obviously seen some aftermarket work. In original trim, this mill made approximately 200 horsepower, sent to the rear wheels through a five-speed manual transmission. In its present condition, simply getting it to start is an accomplishment.
Sadly, it's an accomplishment we don't reach in this video. There is hope though. With a battery hooked up, the dash lights illuminate and the engine cranks over without issue. It doesn't fire up, but the clip concludes with a promise of more to come, hopefully culminating in a running Sierra RS Cosworth.
At the very least, let's get a detailer with a power washer in there, stat.
Check out Motor1's Rambling About Cars podcast for more classic Ford discussions and other automotive chat, available on YouTube below.
Source: Read Full Article