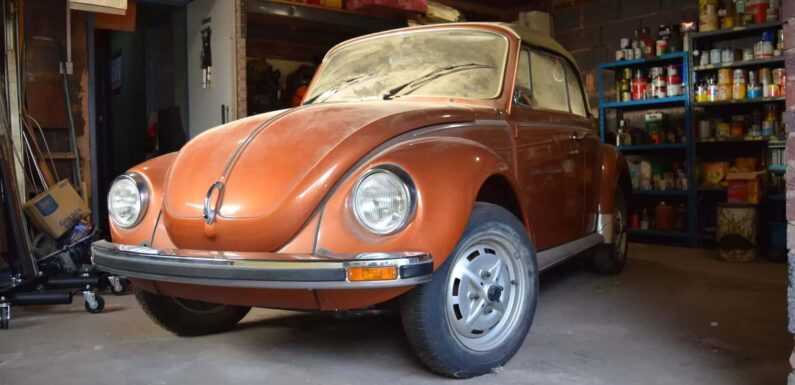 Over 21 million Volkswagen Beetles were built over its decades-long production run. If you really want one, they aren't hard to find. This isn't any bug, however. In fact, it could be the lowest-mile classic VW Beetle on the planet.
We say could because this 1979 Volkswagen 1303LS Beetle Karmann Cabriolet shows a whopping two (yes, two) miles on the odometer. In theory, there's room for a one-mile bug to crawl out of a barn somewhere, but we feel safe saying a classic Beetle doesn't get much newer than this. It recently sold through Classic Car Auctions in the UK, and buyers responded to the low mileage with high bids. The auction listing shows a final price of £49,500, which at current exchange rates is just over $60,000. A quick internet search shows all kinds of 1979 ragtop Beetles selling in the $20,000 range, so this one definitely commanded a premium.
Gallery: 1979 Volkswagen Beetle With Two Miles
The ultra-low mileage certainly played a part in that, but it also has an interesting history. The auction states it was one of the last right-hand drive Karmann convertibles from VW. There isn't a specific mention of production numbers, but auction photos do show a plethora of documentation that came with the car. Amusingly, the documents include a maintenance log that is completely empty.
The auction listing claims the car was "covered in blankets in a sealed environment," though photos show it in what looks like a barn with quite an accumulation of dust clearly visible in some areas. The exterior is finished in Brazil Brown, and the paint still has a shine to it where dust isn't piled up. The top also looks a touch dirty, but the engine looks shiny and fresh. The wheels do as well, and those are the original tires on there to boot. Moving inside, the headliner at least looks properly new, but a fair amount of dust is visible elsewhere.
Per the auction, the car was recently uncovered due to a death. It's unclear who the new owner is or where the VW is headed now, but it's safe to say a trailer will be involved in taking this legit 1979 time capsule to its new home.
Source: Read Full Article