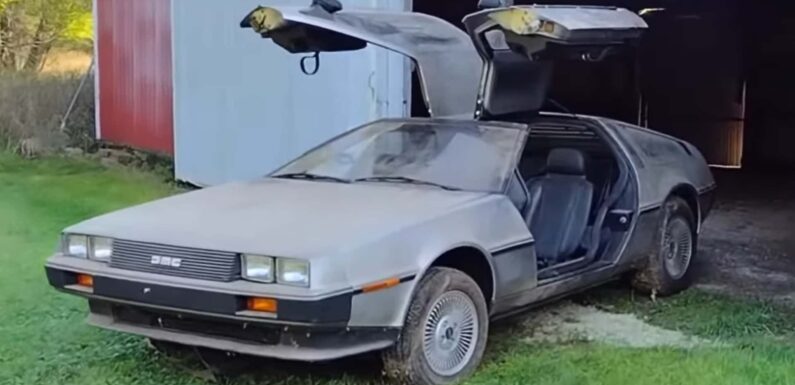 In the vast deserts of New Mexico, an intriguing discovery has recently emerged from the sands of time – a pristine DeLorean, tucked away in a dusty barn, with a mere 977 miles on its odometer. In the last several years, the iconic stainless steel sports car, forever associated with the Back to the Future film franchise, has become a symbol of the 1980s and a cherished relic among collectors and enthusiasts alike. It's always cool to see an abandoned DeLorean get a second chance in life.
The DeLorean DMC-12, conceived by the visionary engineer and entrepreneur John DeLorean, was a groundbreaking concept that aimed to blend style, performance, and innovation in a way that had never been seen before. With its distinctive gull-wing doors, sleek stainless steel body, and rear-engine design, the car was a true icon of its era. But it wasn't just its design that captured the public's imagination – it was the promise of time travel, immortalized by its appearance as a time machine in the Back to the Future films, that truly catapulted the DeLorean into pop culture stardom.
Over the decades, the DeLorean has evolved from a controversial and short-lived production run in the early 1980s to a beloved classic that commands a dedicated following. Enthusiasts around the world have maintained and restored these rare vehicles, keeping the dream of owning and driving a DeLorean alive. Most recently, an example that has been sitting in a barn for more than 20 years with only 977 miles on the clock was discovered. The car featured in the video at the top of this page is in fairly good condition with only minimal amounts of rust on the surface of some chassis components. It is still equipped with its original tires.
The DeLorean specialists from DeLorean Nation on YouTube inspect the car thoroughly and discover it is one of the very early vehicles produced. It came out of the factory in April 1981. The engine also looks to be healthy with all the hoses intact and no major leaks. Aside from the dust that's covering nearly every surface outside and inside the car, as well as the number of dead and alive mice, everything looks in perfectly restorable condition. 
What does the future hold for this DeLorean? The folks behind the YouTube channel made a deal with the car's original owner and purchased it. Interestingly, the car was owned by a Chevrolet dealer until 1991 when the first registered owner bought it. In the next step, we are probably going to see a deep clean and wash of the time travel machine and hopefully, it will be ready to hit the road again very soon. The same faith another DeLorean had about a month ago.
Source: Read Full Article