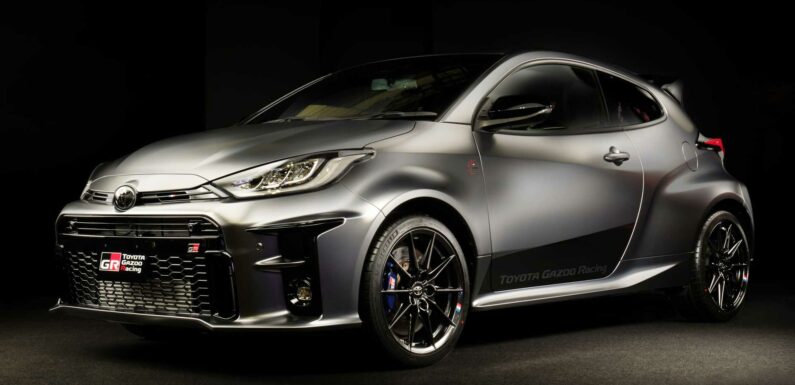 Toyota has been working on a new automatic transmission for sports cars for over a year. In early 2022, a GR Yaris with two pedals made an appearance at the Toyota Gazoo Rally Racing Challenge held in Japan. Shortly after its first outing, the automaker announced plans to speed up development. It was most recently tested in September at an event part of the Super Taikyu series. It's still not available to buy but Akio Toyoda suggests it will be well worth the wait.
As part of the same interview with Toyota Times magazine during which he hinted at a revival of the Celica, the company's chairman praised the upcoming slushbox. Known by its official name as the "Direct Automatic Transmission," the new DAT "will be a game-changer for automatics." However, it's likely not coming out anytime soon as the ex-Toyota President and CEO said "many hurdles remain."
2020 Toyota GR Yaris
The former head honcho went on to say: "I really want to make this happen, and for many people to drive these cars. For instance, those who only drive automatic could enjoy motorsports. They can experience the different sounds and the sensation of downshifting and upshifting." He jokingly mentioned DAT also stands for "Dat's Akio Toyoda!"
Akio Toyoda says he's losing precious time whenever he's shifting gears in the GR Yaris race car with the manual transmission but that wouldn't be the case with an auto-equipped version. With DAT, "there's no time lost when shifting" and he can focus on accelerating, braking, and steering.
It's too soon to say whether Toyota intends to offer the DAT on other GR-badged models. As a refresher, the GR 86 is optionally available with a six-speed auto while the GR Corolla comes exclusively with a clutch pedal. The GR Supra can be had with an eight-speed engineered by ZF but adapted for the BMW Z4-based coupe.
Source: Read Full Article