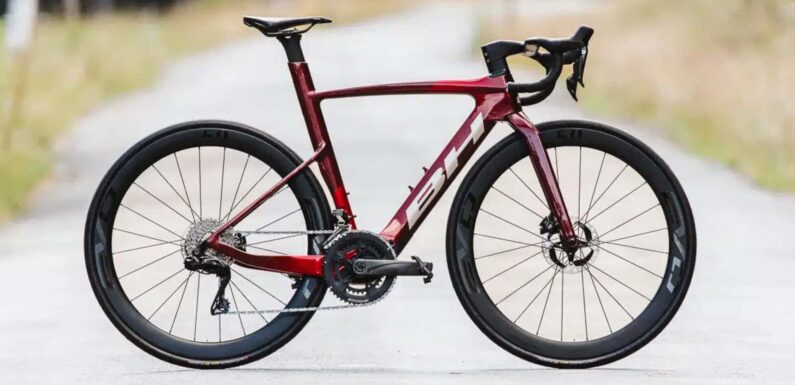 Spanish bicycle brand BH, which stands for Beistegui Hermanos, has received global acclaim for its wide selection of performance-oriented mountain bikes and road bikes. The brand has a storied history dating all the way back to 1909, and has always been considered a prominent player in the cycling industry. Even today, more than a century since its inception, BH continues to raise the bar when it comes to performance.
The latest example of this comes in the form of a super lightweight electric road racer called the iAerolight. Indeed, a lot can be deduced from its name alone, as "i" means it's electric or intelligent, Aero means its aerodynamic, and light obviously means it's light. After all, it's crafted with a frame made out of carbon fiber, with its shape designed specifically to minimize drag. Thanks to the smart design, the frame weighs in at only 1,400 grams (about three pounds). When fully assembled, the BH iAerolight weighs no more than 11.8 kilos, or around 26 pounds.
Indeed, the BH Aerolight's lightness goes just beyond its construction, as the brand's designers gave it a thoroughly streamlined appearance giving it visual lightness. Internal cable routing, race-derived geometry, and contoured lines on the frame and fork make it look extra sporty. An integrated seatpost provides extra rigidity while keeping the bike lightweight. Interestingly, you can even attach a Planck tail light to the seat tube, providing you with extra visibility before dawn or after dusk.
At the heart of the iAerolight lies BH's proprietary electric motor, the BH2EXMAG, renowned for its compact dimensions, lightweight construction, and silent operation. Despite its diminutive proportions, the motor dishes out an impressive 65 Newton-meters of torque with a 250-watt continuous power rating. Furthermore, the motor decouples at speeds exceeding 25 kilometers per hour (15.6 miles per hour) preventing any unwanted drag from slowing you down.
As for the battery, the iAerolight is equipped with a 410 Wh integrated battery for a range of up to 130 kilometers (81 miles) on a single charge. There's an option for an additional 180 Wh of capacity via bottle-shaped range-extender. All of the bike's features can be toggled and adjusted with ease through the BH iConnect app. Here, you can adjust assist settings and toggle other features of the bike.
When it comes to pricing and availability, the BH iAerolight is by no means a budget-friendly offering. The base model, the Pro 1.7, carries a substantial price tag of 7,699.90 Euros, or about $8,187 USD. Upgrading to the iAerolight 1.8 gets you Shimano Ultegra components, but will set you back 8,999 Euros ($9,569 USD). Last but not least, 10,999 Euros ($11,694 USD) gets you the iAerolight Pro 1.9, boasting Shimano Di2 gears and Dura Ace brakes.
Sources: E-Bike News, BH Bikes
Source: Read Full Article