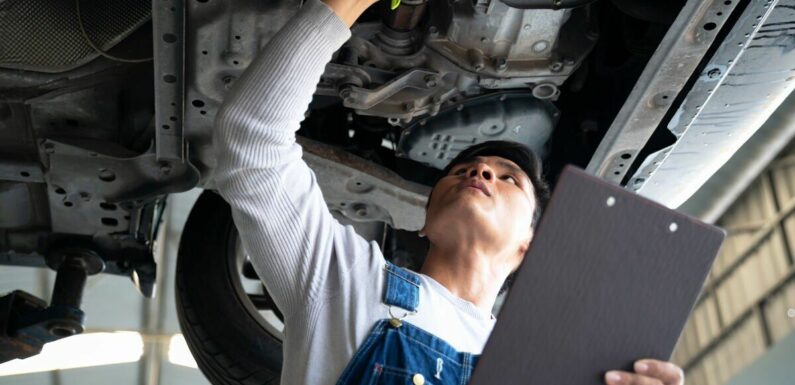 MOT: Quick checks to do before having your test
Thousands of motorists could be caught out by a simple MOT scam which could leave dangerous vehicles on the road.
Experts at Quotezone have highlighted the risks of fraudulent garages which perform illegal MOT tests.
These centres hand out pass certificates even if mechanics have not checked over a car to make sure it was road legal.
In some cases, vehicles are issued passes even if they have never driven into a garage.
The DVSA warns this was allowing "potentially dangerous" cars access to Britain's roads in a major safety threat.
READ MORE I got my MOT test for just £4.99 using a simple online offer
MOT fraud reached over 1,300 cases last year with 710 of those the most serious cases of dishonesty. The data shows this was a staggering 102 percent rise from statistics gathered in 2017-2018.
Lee Evans, motor trade specialist at Quotezone, reassured owners drivers that only a "small proportion" of garages were breaking the law.
He explained: "This is an incredibly dangerous form of fraud, allowing customers to believe their vehicles are safe and roadworthy no doubt increases their chances of an incident on the road.
"Thankfully it's just a small portion of rogue garages and mechanics that are taking advantage but it's important all drivers double check their chosen garage is legitimate by searching reviews and selecting from approved lists of quality garages.
DON'T MISS
Martin Lewis says 20p item could help drivers save £54 on MOT tests[LATEST]
Drivers could face 'hefty car admin fines' if caught without an MOT or insurance[COMMENT]
The most common reasons 29 percent of cars fail their MOT test[ANALYSIS]
We use your sign-up to provide content in ways you've consented to and to improve our understanding of you. This may include adverts from us and 3rd parties based on our understanding. You can unsubscribe at any time. More info
"Don't be afraid to ask lots of questions, compare prices for parts and labour online and ask for a quote before any work commences that includes parts, labour and VAT."
According to Quotezone, garages that say they provide MOT prep and testing have dramatically fallen. Just over a third of garages offered the services in 2019 compared to just 12 percent today despite a rise in demand for tests.
This could put pressure on road users to take out fraudulent services in their desperation to keep their car on the roads.
Mr Evans added: "Being aware of these dangers, reporting any suspicious behaviour and working to keep vehicles in good running order will help increase your safety and the safety of others on the road."
Garages caught handing out illegal checks will likely be banned from carrying out any more MOT tests. Meanwhile, the owner could be fined or handed a custodial sentence depending on how serious the case is.
The DVSA previously said: "We will not allow qualified testers who we entrust to carry out MOTs to abuse a system designed to keep the public safe for their own personal gain.
"We are fortunate to have so many compliant, trustworthy, and honest garages who deliver the MOT safely. We want to ensure they are not unfairly disadvantaged by the greed and criminality of the dangerous few individuals seeking to dupe the system.
"The MOT test is designed to keep you and others safe. Don't risk road safety, don't cheat the system, choose a valid MOT."
Source: Read Full Article