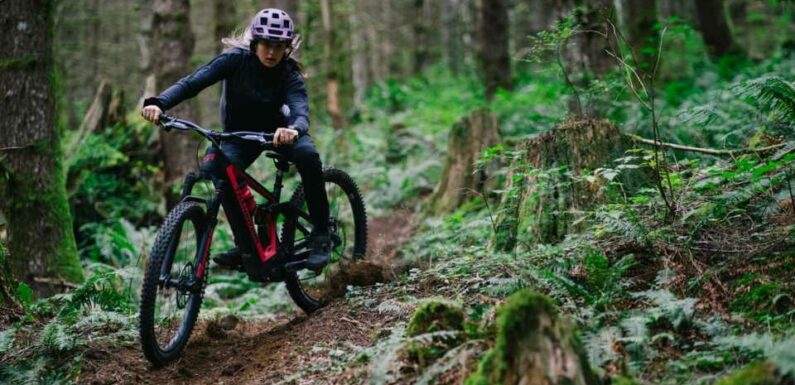 Transition, based in Washington, is a well-known bicycle manufacturer with a diverse range of mountain bikes, each tailored for specific purposes. In addition to their conventional mountain bike lineup, they've ventured into the world of e-MTBs with the Repeater. Notably, the new Transition Repeater PT stands out as one of the early adopters of the newly launched Sram Powertrain
The Transition Repeater PT, short for Powertrain, represents an evolutionary step from the 2022 model, boasting enhanced travel and a more aggressive geometry. This upgrade is complemented by the Sram motor and AXS Transmission, which not only deliver an impressive performance boost but also ensure a tidy cockpit layout, thanks to the inclusion of Sram Pod Controllers and the absence of through-headset cable routing.
Diving deeper into the specs, the Sram-powered Repeater takes things up a notch with an extra 10mm of travel, now boasting 170mm both at the front and rear. This results in a slightly more progressive ride compared to its Shimano-powered counterpart. It's important to note that the Repeater PT doesn't replace the Shimano-powered model, so riders have a choice between the two.
When it comes to geometry, the disparities between the older Repeater and the new Repeater PT are relatively subtle, maintaining a consistent chainstay length while introducing a slacker head angle at 63.5 degrees. Adding to its versatility, the e-bike features a flip-chip at the lower shock mount, offering riders the flexibility to opt for different configurations to suit their preferences. Furthermore, the Repeater PT boasts a relatively steep seat angle, a feature that stands out, particularly in larger frame sizes, where the seat tube angles are even slacker. This design choice accommodates the added rearward bias that naturally accompanies a taller saddle height.
For added versatility on the trails, riders can make the most of short seat tubes, allowing them to use long-travel dropper seat posts. As a bonus, the stock configuration includes a 170mm RockShox Reverb AXS dropper seat post, ensuring a smooth and adjustable riding experience, requiring just the flip of a switch to lower or raise the saddle depending on the terrain.
On the performance side of the equation, the Sram Powertrain system built into the Repeater PT impressively delivers 90 Nm of torque, reaching a peak power output of 680 W. Additionally, it's equipped with a substantial 720 Wh battery, noteworthy though it's worth mentioning that the battery is non-removable.
The 2024 Transition Repeater PT is available in two distinct models. First, there's the $11,999 XO AXS model, which offers top-tier features. Then, the $10,499 GX AXS model is another attractive option, providing an excellent balance between performance and affordability. Both versions showcase a full carbon frame and the Sram Eagle Powertrain system, coupled with the high-capacity 720 Wh battery, making them remarkable choices for the adventurous rider.
Sources: Bike Rumor, Transition Bikes
Source: Read Full Article