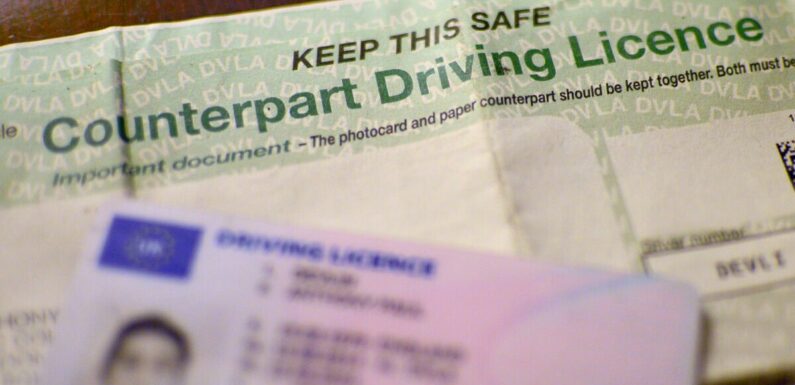 Driving licence: DVLA instructs motorists on how to apply online
New driving licence updates could "confuse" motorists who are receiving "conflicting" advice over possible electric car new law updates, according to experts.
Last year the Government held a consultation over driving licence flexibility with respondents backing the move.
The consultation was held to ensure operators transitioning to electric vehicles did not take "additional requirements".
Under current rules, any motorist wanting to transport goods above the maximum authorised mass (MAM) of 4,250kg must get a Category C licence.
This would usually require extra costs such as further training, medical exemptions and a driver certificate.
READ MORE Four new driving law changes this October with parking, tax and licence updates
However, chiefs have yet to publish the outcome of the report and any potential law changes with the situation "dragging on for months".
Paul Hollick, chair of the Association of Fleet Professionals said the Government appeared "at odds" over any updates.
He explained: "We're big fans of the 4.25-tonne derogation. It makes absolute sense that the adoption of electric vans around the crucial 3.5-tonne mark should be made easier for as many fleets as possible.
"However, what we are seeing is confusion with, to adopt an old cliché, the left arm and the right arm of Government seemingly at odds. This wouldn't be so bad if the situation hadn't now been dragging on for several months. It's incredibly frustrating.
"Fleets are receiving all kinds of conflicting advice – not just from OZEV and the DVSA but manufacturers, dealers, leasing companies and others – with no resolution in sight."
DON'T MISS
Families of elderly drivers issued new DVLA warning in bid to avoid 'tragedies'[LATEST]
Tens of thousands demand legal driving age be lowered to 15[ANALYSIS]
DVLA urges elderly drives to make simple change to driving licence renewal[COMMENT]
We use your sign-up to provide content in ways you've consented to and to improve our understanding of you. This may include adverts from us and 3rd parties based on our understanding. You can unsubscribe at any time. More info
The consultation found 72 percent of respondents supported removing the training requirement.
Just five percent said they liked the current system while 23 percent backed some kind of reform.
A staggering 72 percent backed 4,250kg alternatively-fuelled vehicles (AFVs) to tow a vehicle and trailer combination up to 7,000kg.
Meanwhile, 10 percent were in favour of allowing drivers to use the flexibility to tow, but at a lower combined limit than 7,000kg MAM.
Just 17 percent of those who responded did not support allowing drivers to use the flexibility to tow a trailer without further training.
Garry Keaney, chief executive of the British Vehicle Rental and Leasing Association (BVRLA) said zero-emissions motoring required a "fresh approach".
He commented: "The BVRLA remains committed to driving more positive change in this space and has pushed for the MOT regime to consider similar flexibilities for heavier zero-emission vans.
"Our work with partner associations is accelerating to make sure all levels of Government understand the need for renewed focus on the transition to ZEV vans."
Source: Read Full Article