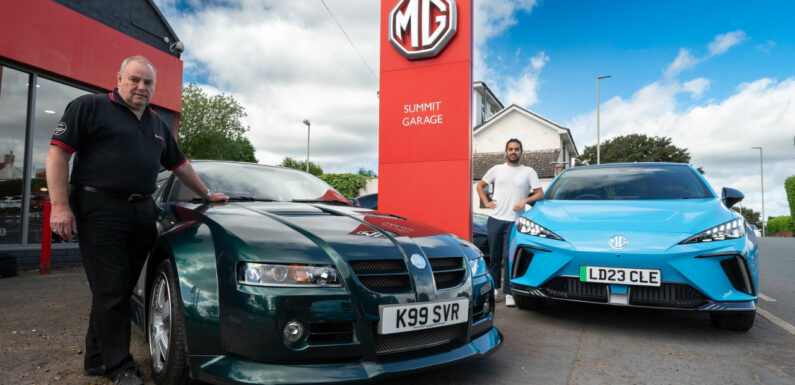 MG's fastest model is raising eyebrows almost as much as the XPower SV-R did 20 years ago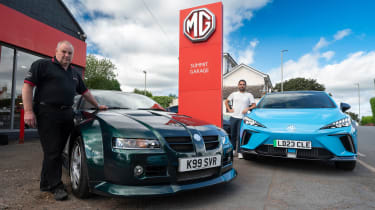 A critical part of many mainstream brands' presence in the UK market is an aspirational high-performance offering, so when MG announced it would be bringing back the XPower moniker with a hot version of its MG4, we thought we should bring the most iconic high-performance MG of its recent history together with XPower's future.
That car is the MG XPower SV-R, a once-in-a-generation sports car that attracted lots of attention at its genesis, only to be later confined to history by MG's financial instability at the time. This hand-built sports car was a product of the brand's ambition to rival iconic models such as the Porsche 911 and Aston Martin Vantage, an ambition MG hopes to repeat when it comes to hot hatchback rivals.
MG Cyberster vs MGB: reimagining the roadster
The SV-R's gestation was an interesting combination of big-company scale with small-company thinking, operating in a fashion that allowed technical freedom and agility, but with a widespread 'black book' of industry connections. As a result, the SV was a model known for its 'thousand-mile' production line, because cars were mostly built in Italy from British-made components, fitted with an American engine and then returned to Longbridge for completion. Early SVs from 2003 were fitted with Ford's 4.6-litre V8 engine sourced from the American firm's Mustang, but the later SV-R, as shown here, featured the same unit bored out to 5.0 litres to produce a healthier 385bhp.
This specific SV-R is a cherished example, and the only one in this combination of British Racing Green with a tan interior, owned by passionate MG fan and dealership sales director John Newey.
Step into the SV-R's cabin and it's impossible not to draw comparisons with lots of small British sports car outfits. Everything, from the dashboard and doors to the Sparco seats, is wrapped in a luscious leather, with lots of milled and turned aluminium used throughout. Look closely and you'll find bits borrowed from lesser MGs and Rovers, but the overall feel is one of craftsmanship rather than mass production.
Once you're in the driver's seat, the XPower's deep and bellowing V8 engine dominates the experience. From the off-beat idle to gentle prods of the throttle, it's clear this is not a razor-sharp engine in terms of response, but then the brutish Peter Stevens-designed exterior, full of slatted openings and those immense wheelarches, already tells you as much.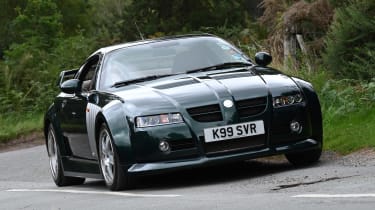 Pull away and the clutch is heavy, but the engine has a lovely delivery. There isn't a huge amount of low-down grunt, but then this is a motor that does its best in the mid-range, even with 5.0 litres of swept capacity. The biggest surprise, though, isn't the car's performance, but the fact that its suspension and steering feel superbly suited to the rural, sometimes broken roads of our shoot location in the Shropshire countryside. It's wonderfully fluid and feels more sophisticated than its styling suggests.
The XPower SV-R feels special, with a distinct charisma emanating from every one of the openings in its distinctive bodywork. So how, then, could MG possibly try to emulate this in an EV, specifically one in the form of an upright five-seat hatchback that looks about as relatable to the SV-R as a bowl of noodles is to a full English?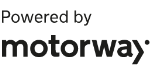 There is one thing: an audacious spirit to pip the big dogs at their own game. The SV-R was unveiled during the reign of the 997-generation Porsche 911, and when Aston Martin was on the cusp of introducing its stunning V8 Vantage; BMW's then-new M6 had an F1-inspired V10 engine and monumental computing power. MG had nothing like those firms' resources at its disposal, but still created something that, although short-lived, has left a lasting legacy for MG to build on, even in this age of EVs.
The MG4 has already proved its establishment-toppling ability in many ways, being considered superior to VW's ID.3, but this XPower model takes things to the extreme. Put simply, its performance is staggering considering the price point, and there's not a single rival on sale that can compete with this 429bhp wolf in sheep's clothing. It's by far the cheapest way to crack 0-62mph in less than four seconds. In fact, so immense is the XPower's giant-killing ability that there's scarcely a new car on sale for under £100,000 that would beat it in a straight line, creating a vehicle that only a truly innovative and audacious company would attempt.
There is no doubt that this level of acceleration is much easier to achieve in the EV age, and the class will very soon be filled with rivals that offer similar performance and similarly low price points. But for now this is MG's space, and one that it's filled before with models such as the SV-R that don't just signal its ambition, but ratify it.
Click here for our list of the best MGs ever made…
Source: Read Full Article