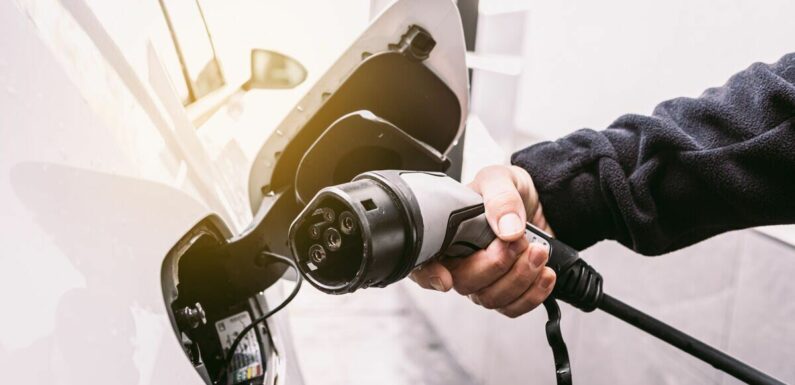 Test driving 'UK's slowest electric car' the Citroen Ami
Rishi Sunak's Zero Emissions Vehicle (ZEV) mandate could make electric cars cheaper in a boost for consumers, according to a leading expert.
Ralph Palmer, electric vehicle and fleets officer at Transport and Environment has stressed the new scheme could bring down prices including in the vital second-hand car market.
The ZEV mandate is a set of strict rules that demand manufacturers ease the production of petrol and diesel models for electric cars.
Mr Sunak made some tweaks to the ZEV mandate after pushing back his 2030 petrol and diesel car ban by half a decade.
The new system has eased the goals manufacturers must meet with companies now allowed to make combustion cars until 2035.
READ MORE 'I'm a motoring expert – this very simple electric car is better than a Tesla'
Instead, he predicted the EV manufacturing boost could help those adopt the new technology as costs will likely drop.
Mr Palmer told Express.co.uk: "What we know is that EVs are due to be about the same price upfront as petrol and diesel cars between 2025 and 2027 in Western Europe.
"The expectation is that cost will continue to come down, although it may have slowed in the last year or so due to supply chain constraints and inflation.
"But we will see that gap continuing close with the cost savings, and then it becomes a no-brainer for consumers to go into an EV as they are dirt cheap to run, easier to maintain and better to drive… From a consumer side I don't think there is a big risk at all.
DON'T MISS
Major boost in electric car infrastructure with rural areas handed lifeline[LATEST]
Electric cars have 'equivalent mix of failures' to petrol and diesel vehicles[ANALYSIS]
'I'm a car expert – three reasons you should buy an EV include being superior'[COMMENT]
We use your sign-up to provide content in ways you've consented to and to improve our understanding of you. This may include adverts from us and 3rd parties based on our understanding. You can unsubscribe at any time. More info
"I think actually this is really good for consumers. The ZEV mandate can help bring down prices a lot quicker. Ultimately, the faster we move on EVs in the new car market, the faster we have a more robust and bigger second-hand market where the majority of people buy their cars anyway. So I think from a consumer side, the ZEV mandate is a very good thing."
Brands that fail to meet EV production targets could be slapped with fines of up to £15,000 per vehicle over the threshold.
Mr Palmer said manufacturers had been preparing for a ZEV mandate for "years" which would mean the scheme will have no negative effects for motorists.
When asked if the strict targets could cause issues for motorists, Mr Palmer added: "I don't think so. Manufacturers are already pivoting towards EVs anyway and in regards to the fines, that is a last resort within this regulation.
"The flexibilities that have been given to manufacturers will enable them to manoeuvre within the way the targets are set without necessarily having to pay the penalty.
"Companies now have enough time to sort out their EV production and sale plans so they can meet targets when the flexibilities are scrapped from 2027.
"The penalty is there to ensure manufacturers are pivoting their operations towards EVs but I don't think there's a risk of that being passed onto consumers."
Source: Read Full Article