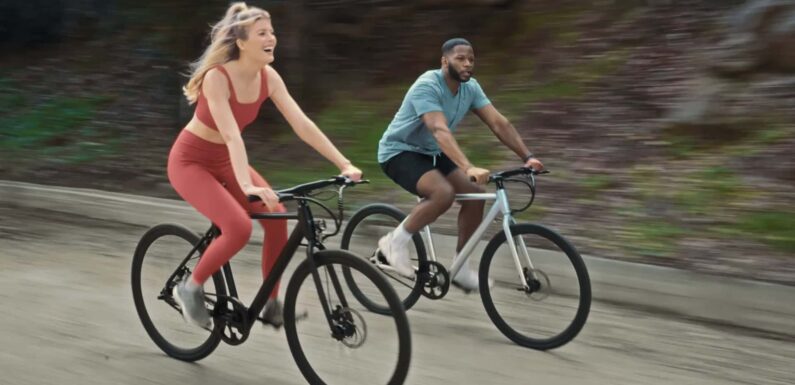 Riding a bicycle, especially in the confines of the congested urban setting, can sometimes feel like teleporting, as you can quickly slice through traffic (or even ride on bike-specific paths if your area has them). It's certainly a breath of fresh air, and a good way to get a quick workout in. Studies have proven that this is also the case when it comes to e-bikes. Unsurprisingly, moving your body is an excellent way to burn calories.
Speaking of teleporting, there's a new electric bicycle on the market from Canadian startup Teleport. It's called the Ride, and it's the brand's very first foray into the e-two-wheeler space. It has a very basic and minimalist design, making it easy to mistake it for a non-electric bicycle. Interestingly, however, it promises some pretty impressive range of 100 miles on a single charge.
The Ride was conceived by designer Gus Johansson back in 2021, and since then, he and his brother-in-law Anthony Ross have turned that vision into a reality. The two founded Teleport, and are planning a fundraising campaign on Indiegogo to help propel the Ride into production. So, what can backers of this simple yet promising e-bike expect?
Well, for starters, it's powered by a 750-watt rear hub motor with a peak output of 1,200 watts. This works hand-in-hand with the rider's pedaling efforts, which are sent to the back wheel via a Gates Carbon Belt drive system. As you're probably well aware, Gates' systems are known for their silent operation and virtually zero-maintenance. In the real world, the bike promises a top speed of 28 miles per hour on pedal assist, which is made smoother and more seamless thanks to a built-in torque sensor. There's also a thumb throttle for times when you're too tired to pedal.
As for its battery tech, the Ride is rocking a 36-volt, 11.4-ampere-hour battery pack. All electronics and wiring are housed within the frame, contributing to its sleek and minimalist look. It also gets multiple modes, with Eco mode promising up to 100 miles on a single charge.
Thanks to the Ride's aluminum frame and compact design, it tips the scales at no more than 34 pounds – sort of like a heavy-ish non-electric mountain bike. It rolls on 700x38c puncture-resistant tires, and comes to a stop with Tektro hydraulic brakes. Despite its rather light weight, it has a payload capacity of up to 290 pounds. It gets an OLED display on the handlebars allowing you to keep tabs on your speed, rage, and battery status. Your assist settings can also be toggled through the display.
When it comes to pricing and availability, the bike is expected to carry a price tag of $1,899 USD. Assuming the funding campaign goes smoothly, we can expect the first deliveries of The Ride to happen in February, 2024.
Sources: Teleport, New Atlas, Bike Radar
Source: Read Full Article