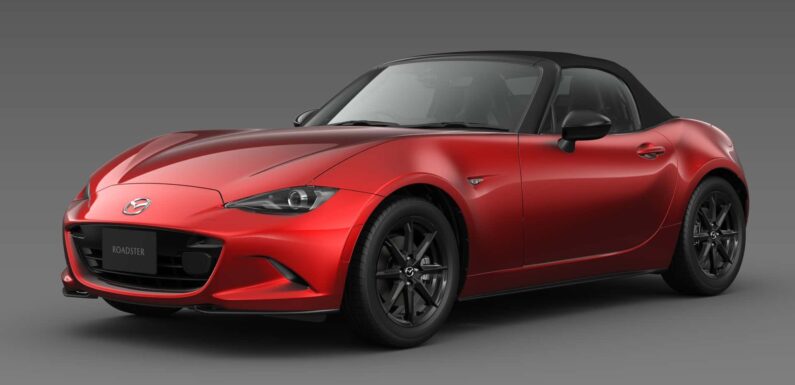 Mazda has unveiled a thoroughly updated MX-5 Miata in Japan where the convertible sports car goes by the name of Roadster/Roadster RF. You can call it the "ND3" as it follows the 2019 update when the "ND2" was introduced with a more powerful variant of the 2.0-liter engine. The following revisions are likely to be applied to the global version in the coming months after the Japan market launch in mid-January 2024.
Already available to preorder in the Land of the Rising Sun, the 2024 Miata boasts new LED headlights that now integrate the daytime running lights. Previously, these had been installed in the bumper and consisted of multiple dots for a design that was beginning to show its age, having been around since the 2015 ND1. The taillights have also been discreetly updated and Mazda now uses LEDs everywhere, including the turn signals.
2024 Mazda MX-5 Miata (JDM)
The left side of the front grille has been modified to accommodate a radar sensor for adaptive cruise control with Smart Brake Support. The latter automatically stops the car while reversing at speeds of up to 9 mph (15 km/h) when it detects an object. Rounding off the exterior changes are the Aero Gray Metallic paint and new wheel designs in 16- and 17-inch sizes.
Stepping inside, the ancient infotainment system has finally made way for a new 8.8-inch setup we recently saw on the JDM-spec 2024 Mazda2 and CX-3. It modernizes the dashboard thanks to thinner bezels but the real benefit should be its functionality since the old setup was laggy and had an outdated user interface. There's also a new tan interior with a beige top for a combination Mazda says takes after old-school roadsters.
Although not mentioned in the press release, the images show a frameless rearview mirror, an SOS red button, a slightly updated instrument cluster, and what look like USB-C ports.
The Miata ND3 gets a newly developed asymmetrical limited-slip differential bringing improved stability for the versions equipped with the six-speed manual gearbox. The engineers have also tweaked the electric power steering to reduce friction and deliver a "natural and clean feedback feel." Another change is the addition of a DSC-Track mode for the dynamic stability control system, which intervenes only when the driver is no longer able to control the car.
In addition, the 1.5-liter engine (not available in the United States) has gained four horsepower provided it runs on high-octane fuel. The bigger 2.0-liter unit with the manual promises to deliver better response both when accelerating and decelerating.
The release of an ND3 automatically means the current-generation Miata is going to stick around for at least a couple of years. Purists will definitely appreciate this decision considering Mazda has already said it will have no other way but to electrify the next-gen model to meet increasingly stringent emissions regulations.
Source: Read Full Article