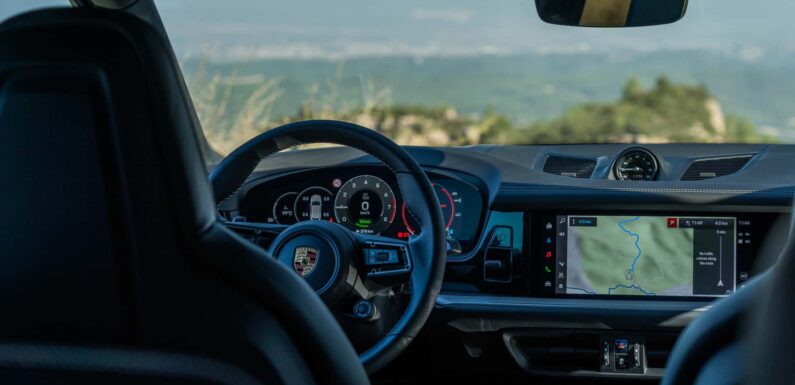 In a significant move towards enhancing the digital experience for its customers, Porsche has unveiled plans to integrate Google services for navigation, voice command, and an expansive app ecosystem into its upcoming vehicle generations. The German automaker is set to commence production of these vehicles around the middle of the decade.
This integration will introduce a wide array of Google products, including Google Maps, Google Assistant, and a diverse range of apps accessible through the Google Play Store. Porsche says loyalists can rest assured that they will continue to enjoy the familiar user interface of the Porsche Communication Management (PCM) infotainment system, complete with regular over-the-air updates to keep the system up-to-date.
Gallery: 2024 Porsche Macan EV interior spy photos
"Our customers fulfill a dream with our vehicles. In addition to timeless design and exceptional performance, they also want a seamless digital experience. This blended ecosystem results from the integration of platforms and apps that customers know from their end devices. We have an open approach and are developing innovations with leading technology partners," Oliver Blume, Chairman of the Executive Board of Porsche AG, shared his enthusiasm about the move.
In a separate development, Google recently announced updates to Android Auto and Google Built-In, introducing new apps and functionalities for in-car entertainment. Users can now seamlessly join scheduled conference calls and meetings, enjoy their favorite TV shows and movies, browse the web, and more, all from their vehicle's infotainment screen.
Google Built-In, a suite of integrated services and apps, has expanded to offer Amazon Prime Video. Initially available for select Renault, Volvo, and Polestar models, the functionality is set to expand to other automotive brands in the near future – possibly coming to Porsche cars from 2025. Additionally, the release of Vivaldi, a new internet browser, will provide users with an improved web-browsing experience. Notably, both of these apps will only be accessible when the vehicle is parked.
More recently, the 2024 Rogue became the first Nissan to come equipped with a built-in Google-based infotainment system, bundled with a five-year plan. This feature is available in conjunction with an upgraded infotainment system featuring a 12.3-inch touchscreen for the SL and Platinum models. The system integrates popular Google services, such as Google Maps, Google Assistant, and Google Play, without the need to pair a smartphone with the vehicle.
Source: Read Full Article