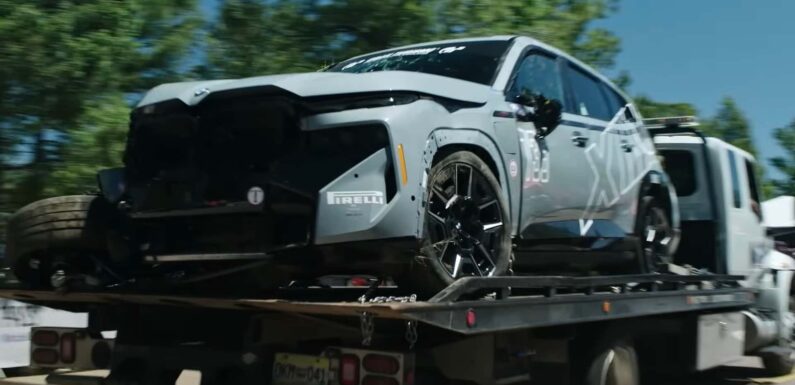 BMW went to the 2023 Pikes Peak International Hill Climb with an XM Label Red hoping to set a record for a production SUV. Things didn't go as planned, though, because driver Matt Mullins crashed the vehicle into a tree. In a new video, the automaker chronicles the preparation for the rally and shows an in-cabin view of the collision.
Before the crash, the XM was doing well at Pikes Peak. Mullins put in three qualifying times under the team's target, and he got quicker with each attempt. On race day, the weather conditions on the mountain were perfect.
Gallery: 2024 BMW XM Label Red
Mullins' official run started out looking good. The XM carried plenty of speed while  flowing through the corners. Then, the SUV went too wide through a corner and ran out of road. The video shows the driver trying to steer the vehicle back onto the asphalt, but there's not enough time. It looks like the three-ton Bimmer simply understeered off the road.
Mullins struck a tree, causing the XM to roll. The SUV did a complete rotation and ended up back on the wheels. Rescue crews responded to the scene quickly. Back at the starting line, the BMW team and Mullins' family were worried about his condition.
Despite the brutal hit, the XM didn't look that bad considering the severity of the crash. However, the passenger side front wheel came off. There was damage, but the passenger cell remained intact. Mullins had no injuries, and his family was thrilled to see him unharmed.
The video ends with the message "To Be Continued," and a second clip in this series comes out November 2. When BMW initially covered the crash, a spokesperson told us: "The focus now is on re-preparing the vehicle and planning for another record attempt later this summer." This effort might be the focus of the next episode.
The XM Label Red is the most powerful production vehicle ever from BMW. A hybrid-assisted twin-turbo 4.4-liter V8 makes 738 horsepower and 738 pound-feet of torque. Crimson accents adorn the windows, grille, and wheels. Prices start at $185,995 after the destination fee.
Source: Read Full Article