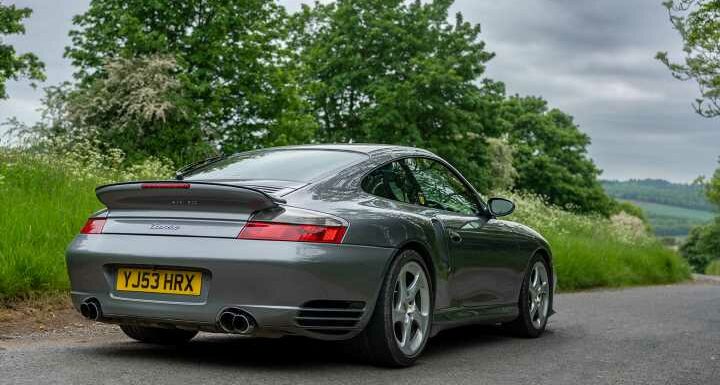 A manual 996 Turbo is very cool already – this one has more than 500hp…
By Matt Bird / Wednesday, 18 October 2023 / Loading comments
There's a case to be made for the Porsche 911 Turbo being perhaps the most complete car on sale today. It has (almost) four seats, can blend in like no super SUV can, boasts all-wheel drive traction, does almost 30mpg and scares superbikes in a straight line. Corners pretty epically, too. As an all things to all people kind of super sports car, there's little beating it.
The modern 911 Turbo success story begins with the 996. Yes, the 993 equivalent was the first four-wheel drive Turbo, but it was an aging car by the mid-90s. The leap in terms of modernity and technology was huge, the 996 Turbo representing the peak of Porsche at the turn of the 21st century, with PSM stability control for the first time, an electronically adjustable rear spoiler and the option of an auto. The all-conquering, all-encompassing tech fest that is a new Turbo starts with this car.
Crucially, however, there were a couple of key elements to the 996's make-up that means it now holds plenty of old-school appeal. First is that Mezger flat-six, of which enough has been written and raved about over the years; the second is the standard manual gearbox. As automatics became better with the introduction of PDK in the 997, so the manual was inevitably shuffled off in the pursuit of absolute performance. But as a usable modern classic, it's the manual that's more in demand.
Despite being held in very high regard early in its life, the 996 Turbo enjoyed its period in the doldrums like almost all the fried egg cars. It wasn't as cool as an air-cooled 993, and once the 997 came along – going even faster again with a more familiar 911 look – the 996's popularity suffered. Now feels like its time though, the car old enough to offer a traditional experience by modern standards for a huge amount less than a 993 – while retaining that famous engine. A good manual coupe feels like a great 996 Turbo to have. So look what we have here…
Anybody who's spent time researching Turbos will find plenty that don't appeal for one reason or another. But this one really does seem to have everything going for it: purchased from Porsche specialist MLR, upgraded by MLR to more than 500hp with some more boost, a two-inch thick folder of history, a really comprehensive advert and even a CarPlay install. Nobody wants to put up with infotainment from 2003 if they don't have to…
It's currently on 110,000 miles, with a Porsche engine rebuild at 59k because of a warranty issue. It's been with the current owner for the past 10,000 miles, in which time the clutch has been upgraded (handy for those that want to add even more power), the tyres, discs and pads renewed and every single underbody line replaced. Plus two services. Talk about diligence. The results speak for themselves – this looks anything but a 20-year-old 911 with a six-figure mileage. Stands out among some less-than-brilliant 996 Turbos as well. It looks cherished and doted on, basically, which the detail in the advert supports. Having chatted with the seller on the phone (thanks for your time, Rory!), he's clearly very fond of his old 911. As well he might be.
The Turbo is being sold because it's not being used enough. As stated in the ad, 'these cars are for driving and not for sitting in storage!' – amen to that. The mileage means it's one of the more affordable 996 Turbos currently on PH, just sneaking in below £40k, but that means there's no need to be precious about adding a good few more; the history and the mechanical spec mean that'll surely be pretty hard to resist.
---
Source: Read Full Article