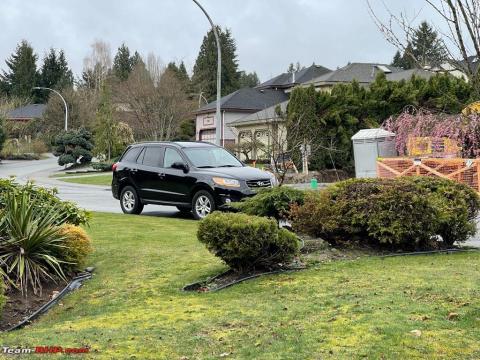 At present, the odometer stands at 205,xxx kms and seems like I will make it to next oil change without any more expense.
BHPian Sangwan recently shared this with other enthusiasts.
Life has been busy with settling in a new country, and that is why I have not updated the thread regularly. This post will not have many pictures (I might add some at the end, depending on when I post this update). Since my last update, things have been on the expensive side. Let us have a look at each Santa Fe:
Black:
It finally crossed the 2,00,000 Kms mark, although I have not been part of it since the start, but it felt good to be part of something, which would turn to be an expensive milestone. So, crossing 200K was great but then I had a puncture and that led my attention to the front tires, I noticed that they were wearing out from the inner side and one of the tires developed a bump on the side wall, these were old tires, so I got them replaced with Goodyear All weather tires, these costed me $1330. Right after getting the tires fixed and the alignment done ($100 extra), I noticed that the steering wheel makes this weird small movement in right direction and comes back to its original position, this happened randomly and was a little bit frightening when I am doing close to a 100 on a highway. So, I went to the tire shop to let them have a look and then they did their thorough long drive and informed me that I am facing "torque steer" and needs to replace the mounts on my car and the control arms too, I did not believe them a bit and went for a second opinion, so this shop said the whole steering rack needs to be replaced and the control arms too, so at least the control arm is definitely an issue.
There are two great guys in my office, they are older than me and are very much into DIY when it comes to cars, so I told them my ordeal and how every shop seems to be trying to rip off the customer, then they suggested me a garage and I went there, they checked the car thoroughly and pointed out the following needs to change:
CV Axle on the right, I had already gotten the left changed few months ago.
Link rods at the rear.
Control arm on the right, but it is recommended to get both changed at the same time.
Alignment needs to be done again.
And the oil pan seal needs to be replaced as it was leaking.
Overall, it was going to be almost $1000 job, so I went to Rock Auto, it is this great auto part website, the layout is simple and the cost of parts is way cheaper than the prices in Canada, I saved almost $250 on the parts when I got everything from here and then went to my mechanic and got those things fixed including.
At present, the odometer stands at 205,xxx Kms and seems like I will make it to next oil change without any more expense.
Blue:
Blue is racking up miles (odo at 193,xxx Kms) quickly as it is used on the weekends too when we travel just for leisure, it's time for an oil change was also approaching. Also, it was more than 20,000 Kms and I thought I should get the tires rotated and alignment done too. Another issue was that on slow bumps whenever I used to make turns, it felt that something is not right but also it was not a very pressing issue, so I left it to be handled at the time of service, turns out, it too needed control arms and front link kits were needed as well. At that time, I was mad at myself, for not getting this car checked earlier, I would have saved on the shipping cost as again I went to Rock Auto to get the parts. I got the parts, got the service done and the tires were rotated and aligned.
Overall, it has been costly recently but at least everything is in control, and hopefully both cars will keep on chugging along trouble-free.
PS: Blue's horns went kaput and now it has new horns but the high beam light on the driver's side doesn't work. Fall has officially begun and in the coming weeks I will get that out sorted or if things work out may be an ownership review of a new ride. Fingers crossed!
Near home:
From office: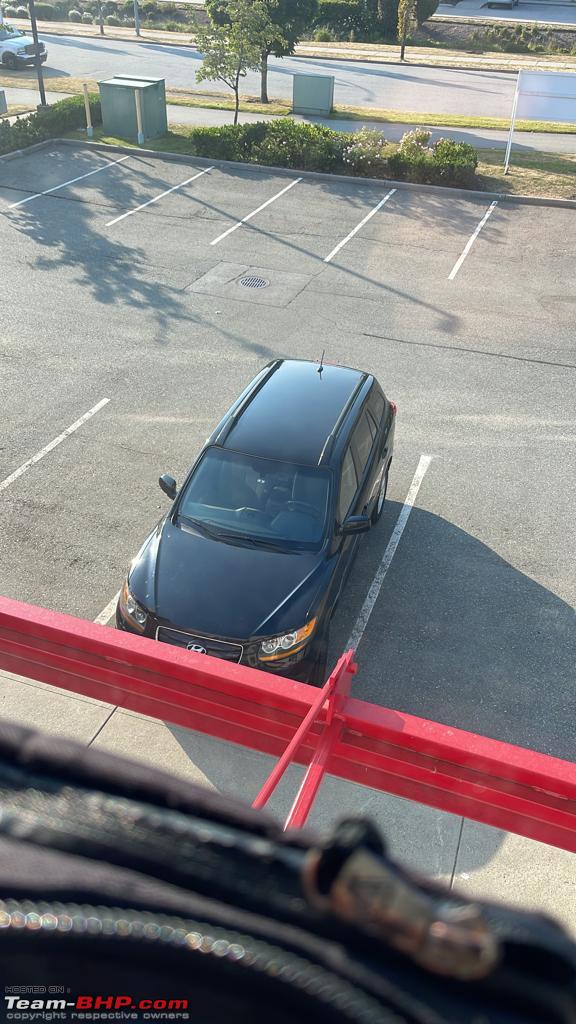 Near a kids park:
Cheers,
Sangwan.
Check out BHPian comments for more insights and information.
Source: Read Full Article