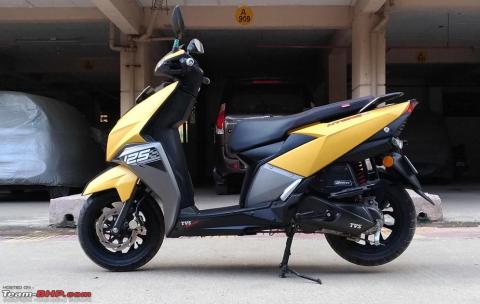 After having a Suzuki that has given no trouble till almost its 10th year, the Avenis seems to be a nice option with its looks and features.
BHPian arnav17 recently shared this with other enthusiasts.
Hello!
As some of you may know, I had posted a thread about the problems plaguing our 13 year old Suzuki Access 125. The decision has finally been taken to replace it after lots of services with no avail, and it touching the 40k mark!
The New scooter will be used by my parents for short commutes within Bengaluru. It may see typical usage of 10-20km/day. Together, we shortlisted the most reasonable options. Request you to provide your valuable suggestions regarding the same.
Option 1 : TVS Ntorq (Race edition)
This is a favourite of mine thanks to its looks. But since I am not of legal driving age yet, I am strongly being voted down for this. It seems to be a VFM proposition with excellent power, comfortable ride and lots of features. Race edition is primarily for the LED Headlamps.
Question for Ntorq owners : Is it suitable for a 5'2 woman in mid forties of normal build to handle it? My mother did not feel the weight much during the TD but reviewers, friends all say its a heavy beast.
Option 2 : TVS Jupiter 125
No offence intended to any owners of the jupiter but personally not a fan of its looks. For me, it looks similar to the access in terms of time period, barring the LED headlamps, but this is what my parents are leaning towards, considering its popularity + boot space which we have no actual use of.
Would this be suitable?
Option 3 : Suzuki Avenis
After having a Suzuki that has given no trouble till almost its 10th year, Avenis seems to be a nice option with its looks and features. Is the price justified?
Option 4 : Hero Xoom
Not really a solid option (125cc is preferred) but would like some opinion from owners on the same.
Option 5 : Yamaha Ray- ZR
Not a big fan of its looks but its a Yamaha! Please do share if considering this is worthwhile.
Please do let me know about what you think is the best option. Opinions from owners of the above would be highly appreciated.
Thanks in advance
Here's what BHPian rahulcmoulee had to say on the matter:
If it is primarily for your parents, then I suggest you to go for the Jupiter 125. I know the Ntorq is the most appealing to you but as a practical family scooter, there is no matching the Jupiter. I was in the same predicament just 2 weeks back. Needed to get a scooter for my parents, heart wanted the Ntorq, but the head said get the Jupiter and after checking them out at the showroom, the head won.

Trust me the Jupiter 125 with its 12 inch rear wheel and low Centre of gravity is a lot more fun to ride than you expect it to be. Add to that the huge under seat storage and large seat, it is a complete package. It absolutely trounces the Ntorq on parameters like pillion comfort, fuel efficiency and storage.
Here's what BHPian IshaanIan had to say on the matter:
Considering you mentioned your 5'2" mom, I would say go for the Yamaha Ray. At 99kilos it is lighter than everything else out there. Perhaps having her test ride all the options would be more prudent.
Here's what BHPian AulusGabinius had to say on the matter:
Voted for the Jupiter 125. There is no such thing as irrelevant boot space, especially if you ever ride two up in Bangalore. Two helmets, plus some small groceries, are not a problem, or helmets and rain gear.
Here's what BHPian sathyasuri had to say on the matter:
We specifically have the Jupiter and the Access 125 (very close to the Avenis) at home and between the two my father (who is 70+) prefers the Jupiter to ride solo and takes the Access 125 while riding with a pillion. So, if it is mostly solo rides then Jupiter would be a good choice but if there is going to be pillion rider then Avenis/Access would be a better choice.

If you get a chance to test ride and compare the Jupiter and Avenis, please give attention to the pillion rider's seating geometry. I feel the Avenis/Access has a more comfortable posture for the pillion rider while the Jupiter has a bit knees up posture.
Here's what BHPian saisree had to say on the matter:
To be honest, Access has to be replaced by Access only. It's a wonderful scooter and the new gen is even better. Whatever you upgrade, you will feel you are shortchanged to what you paid for?

If you cannot see Access again, the next best option is Jupiter.
Read BHPian comments for more insights and information.
Source: Read Full Article