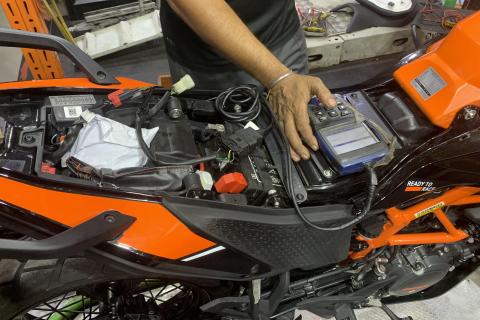 After the service, there sure is a substantial increase in the fuel efficiency of the motorcycle.
BHPian Biker_Ajax recently shared this with other enthusiasts.
I'm new to the KTM Universe and many more would be too. The way previous posts assisted me regarding the first service experience, I am sharing my experience. Hopefully it would help other first-time KTM owners.
Service was done 3 weeks back. And rode 1500km post that. I may miss out to mention certain checks that were carried out.
Prelims
Service done when odo was at 840km. Fixed it at Mayapuri (Delhi) at 10AM.
Earlier the better, was the first bike in there so the staff was relaxed to start work on it.
Requested if I may tag along with the bike as the service happened. They were pretty open about it.
Staff wanted to know about issues faced. They preferred sorting those issues before commencing routine service.
Courteous behaviour & a good long hearing of the issues.
Issues discussed
Oil level had dropped significantly. Knew there was a burn off of 100ml/1000km, but could not see level even after tilting bike towards oil window side (checked before first start of day). Got me little worried on engine health.
Light adjustment. The screws of left side panel were just not moving. High beam was pointing at stars!
The fan keeps on running non-stop even when at 80-100kmph! It ran non-stop from start to s/w off.
Coolant level had dropped well below min (checked before the first start of day). Had specifically checked during PDI that it was near max level. So why the drop below min.
Service
Oil change. After tons of discussion in a group & earlier posts here on Motul vs Motorex, went ahead with stock Motul & Oil filter change.
It has to be removed from three different points. One on each side & one from bottom part.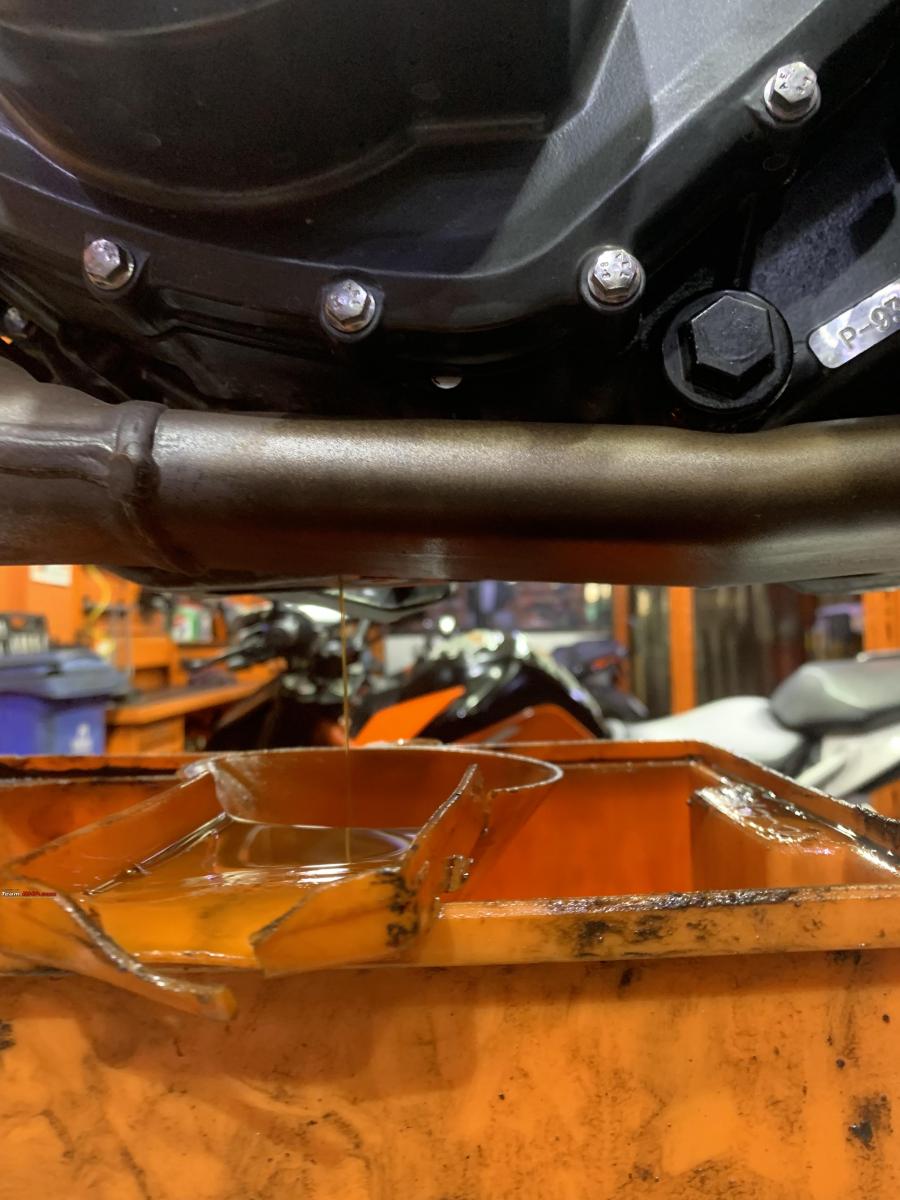 The bottom drain will spill bit of oil on the exhaust pipe close to the cat. Wiped clean. Knew that this oil will burn when taking the test drive later. And it did. Bit of smoke during the test drive post service. Went off after 2kms. Nothing to worry about.
The drained oil was not too low to assess it as a faulty engine or leak. Maybe I was too worked up on the engine or learning KTM levels. That was a major relief.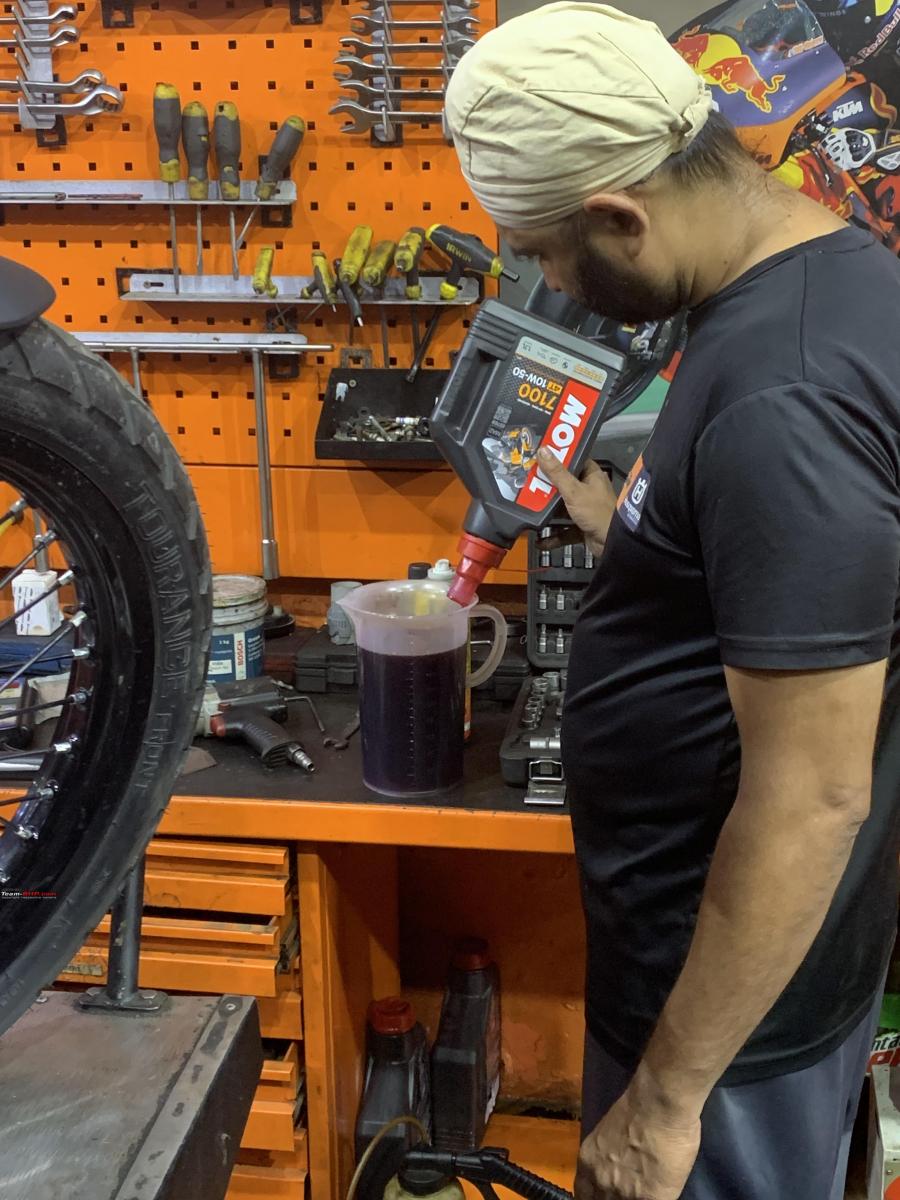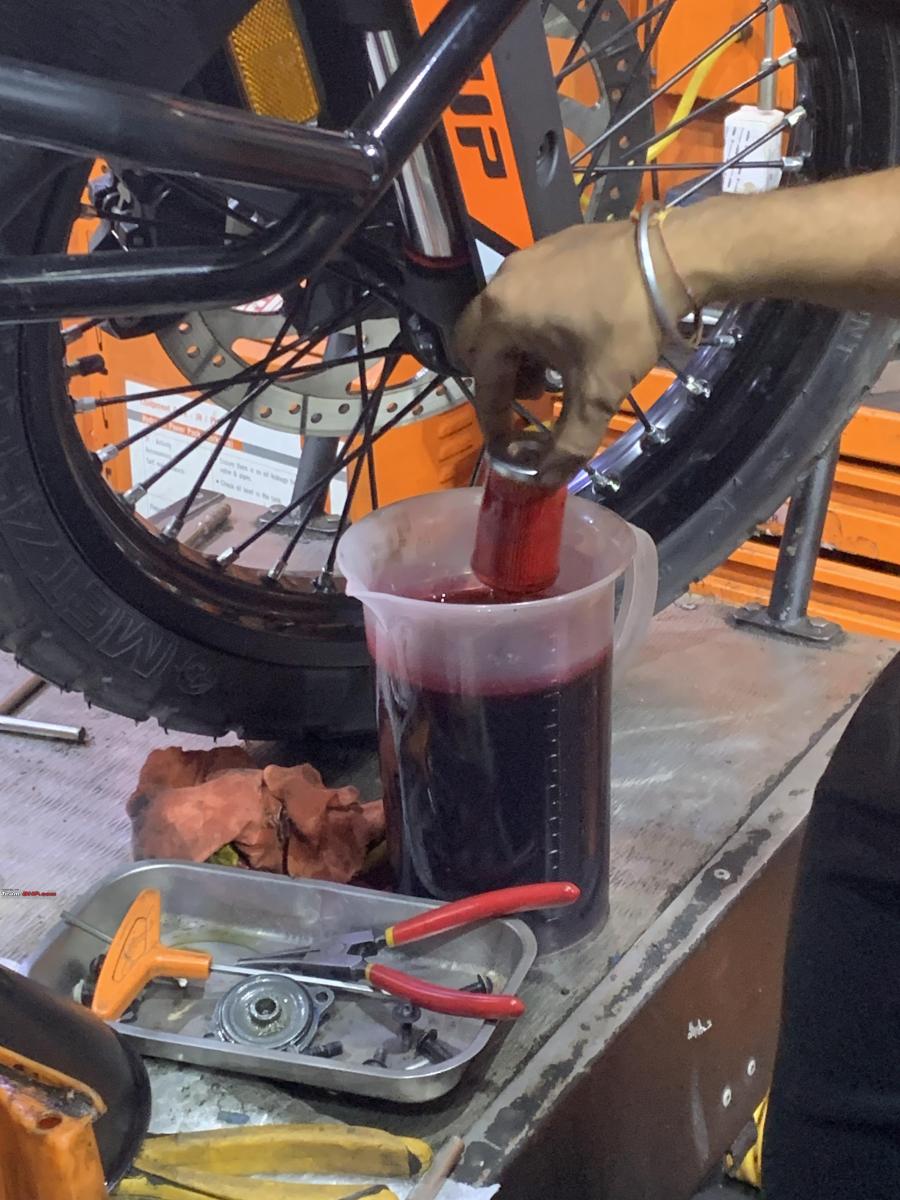 Love the colour of new oil & the smoothness it will get.
Panel screw for light adjustment: Three different staff members tried all kinds of tools to budge the screw, it just did not. In the end had to hammer a wedge into it & then hammer it to turn. Took like 25-30mins to get one moving.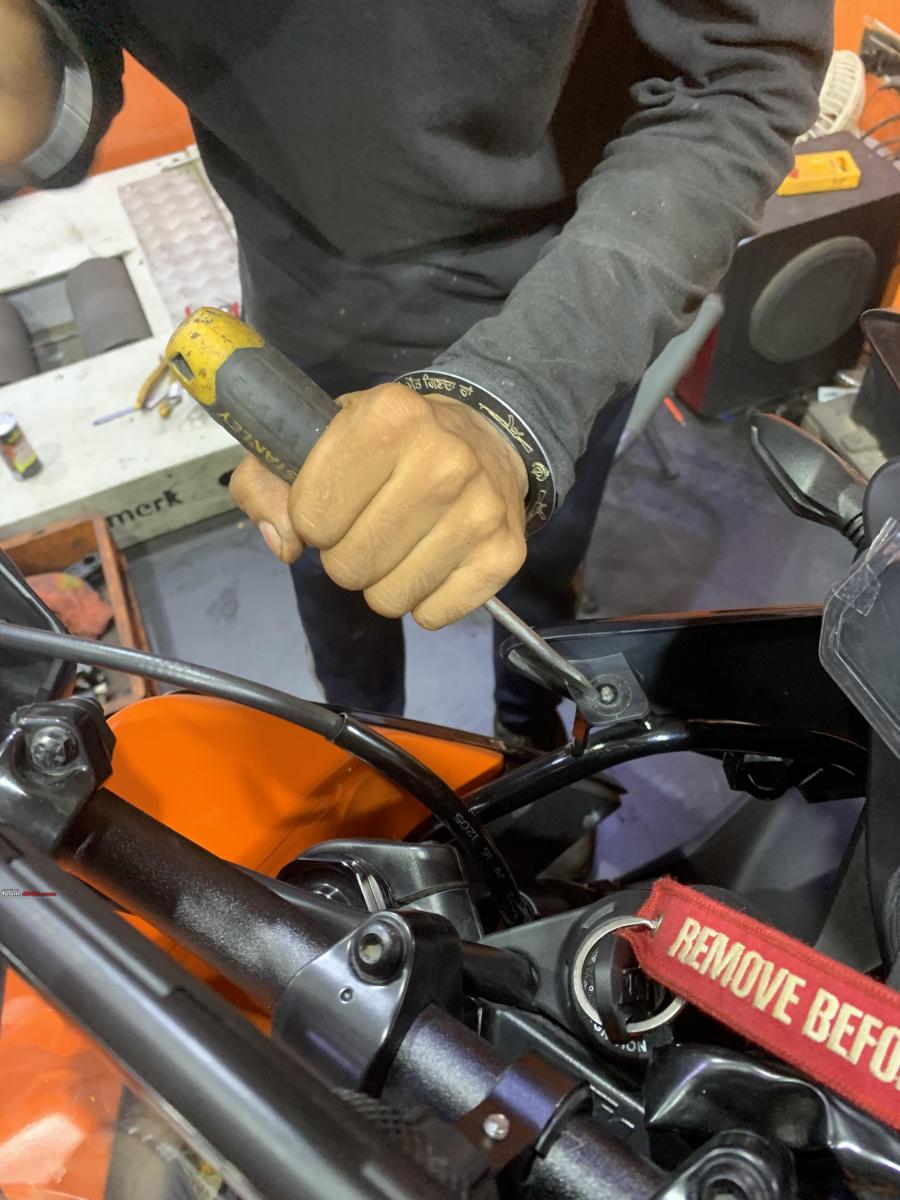 Whoever fitted it sure has supernatural strength. Took a lot of beating around to get it to move a notch!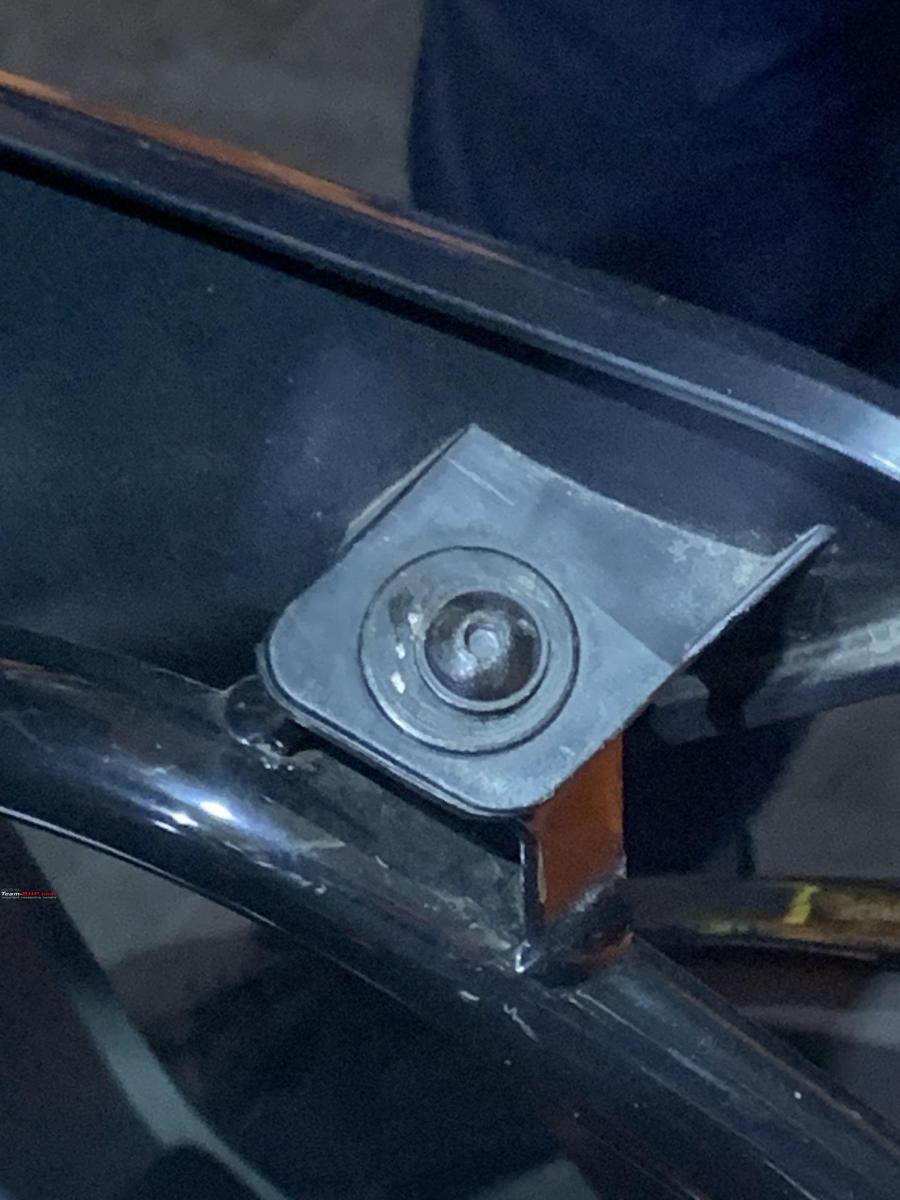 Original fitted.
New screw
It was not rusted. It was screwed in too tight. Right side panel turned with ease. However, staff changed both side screws just to be sure. New ones have a taller protruding head than original dome shape. Adjusted the light focus later at night myself.
Electronics Check
Checked the working of multiple electronic systems. Took 10mins. I want to understand the display as to what was being checked & compare final results (curiosity bug inside me), but each system is given a numeric code & name is not displayed & the result is just Pass or Fail. Didn't bother to trouble the staff that moment as more bikes started lining up behind.
Air Filter Check
Have tried all kinds & brands earlier on previous bikes/cars & no hurry to add any performance air filter. Taking the first service whatever the company desires. So, for the first service did nothing. Condition check, blew some air through it & fitted it back.
Chain
Basic chain slack tightening, condition check.
Brake fluid & coolant
Brake fluid was sufficient. For coolant, checked for leakages. Nothing was found. Why such a large drop in level- could not figure out. Just refill coolant so kind of pressed their refill bottle once & said done. Seriously?! Told them to refill it again properly to a sufficient level between min-max. Why did they hurry this up?! Be on the look out for this.
Disc Brake check
Basic check of condition & fitted it back again. Since I was riding in a relaxed manner did not expect any major wear-tear. The issue of noise coming from brake-pads is common when they are new. Even I had for first 20-25kms. I never faced it post that.
Rev Limiter & next service km warning
Learnt the process of how to do it from the staff. I set it to Rev1 at 8000 & Rev2 at 10000.
He set the next service at 5000km. When asked why not 7500, for Indian dusty & bad road conditions best to come in at 5-6k as even at this odo the bikes really need it. Why push till 7:5k. His experience.
Well, he spoke my heart. I prefer not to push the next service till last km / day. Bit early is better, or even earlier if required based on condition & issues. Especially the first three services when the bike is still kind of breaking.
Other riders coming in
By 11 AM had finished it all. Waiting for the chain clean guy to come in. Till then had a good conversation with couple of riders exchanging experiences.
Chain clean & lube
We can opt out of it. I love the process of doing it myself always- mind relaxing process. But decided to go ahead & see how is it at KTM.
The staff put the bike in first gear, and poured a fluid from a bottle for 5-6 seconds. I mean- literally count 1 to 5 and that's it. He said clean and lube both are done!
I discussed this with him & he said- that's how it is done! Mayapuri station really needs to improve on this. If they cant then don't offer it.
Even that particular guy seemed totally off the professionalism & positive vibes as compared to other dedicated staff members.
Polish
Not something I wanted. Wanted to do it myself. So said no, but on second thought went ahead with it. Was told it will be after 15mins- so went for a chai. By the time I came back, same chain clean guy has literally sprayed it all over the bike. I wanted to check the process, but it was done. Maybe he did not want me there since I had poked him about quality of the chain clean-lube he had done.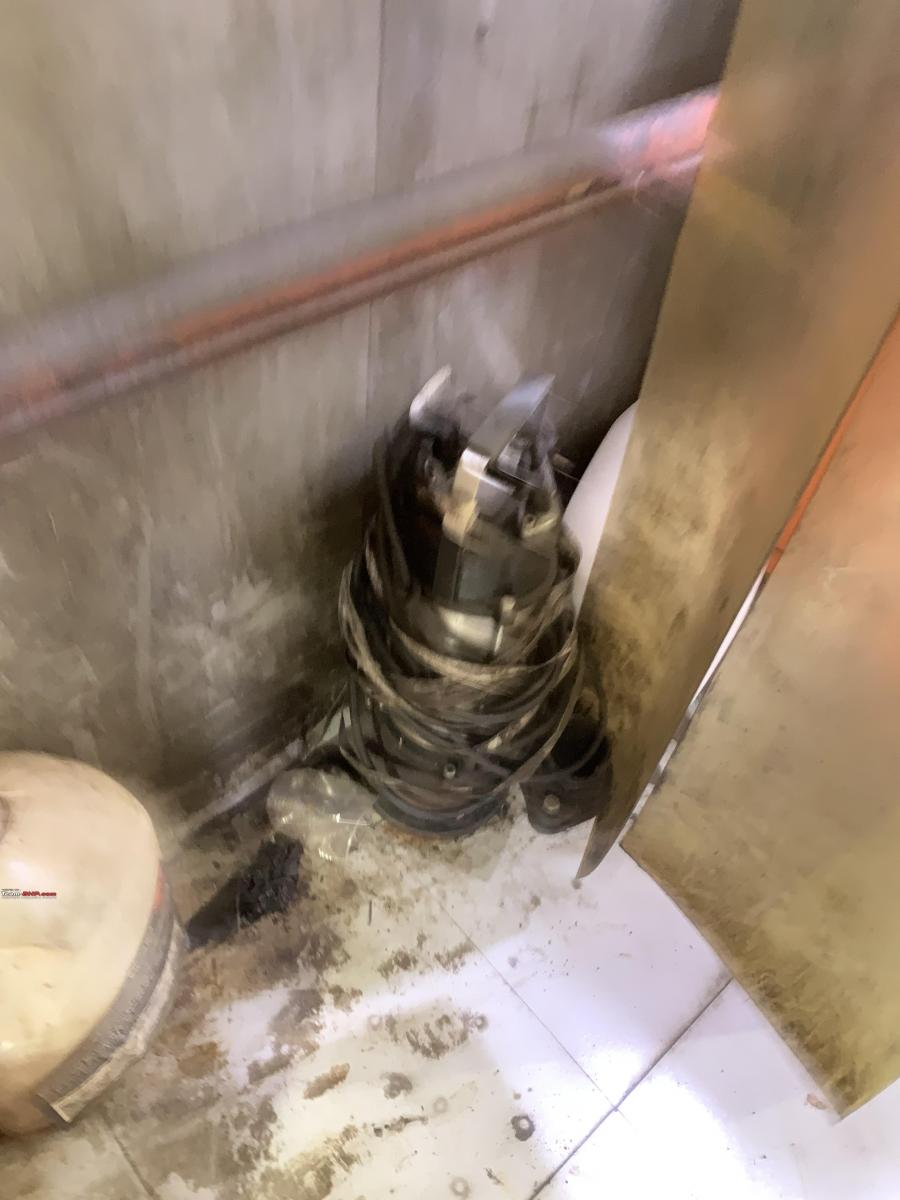 Machine that they use to spray it all over.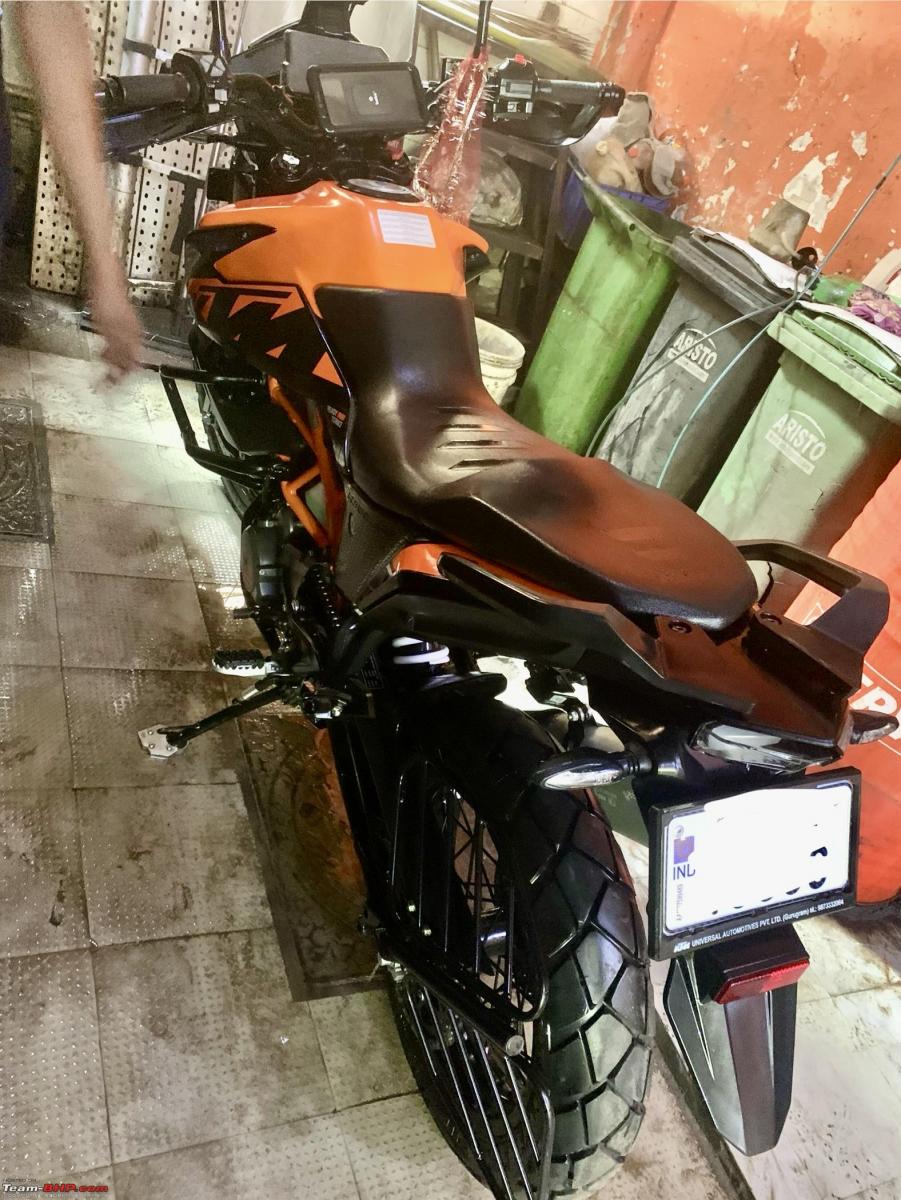 Sticky & wet. It was over done & left on the bike dripping! That same guy- was seen no where now. He did and vanished. Had to be wiped off by another staff.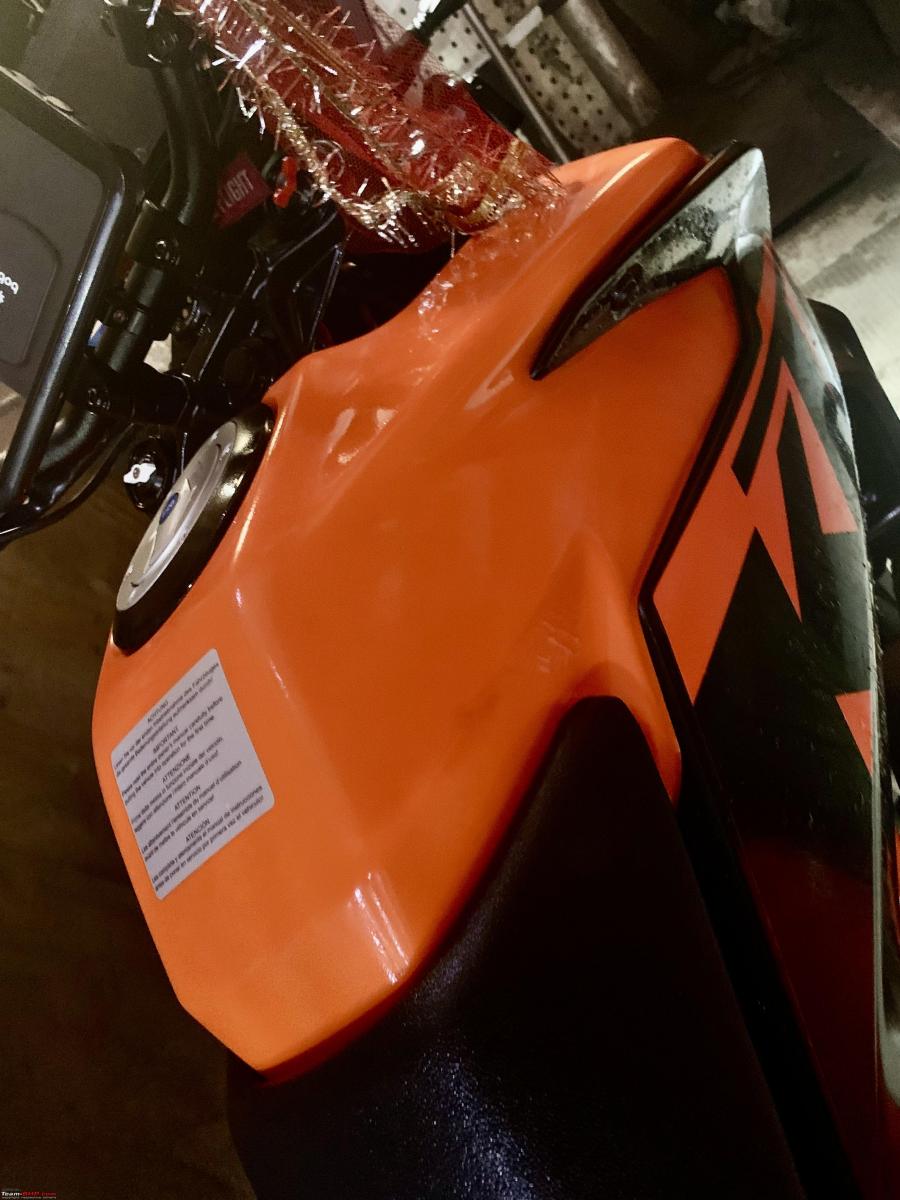 It's a dust magnet.
He sprayed the polish over the tyres & disc brake! It creates a thin later over the brake disc which comes in between the brake shoe & disc and makes them sluggish for a few kms. Takes 5-10km for it to be rubbed off. Nonetheless, it was done.
Bill
There is a poor network inside the Mayapuri station at the counter. Take the first service coupon number from the KTM app and provide it.
Discussed regarding chain clean and polish method & chargers. No refund even after that horrible pathetic manner of chain cleaning & lubing plus charging ₹183/- for it. Not worth it- opt out of it. Later tried calling KTM service regarding this & never got any response etc. Felt cheated on that aspect.
Test Ride After
Anticipated brakes to be sluggish & they were. Took 5km-ish braking for polish to leave the disc brake.
Smoke from the exhaust pipe where oil had spilled earlier as the oil burnt due heated pipe. It went away in 5mins. Nothing serious. Happens on any exhaust pipe with oil on it.
The fan was still running nonstop. As such I wanted to give 30-40km for new oil to circulate & get through everywhere before assessing anything more on it post-service.
A fellow rider who had come for his first service had his bike punctured right outside the station! Pure bad luck happened just at 800km for him & good luck it was at the service station gate! No pushing it around long. But that did leave me with a thought- shall I change over to tubeless.
Experience after +1500km from the first service
Engine Feel:- Smooth, it gets amazing smooth. And now even at +1500km old engine oil it still holds that smoothness. Motul is so far holding good. Motorex, will try it on later servicing- whats the hype about (curiosity bug again).
RPM:- No limit post first service & pushed it upto 9000 couple of times. One can still feel theres more power we can extract! Wow!
QuickShifter:- Works flawlessly! RPM above 4000 & shifted up-down from 4th-6th & vice-versa. It's been great for those quick downshifts for overtakes & settle in cruise again.
Cooling Fan:- It was again on after the first service. But once had a ride at high speeds and since that day- fan comes on only when in bumper traffic or at a halt. Wonder how! Even at normal city speeds of 30-40km/h, it does not come on. Nice!
Chain clean & lube:- Next day did it myself. Good oily hands & mental peace. When something needs to be perfectly better do it ourselves.
FE:- There sure was a substantial increase. Before service, I was at 25-27kmpl even at 80-100 on long rides.
Air Filter:- It's supposed to be replaced during 2nd service around 6-7k kms. But now at +2500km odo it's in bad dusty condition. Better to change every 2.5-3k.
Rattles:- None. Been thrice on Summer Sprint off-roads (del-farid) throwing the bike fast & hard. No rattles & loose nuts so far. Fingers crossed!
Suspension:- Have come to understand a few settings as per the changing needs whenever required. The adjustable suspension literally makes the bike glide! Loved this.
Light:- It is ok for city rides only. Highway rides with no illumination situation will need aux lights. Maybe after a couple of weeks.
Mods & additions
I love a stock bike. Lot of research goes into setting up a balance between various systems & sub-sys. We change one & the whole balance goes. No fancy stuff & I hate loud exhaust.
Have a ViaTerra stand shoe, Adv Tribe radiator guard after the original plastic got cracked on a offroad run & bobo phone mount.
I could touch 5-6k on odo after a month. Any suggestions on better service locations in Delhi NCR? Anything specific to be kept in mind for the second service?
Hope this helps new owners coming up for the first service.
Check out BHPian comments for more insights and information.
Source: Read Full Article