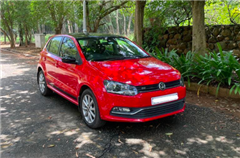 VCDS Tweaks out of many, important ones are comfort indicators moved to 5 times rather than 3
BHPian hellraiser_yank recently shared this with other enthusiasts.
Some info regarding the mods done on my Polo, will put up a detailed post on a dedicated thread. the goal is to make the ultimate daily driver with performance to boot. Will use the format posted here by a fellow member.
Bought my 2017 Polo GT preworshipped at 37k kms last year, now at 56k kms in 14 months after using my 2014 Vento TSI for about 8years and 1.29l kms.
Wheel / Tyre upgrade: Most common being the 15″ to 16″ upgrade. A wide variety of wheels and tyres used. Stock 16″ wheels with 205/55/R16 pilot sport 4 10k a pop
Suspension upgrade: Bilstein B6 / Sachs / KW / Cobra ordered sachs approx 28k
Brake upgrade: GTI Stock / Brembo / Tarox oem 310mm GTI/S1 56k
Steering upgrade: GTI Steering / Regular VW Steering with Paddle shifters standard wheel modded to accomodate paddle shifters going the DIY route as it didnt make sense to shell out 25-30k for the chinese market OEM wheel with shifters. I spent about 15k
HU upgrade: OEM VW units / Android units MIB Composition media (60k) with POLK audio components and coaxials, still needs tweaking and damping
VCDS Tweaks out of many, important ones are comfort indicators moved to 5 times rather than 3, no accoustic warning on lock/unlock, brake boost and XDSS
Headlamp / Tailamp upgrades: Various models from different VW models. standard HL with osram LEDs, GTI/20-22 taillights all bulbs are LEDs
Bumper upgrades. front GTI/20-22 bumper
Armrest addition. OEM done by previous owner, exploring the option to source and fit A1/S1 unit
Dome light upgrade: Jetta unit euro 6r unit with 3 lamps and mic slot
Damped Grab Handles. yes, 1k each
Rear Swaybar maybe after sachs, need to consider stiffness
Bonnet gas struts in the pipeline for bonnet and self opening ones for the boot
Remap: Stage 1, Stage 2, TCU. Not sure if anyone has done a stage 3 stage 1 ECU & TCU
Exhaust upgrade: Down pipe, full exhaust, various end cans None
Auto headlamps upgrade got the tiguan switch (5k), awaiting BCM max (used 25k incl. shipping) installation
Auto dimming IRVM tiguan unit, replaced the stock one which was also auto dimming
Bootlamp 2 lamps on either side, also 2 warning+puddle lamps (tiguann type) on the boot lid as PQ generation does not support brake lamp illumination when boot is open in the BCM
Eurospec intake yes
Other mods:
GTI cluster (paranoid about coolant temps since my vento overheated and warped its head) 60k I think.
Tiguan roof antenna 2k from VW
OEM green tint glass in the pipeline (VW prices)
8k park sensors 25k
Extra gauges 40k
Carlinkit 2023 8k from ebay
Seats in the pipeline
Rear cabin light, to be installed 1.5k
Brake pad wear sensors, washer fluid level sensor, cant remember the price
VW OEM rechargeable flashlight and glovebox illumination, yet to be installed approx 10k
Possibly forgot a few more that I cant recall off my head.
Open to support and advise anyone looking forward to the standard and the not so standard mods. Pictures or videos available on request.
Also before I forget, many thanks to this rich community which has shared knowledge over the years helping countless enthusiasts.
Check out BHPian comments for more insights and information.
Source: Read Full Article