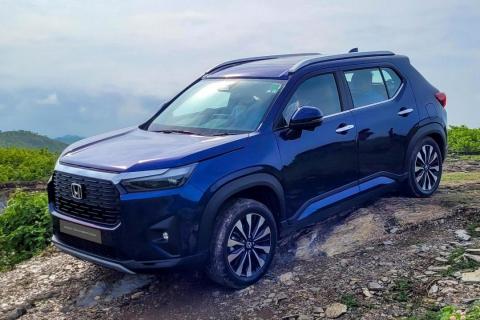 This SUV will attract people to the showrooms and may even help to boost the City and Amaze sales.
BHPian pk_del recently shared this with other enthusiasts.
Got a chance to visit a Honda showroom today in Bangalore. And guess what, the showroom was bustling with customers and all were interested in Elevate. The Honda brand does seem to carry weight and aspirational value in India. As of now, this showroom has got 500+ bookings of Elevate and is now commanding 5-6 months of wait time.
Didn't get a chance to test drive the Elevate as all test drive slots were pre-booked. So test drove a Honda City Manual and saw the Elevate and came back.
Bottom Line on Top
For first-time buyers and people upgrading from a hatch, Elevate is a perfect family car (wife, kid and parents) and for bachelors for use in the city and who want to make some outstation trips during weekends with close friends.
Now here is the comparison between Elevate, Honda City and my Hexa XT (considering Elevate's performance will be similar to Honda City).
The moment you step into the Elevate you appreciate the commanding view from the driver's seat. But if you compare with Hexa you immediately feel it's a step down. The luxury quotient is less and the material felt sub par. Though the features are more than Hexa, this is expected considering the fact that Hexa is 6 years old.
The under-thigh support of both front and rear seats is less than Hexa (and Honda City too). Car doors felt heavy but while closing, I felt that there was something missing. Can't exactly put my finger on it.
Elevate as a standalone package punches above its weight and that's where its advantage is. Add to that Honda's reliability and it's global brand value.
Now, with very low expectations I stepped into the Honda City ZX model (please see this is my first encounter with the new Honda City after the 3G variant) and man I was blown away.
Everything oozes class, the front seats had proper under-thigh support with amazing seat contours, and the rear seat is like a sofa with proper back angle and under-thigh support. The doors close with a proper thud and this brings confidence, music system is good and the iVTEC is a gem of an engine. Compared to Hexa the interiors were at par.
I didn't like the low-end torque initially (maybe I am spoilt by Varicor torque) but got used to it. Had told the sales executive to bring the Honda City CVT for a test drive next week.
I would say with the Elevate, Honda has brought a product which will satisfy most people. And will attract people to its showroom and may even help to boost City and Amaze sales.
If you are considering Elevate then please evaluate it with an open mind and don't have any pre-conceived opinions. Unlearn, test drive and learn and see if you like it or not. Then only come to a conclusion.
Next few months of Elevate sales will give us a clear picture and trend.
But overall it seems genuine effort from Honda.
Check out BHPian comments for more insights and information.
Source: Read Full Article