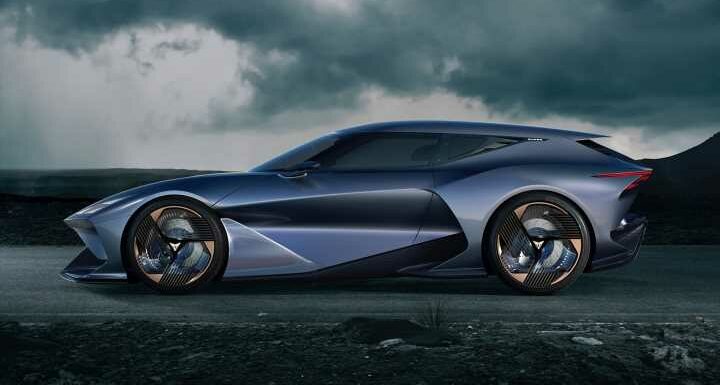 The future of Cupra might not just be SUVs…
By Matt Bird / Monday, 4 September 2023 / Loading comments
Some of the concept cars shown at IAA in Munich quite clearly preview future production realities. The real ID 2 GTI, for example, surely won't look much different to the concept ID GTI. This Dark Rebel, on the other hand, is surely Cupra previewing future design themes rather than an actual car. We'd love to see an EV shooting brake more than most, but surely they wouldn't – would they?
That very little is set in stone about the Dark Rebel strengthens that idea of it being a design study. But when that study takes this form (and isn't another SUV), we'll take an interest. As for the general vagueness, here goes: 'The result is a 100% electric two-seat sports car with a shooting brake architecture that reflects the passion and disruptive mindset of the Cupra brand, as well as incorporating an enigmatic mercury-like exterior liquid body colour, the use of light as an almost tangible material, and a heightened attention to sustainability.'
Perhaps the reason the Dark Rebel looks like nothing else is because it's been designed like nothing else. There was a Hyper Configurator for the show car that had more than 270,000 contributions, and really did influence some of the final look. Even in a moody colour scheme, there's no avoiding the drama here. That central spine, linking front and rear of the Dark Rebel, looks incredible, and the front end that breaks up the Cupra logo into three triangles for lights is neat as well. The rear look like something from a racer; the rear light bar treatment is familiar from the street cars already out there, but the way it reaches around to those giant rear arches makes the 2.2m-wide Dark Rebel look even broader still. The diffuser climbs up the back of the car like a tidal wave, and the whole design – from dramatically sculpted sides to greenhouse – seems to taper to a point at the rear Cupra logo. It looks great to these eyes, something genuinely different when already familiar patterns seem to be established for EVs. Cupra says the Dark Rebel's wheels are inspired by its racing cars, and there are of course some copper accents as well.
The interior is probably even further from real life, and potentially all the more likeable for it. The driver focused design continues inside, with another spine separating the two occupants in their bucket seats and pointing the dash at the driver. The steering wheel takes its influence from gaming, and Cupra says materials 'made from 90 per cent biodegradable bamboo' are used. 'Entering the vehicle, passengers find themselves in an embracing, radical, extreme environment delimited by an elegant canvas outlined with dynamic forms, from which raw, light structures emerge. Crowning the whole are the driving components, true gems of design, which provide precision with their shapes and cutting-edge technology, thus completing a unique interior.' Don't say you weren't warned…
As is becoming the norm for concept cars in 2023, the user experience is paramount. For the Cupra Dark Rebel, there are three experiences on offer: Exponential Square, Exponential Cube and Exponential Infinite. Which sound like they could be Elon Musk's triplets, but effectively represent an evolution of drive modes and settings. Square offers up a 'modern digital cockpit', Cube is racier, with performance data and timing available, and then Infinite is where it gets a bit weird. It's for when the car is parked up (typically when charging, or when you're not wanted in the house) and gives users access to Metahype, which is Cupra's space in the metaverse. There you can interact with the Cupra Tribe. And presumably pray that the charge is nearly done.
But, hey, the future always looks a bit scary to begin with. And concepts always seem a bit weird. If Cupra really can deliver on the promises made here to deliver something truly distinctive to look at and properly focused on the driving experience, then any metaverse malarkey can be overlooked. Wayne Griffiths, Cupra CEO, added: "Thanks to the passion and creativity of the Cupra Tribe, we have been able to turn one of our most powerful obsessions into a real show car. The Cupra Dark Rebel is the maximum provocation of Cupra design. It is a rebel with a purpose: to prove that electric cars in the future can be sporty, sexy, and emotional". Let's hope that purpose can see the light of day in the not too distant future.
---
New Cupra Tavascan officially unveiled
First electric VW GTI revealed at IAA
Latest Electric Vehicles articles
Mercedes Concept CLA previews next gen EV saloons
Dark Rebel is Cupra's EV shooting brake
First electric VW GTI revealed at IAA
BMW Vision Neue Klasse heralds new EV era
New Mini Countryman arrives with over 300hp
Source: Read Full Article