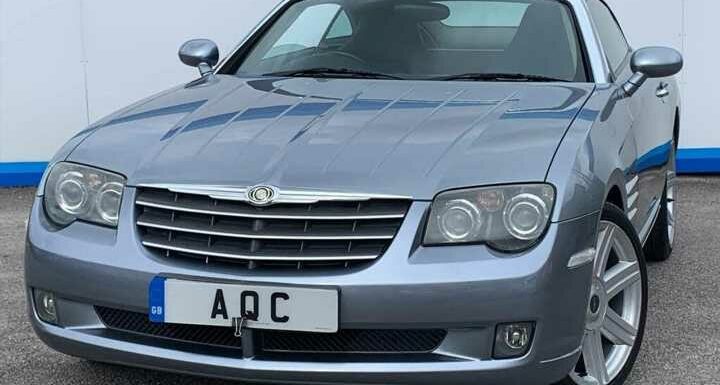 A Crossfire you'll want to be caught in?
By Tony Middlehurst / Friday, 3 November 2023 / Loading comments
Shed of the Week is like a bath. Pull out the plug and sooner or later everything goes down the hole.
Well, not everything obviously. We'll never see a Ferrari or an Aston in here. But sometimes cars that you thought would never be dirt cheap will surprise you by ending up gurgling around here in amongst the scraps of old soap, bits of toenail and curly hairs.
Cars like today's SOTW debutant, a Chrysler Crossfire. The Crossfire was designed by a New Yorker called Eric Stoddard. Eric has been in Korea with Kia for the last couple of decades, presumably still recovering from the Crossfire release back in 2003. That must have been a heady time for him. It certainly was for Chrysler. The Crossfire was a halo car that they hoped would polarise the audience. They actually said that they wanted people to either love it or hate it. Another wacky PR road they went down was to link it to legendary Hollywood names from the golden Art Deco age. It did have that look to it. If you screwed your eyes up and got Mrs Shed to bang you a few times (on the noggin that is, with the frying pan), visions of the Chrysler Building might waft hazily in front of your eyes.
The Crossfire was not lacking in styling, in terms of the sheer amount of it anyway. The design studio cleaners who had to pick up the scrapings from the clay model every night must have been cursing their luck. In Europe especially it was seen as a rhinestone sprinkle, a chrome-tipped winklepicker of a car, which was weird as it was about as un-American as a car could be. Conceived at the time of Daimler-Benz's takeover of Chrysler, the Crossfire name celebrating the coming-together of two mighty firms, it was built by Karmann in Germany on what was effectively a Mercedes SLK320 R170 platform. The engine was M-B's 3.2 litre M112 18-valve single-cam V6, the gearbox (on European models anyway) Benz's 5G-Tronic, given away on the inside of the car by the distinctive Merc gearshifter gate with its W/S (winter/summer) switch.
The quantity of metal or metal-look materials in the cabin created a cabin ambience that was not so much Paddington Bear as Ice Station Zebra. The minor controls were interesting. You may have thought that you had just turned off the wipers when what you had actually done was switch on the cruise control, whose stalk was located uncomfortably close to the multi-functional cheese straw that worked the wipers and lights. Inadvertently engaging cruise in a slow-moving traffic queue was a potentially trouser-filing experience.
Not everyone was a fan of the Crossfire look. They did a convertible version which lost the hunched back end USP which Mr Clarkson famously likened to a defecating dog. If you were one of the ones who liked the way the Crossfire looked you were in for a disappointment when you drove one, because it didn't drive as well as you thought it looked. The responses of the suspension, brakes and recirculating ball steering were crude. For something that weighed under 1.4 tonnes and produced 215hp/229lb ft the 0-62mph time of 6.9 seconds was probably about right, but the drivetrain never felt happy under that kind of pressure.
Our 2004 example looks to be in nice nick. The worst blemishes Shed can make out are on either side of the tailgate aperture. At least one of the alloys looks like it has been used for the traditional craft of kerbstone grinding. There's a warning light on the dash for what could well be the stability control.
Will these Crossfires ever be worth any money? For the differentness of the design you'd think there might be a chance of future stardom, but that divergence of opinions on the looks plus the numbers made, over 75,000, would suggest not. The supercharged 330hp/310lb ft SRT-06 Crossfire launched for the 2005 model year might be another story. Its brakes were enlarged, the suspension enfirmed and the stability programme re-encoded, but it still had the same touring-oriented 5G box and (as far as Shed knows) the same slothful steering as the regular car. Still, the performance was noticeably more titillating, the 0-62mph time coming down to 5.0 seconds. Compared to the straight Crossfire, SRT-6s are rare. Chrysler only made 4,000 of them altogether, and it's believed that just 50 or so survive here today. Shed found two of them for sale in the UK, at £8k and £8.5k.
Most regular Crossfires are considerably cheaper than that, partly at least because the cost of buying one will be immediately followed by another significant outlay of getting on for £700 on the road tax. Undaunted, some hopeful sellers bung £5k-£6k stickers on their Crossfires, but typically half of the UK cars for sale carry more realistic sub-£3k price tags. Our seven-owner 73,000-mile shed is £1,995, which in early November '23 made it the second cheapest one on sale in the UK, the absolute cheapest one being a four-owner 107,000-miler.
Our Shed's MOT history is actually excellent, the last test in April being passed with ease and no advisories. It has a private plate on it too, C10 SAN, which if it goes with the car surely adds a few quid to the value, even if it does sound a bit like a toilet product.
---
Source: Read Full Article