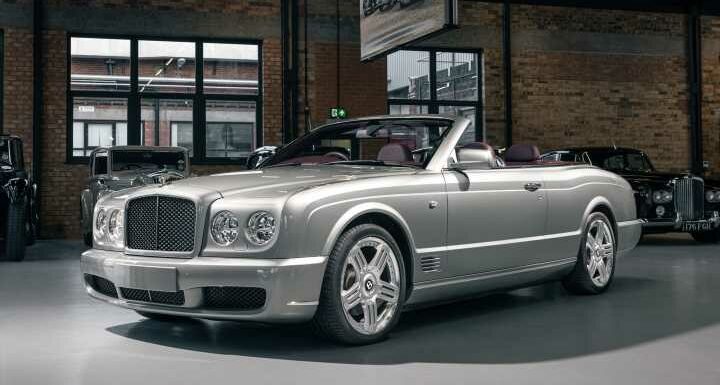 Fancy becoming a member of the aristocracy overnight? Here's how
By Tony Middlehurst / Sunday, 1 October 2023 / Loading comments
Key considerations
Available for £170,000
6.7-litre V8 petrol twin-turbo, rear-wheel drive
One of the last old-school Crewe Bentleys
Fabulous torque, luxury, and thirst
Roof can be problematic
Only 80 Ts were made, so probably won't get much cheaper
Revealed at the 2008 Los Angeles show for sales beginning in 2009, the Azure T was the high-performance version of the second-generation Azure convertible that had made its debut in 2006 at £225,000 a go. That gen-two Azure was the first to appear under new owner Volkswagen's stewardship. The sporting 'T' designation had been around for a good while before 2006, more modernly (eh?) in the 1996 Continental T coupe and then in the 2002 Arnage T whose platform and powertrain were used for the Azure T.
The Azure T's styling was unsurprisingly inspired by the 1995 Azure, a bit more surprisingly inspired by the 1955 S1 Park Ward drophead, and very surprisingly indeed inspired by the 1946-52 Bentley Mark VI. You needed to scrunch your eyes up quite a bit to see much of a connection with that one.
Whatever, the Azure T differed from the straight Azure in its dark tint matrix grille, 20-inch 5-spoke two-piece alloy wheels and distinctive 'Le Mans' vents in the lower front wings. At 2,695k it was even heavier than the floorboard-splintering utterly epic 2008 Brooklands coupe which you can read about here but 40kg or so really didn't really matter to the mighty twin-turbo V8 engine.
The two-valve 6.75-litre L-series V8 was by any standards a relic, its ancestors having powered Rolls-Royces as far back as 1959, but relics often have value and with two turbos bolted onto it the one under the bonnet of the Azure T certainly did. In Arnage T format it splurged out 450hp and 645lb ft. In the Azure T those numbers rose to 500hp (up 11 per cent on the non-T Azure) and 738lb ft. That last figure was slightly lower than the Brooklands' 774lb ft but it was still up 14 per cent on the non-T Azure. In isolation, it was a mad amount of torque that rendered the question of weight largely irrelevant.
Azure T production lasted just one year (2009) and was just 80 cars long. You will occasionally see 2010-registered Azure Ts up for sale but the vast majority of them will be '09ers. Either 22 or 24 of them were right-hand drive, the correct answer to that one depends on which part of the internet you believe. For passing interest, 321 Continental T coupes were built between 1996 and 2003.
New, they were £245,000 without extras, a hefty £110,000 more than the Continental GTC. Now, Azure Ts are available for around £170,000, which still sounds like a lot to those of us without the instant wherewithal to indulge our fantasies, but given that few if any Azures were delivered without thousands of pounds worth of extras on board you could say that £170k represents a kind of value. For cash-happy investors, the Crewe V8 car's rarity, drama and mystique might also be seen to represent a kind of opportunity.
SPECIFICATION | BENTLEY AZURE T (2009-10)
Engine: 6,761cc V8 16v twin-turbo petrol
Transmission: 6-speed auto, rear-wheel drive
Power (hp): 500@4,200rpm
Torque (lb ft): 738@3,200rpm
0-62mph (secs): 5.5
Top speed (mph): 179
Weight (kg): 2,695
MPG (official combined): 14.5
CO2 (g/km): 465
Wheels (in): 8.5 x 20
Tyres: 255/40
On sale: 2009 – 10
Price new: £245,000
Price now: from £170,000
Note for reference: car weight and power data is hard to pin down with absolute certainty. For consistency, we use the same source for all our guides. We hope the data we use is right more often than it's wrong. Our advice is to treat it as relative rather than definitive.
---
ENGINE & GEARBOX
The main powertrain man at Bentley at the time of the Azure T was Brian Gush, apposite given the whooshy power delivery of the ancient but still unfeasibly impressive L-series 6.75-litre pushrod V8. This motor was first benchmarked against Detroit V8s back in the 1950s. If the US development engines were still going after four days on a wide-open throttle they were switched off and signed off, but the R-R test bench donkeys carried on at full bore for three weeks. It's an immensely tough and well-proven engine.
As is the three-mode six-speed ZF automatic with semi-auto and sports functions was carried over from the regular gen-two Azure. In the T it featured a locking torque converter for faster but still syrupy-smooth gearshifts. The T's 0-62mph time was 5.5 seconds, 0.4 seconds quicker than the non-T, while the 0-100mph time of 12.0 seconds was 1.3 seconds quicker. Top speed was up from 171mph to 179mph. 90 per cent of the torque peak was on tap from 1,800rpm.
The official combined fuel consumption figure was a tooth-sucking 14.5mpg, with an impressively irresponsible 9.8mpg in town, results that put the Azure T at the very top of the class for booziness on the US market. If you could hit the 20mpg extra-urban figure on a cruise that would give you a theoretical range of 400 miles from the 96 litre/21.1 gallon tank.
Earlier twin turbo L-series engines did have some problems with head gaskets and camshaft/tappet wear, but Bentley fixed that two years before the Azure T came out by fitting modified head studs, bolts and gaskets. They can still lose oil but it's usually more seepage than actual lose-age, or loss as it is sometimes called.
Service intervals are 10,000 miles or 12 months, alternating between interim and major. Bentley Motors has transparent pricing for its official servicing on cars that are over 48 months old at £799 for an interim and £1,199 for a major. Servicing costs at an independent specialist can start from £399. Picking one of these independents at random, FlyingB in Nantwich, Cheshire will charge £530 and £1,150-£1,195 respectively. Many commonly replaced consumable parts won't be as expensive as you might think. Others will make your toes curl. We'll talk more about that later.
For those who like to do as much of their own maintenance and problem-solving as possible – and there are such people even in the world of modern-day Bentleys and Rolls-Royces – there are online forums that you can access. Not many, mind. More on that in the Verdict at the end of this piece. The only trouble is that most of the forums tend to be one post long, that post being the initial question. Hardly anybody replies, the vast majority of owners simply stumping up for the dealer or specialist to sort it.
CHASSIS
The Azure T's suspension was double wishbones back and front with coil springs and electro-hydraulic adaptive damping using gas-filled spheres at the rear to provide automatic ride height control, auto-load compensation and headlamp levelling. On post-'07 Azures like the T, these spheres were located in the boot. If the auxiliary systems battery went flat this would default the suspension into a hard setting that might con you into thinking the spheres were finito when in fact they weren't, you just needed a new aux battery.
The wheels were upgraded to 20-inchers for the T. The suspension and gearbox settings could be separately configured by the driver. In addition to the gen-two Azure's steel stiffening members in the sills and running up into the A-pillars there was substantial cross bracing linking the front and rear subframes. These braces were made from carbon fibre to minimise weight and were very successful in reducing the wobbliness that marred the gen-one Azure experience. Bentley reckoned that torsional stiffness was three times higher than on the gen-one.
For an eighteen-foot-long, 2.7-ton car the handling and steering were commendably good. These are heavy cars, however. Despite their cost, they were not immune to proletarian issues like clonking suspension bushes, rattling links or whining wheel bearings.
Carbon ceramic eight-piston brakes were available as an Azure T option. At the time they were the largest brakes available on any production car. Brake servo pumps could leak fluid, throwing up brake pressure warnings on the dash. Tyre pressure monitoring systems have blown, sometimes requiring four new sensors and a new TPMS module.
BODYWORK
There was a choice of 42 paint colours. The 'jewel' filler cap was carved from an aluminium billet and the flying B bonnet mascot was retractable but sometimes the electric windows weren't. When they did work OK, which was most of the time, they were fast, but the lifting system was complicated and the motors didn't last forever. A hissing noise was your pre-failure warning.
There have been difficulties with the Azure's hydraulic roof mechanism, which we believe started out as a Mercedes design for the R129. The hydraulics were given to failure, sometimes drenching the cabin with fluid. Solenoids could go bad too. Five-figure bills were generated by Bentley dealers trying to resuscitate the roof on out-of-warranty Azures. As far as we know the problems weren't so common on later cars like the T but it is a documented fact that even the roof on the T press car wasn't 100 per cent reliable. The tensioning cables could break and dangle around but they were relatively easy and cheap to fix.
Although refinement with the roof up was as good as in any tintop Bentley, you wouldn't want to go tearing down the motorway at high speed with the top down unless you were a fan of wind noise. Nor would you want to go four-up for any sort of distance if the front seat passengers were on the tall side as the rear legroom in that scenario would be more Baldrick than Blackadder. Back seaters did at least get the usual Bentley/RR coupe feature of a second handle at their end of the door to ease egress for leg-stretching.
INTERIOR
Give Volkswagen their due, they knew just how important the interior was to Bentley buyers and the Azure T didn't disappoint with its knurled finish controls, engine-turned spun aluminium dash insert, diamond-quilted leather for the door panels and seats (heat and massage at the front), and a choice of eight unbleached premium wood veneers. In terms of actual equipment, there's not much in there that the average 2023 BMW or Korean car doesn't have, a measure of how much we take for granted these days, but it's the silky operation and feel of much of that equipment that makes the Bentley so special.
Mulliner, Bentley's specialist commissioning department, had a hand in speccing the T but buyers could add more Mullinerisation options including personalised hide colours, hides from previous Bentley model ranges, alternative wood veneers and NavTrak (automatic driver recognition) with 24-hour car location and tracking in Europe and the UK. If the standard eight-speaker audio wasn't considered sufficient, new buyers could option a ten-speaker plus subwoofer 1,100-watt 'Naim for Bentley' system which (Bentley claimed) delivered the world's best in-car sound stage.
A new hide-covered boot rail with a chrome strip along the top edge tidied up the boot area, whose space was designed to take two sets of golf clubs to the tip after another disastrous round. The actual capacity wasn't that large at 310 litres, but if you could afford an Azure T you could probably also afford an all-silk wardrobe. As all powerfully built PH director types know, silk folds down nice and flat. Alternatively, you could just drive to your destination with no clothes other than the ones you're wearing, buy clothes there and then throw them away before you head home.
That 310 litres wasn't reduced by the three-layer roof which took 25 seconds to lower itself into a separate area below the rear parcel shelf. Bentley actually managed to get the deployment time down to 22 seconds but they felt that it looked too rushed at that speed so they gave it the extra three.
Electrical issues are almost bound to happen at one time or another. The climate control could fritz out, which could be down to a cheap relay or a rather more expensive (four figures) circuit board. Same for the loss of the front audio speakers. It could be a simple relay, or a four-figure amplifier. You might also get dash warnings about seatbelt pre-tensioners and/or airbags.
Azure seats that twisted during travel have been flagged up. That has been put down to either a broken drive cable or failure of one of the two seat adjustment gearboxes mounted on opposite sides of the seat mech base.
PH VERDICT
Bentley described the Azure T 'as the world's most elegant convertible… [a car] destined to become a future classic'. It's certainly a statement car, and with only 80 examples built you'd have to be pretty brave to put a long-term bet on them not appreciating at some point, but the elevated prices that come with classic status hadn't arrived at the time of writing (Oct '23), with used examples at least £75,000 under the new price. In reality, the differential between new and used is a lot greater when you take the typical package of new-car extras into account.
Any future rises in the T's value will of course greatly depend on the continued existence of buyers who are happy to accept less-than-perfect driving characteristics in exchange for the simple pleasures of supremely luxurious top-down cruising along sunlit Mediterranean boulevards. Sounds like a decent sort of lifestyle to us, and it's one that either of the two Azure Ts for sale on PH Classifieds in early October 2023 looked more than capable of delivering.
The most affordable of those two PH cars was this 22,000-mile single-owner specimen in Havana with burr oak veneers and Naim audio at £169,950. For £5,000 more than that you can change the colour to gunmetal grey in this otherwise pretty much identical 22,000-miler.
Elsewhere on the internet, we found a rather handsome 5,000-mile, 2010-registered three-owner car in Beluga black with black hide and piano black woodwork at £185,000. Just the job for swanning around in after that well-deserved lottery win.
Alternatives in this niche market? As noted earlier, the Continental GTC is a quicker, more modern and much cheaper car, but it's not as special as the Azure. Or there's the suicide-doored Rolls-Royce Phantom Coupe, but its 453hp/531lb ft V12 engine is not only less burlsome than the Bentley's V8 gruntmeister, we'd also say it's less interesting to sit behind. That's just our opinion, mind.
Talking of opinions, if you'd like to read about other owners' Azure T experiences online prior to a possible purchase we're afraid that your options are somewhat limited. To access the forums on the Bentley Drivers Club, which seems to be the 'official' one, you first have to join up. The cost of this will be £115 a year or £89 for 'e-membership' which restricts you to online-only viewing of 'publications' (which we presume is a magazine). There is a Bentley Owners Club of Great Britain website but the online discussions there appear to be limited to comments, again invisible to non-members, on the few bits of editorial content appearing on the main page. You have to go to the Facebook page to join up but you'll find no structured forums there, just the usual random selection of FB posts.
We also found a separate 'Bentley Club' on FB with a link to what appears to be yet another Bentley Owners Club, but that one only welcomes 'owners and enthusiasts around the North-West' (of England, presumably) and there was no sign of any forum activity on it.
There is a forum section on the Rolls-Royce & Bentley Enthusiasts club but it is very tumbleweedy according to the low post count numbers noted on there. You can't view the actual forum content without joining the club in '4 simple steps', the first one of which demands your personal data without giving you any sort of heads-up on membership costs. The standoffishness of some of these 'premium' marque clubs is baffling, especially when their landing pages go on about how friendly and inclusive they are. Bentley/RR are not alone in this. Overall the online presence for Bentley owners is jumbled at best and, as far as we can see, quite lacking in owner support or resource. Shame.
---
Source: Read Full Article