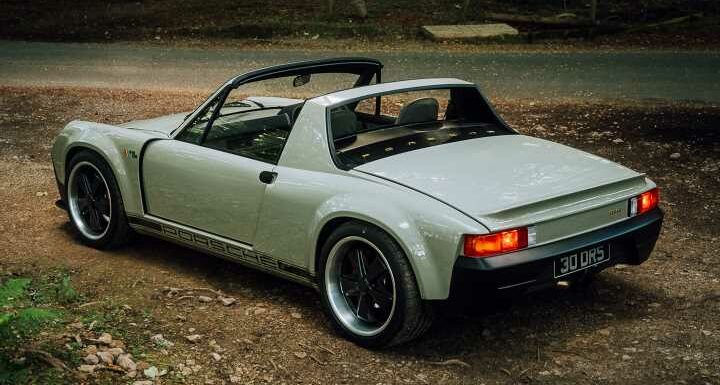 There was a flat-six 914 back in the day, but it certainly didn't have 400hp…
By Matt Bird / Thursday, 24 August 2023 / Loading comments
Those with good memories might recognise this car as the Fifteen Eleven Design Porsche 914. Back in 2021 the Derbyshire firm announced it was embarking on the project, which would introduce 987 Cayman mechanicals to the mid-engined classic as part of a restomod overhaul. Now the first car is finished, orders are open for more, and the finished thing looks even better than expected from those initial sketches.
There's more power, too, which sounds a good thing. Three years ago the 914 was going to the 3.4-litre flat-six from a Gen 2 987 Cayman; the finished car now uses a 3.8, presumably from the 911 of a similar era. With forged pistons and a Life Racing ECU, Fifteen Eleven is banking on between 380hp and 400hp, unheard of in anything 914-shaped. A six-speed manual is standard fit.
Underpinning the Fifteen Eleven creation is a mix of classic Porsche Targa and some later Cayman bits, the latter essential for the necessary hardware to contain that power. There are Reiger three-way-adjustable coilover dampers, which probably cost as much as a donor 987 on their own, set into 'Cayman-based suspension architecture'. Every pick up point has been redesigned to allow it to fit, and the shell has been toughened up. Bigger brakes nestle behind 18-inch Fuchs wheels, which themselves sit on Michelin Cup 2 tyres. It's a serious performance overhaul, that's for sure, though you wouldn't expect anything less from the offshoot of Mellors Elliot Motorsport.
The look remains familiar from that 2021 vision, the bespoke carbon panels still very much recognisable as a lovely old 914 despite the additional width required to contain the new parts. Note as well the rear ducktail and the Moby Dick style driving lights. In a world of backdated 911s, the Fifteen Eleven is a welcome dose of something different.
Ben Mellors, Fifteen Eleven Design MD, said of the car: "It's stunning to look at, but also to drive and we are proud to have brought together some of the latest technologies available, alongside some tried and tested classic elements to produce the ultimate restomod for both driving experience and aesthetics… "We have had a huge interest in the car to date, but finally being able to unveil it to the public is the culmination of years of hard work and dedication. It's been a passion of the entire team and I believe that shows within every inch of the car". This very one is now for sale, while those customers interested in a bespoke commission can order through Fifteen Eleven now.
---
British firm reimagines Porsche 914
2023 Porsche 911 Sport Classic (992) | UK Review
Source: Read Full Article