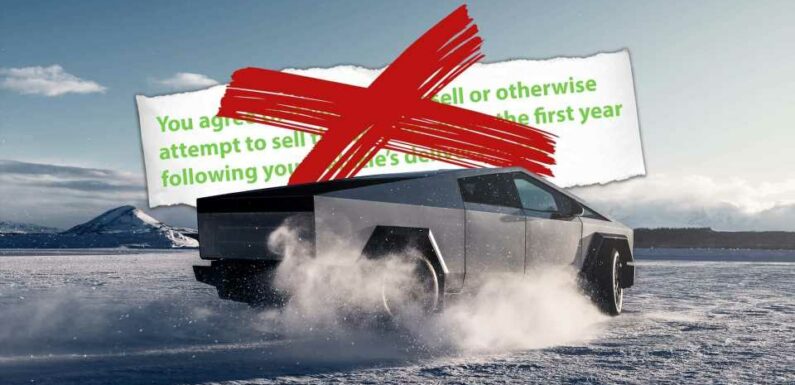 Buyers expecting to make a quick buck by flipping Tesla's hotly anticipated Cybertruck were met with some bad news earlier this week. Updated terms of service on Tesla's website were revealed to include a Cybertruck-only clause in the order agreement that grants the automaker first right of refusal to purchase any truck sold up to a year after the original owner takes delivery – else a $50,000 penalty for anyone who resells their Cybertruck without Tesla's explicit permission.
But on Tuesday, the entire section threatening legal action against future Cybertruck owners has been removed from Tesla's U.S. Cybertruck Motor Vehicle Order Agreement.
It's not clear if the removal of this language indicates whether or not Tesla plans to continue its original intention of potentially pursuing legal action against would-be flippers, or if the automaker has removed it for a different reason altogether—such as waiting for the Cybertruck to officially launch later this month.
Whatever the reason, we're also unlikely to verify why the clause was removed from the order agreement with Tesla directly, as the automaker loudly dissolved its PR department in 2020.
The now-removed clause can be found below:
"For Cybertruck Only: You understand and acknowledge that the Cybertruck will first be released in limited quantity. You agree that you will not sell or otherwise attempt to sell the Vehicle within the first year following your Vehicle's delivery date.

Notwithstanding the foregoing, if you must sell the Vehicle within the first year following its delivery date for any unforeseen reason, and Tesla agrees that your reason warrants an exception to its no reseller policy, you agree to notify Tesla in writing and give Tesla reasonable time to purchase the Vehicle from you at its sole discretion and at the purchase price listed on your Final Price Sheet less $0.25/mile driven, reasonable wear and tear, and the cost to repair the Vehicle to Tesla's Used Vehicle Cosmetic and Mechanical Standards.

If Tesla declines to purchase your Vehicle, you may then resell your Vehicle to a third party only after receiving written consent from Tesla. You agree that in the event you breach this provision, or Tesla has reasonable belief that you are about to breach this provision, Tesla may seek injunctive relief to prevent the transfer of title of the Vehicle or demand liquidated damages from you in the amount of $50,000 or the value received as consideration for the sale or transfer, whichever is greater. Tesla may also refuse to sell you any future vehicles."
This clause, complete with the amount of money Tesla was willing to pay for a used high-demand Cybertruck, was debated fairly heavily across the internet for both enforceability and practicality reasons.
But Tesla isn't alone in its anti-flipping attitude. Other automakers have had similar clauses baked into their ordering process for some time. Ferrari has a similar first-year, no reselling clause, and the new 2024 Porsche 911 S/T is lease-only for the first year to prevent flippers. Ford even famously sued celebrity actor and wrestler John Cena when he sold his second-generation Ford GT.
And, yes, it's not difficult to imagine that the Cybertruck will be in high demand. With an estimated 2-million reservation backlog, there's a reason that these low reservation slots have been selling for around $2,000 (or more) on eBay already. Couple that with current market conditions that still enable dealerships and individuals to make a killing off of hard-to-find and enthusiast-focused vehicles, and it's a recipe for a flipper's paradise.
Tesla anticipates holding its first delivery event for the Cybertruck on November 30th—more than four years after the cyberpunk-esque, battery-powered pickup was first revealed to the public back in 2019. For now, it seems that Tesla may not impose this particular clause on its first round of deliveries, though, just like the now-missing wording, that could very well change in two short weeks.
Source: Read Full Article